Hot on the heels of the Inspire 3, DJI today launched the Mavic 3 Pro, a new variant of the high-end folding drone with a triple-camera gimbal – wide and two tele cameras. Switching cameras is as straightforward as doing so with an iPhone.
"The Mavic 3 Pro's triple camera combination gives users the ability to switch between shot composition with just one tap, allowing content creators a wider variety of shots in less time than ever before," said Ferdinand Wolf, Creative Director at DJI.
It's not mentioned explicitly by DJI, but we can see how this might fill a gap below the newly-announced Inspire 3, since that drone – just announced at well over five figures – no longer features a variant in this price bracket. Mavic 3 Pro, above the single-camera Mavic 3 Classic and the original dual-camera Mavic 3. You can find out more in our guide to the best DJI drones.
The new camera system can be operated as a hybrid camera – with a pinch and zoom mode – or restricted to the three optical focal lengths. These are 24mm, the original Hasselblad camera first seen on the Mavic 3, a new 70mm (3x telephoto) focal length, and a new 166mm (7x telephoto) mode.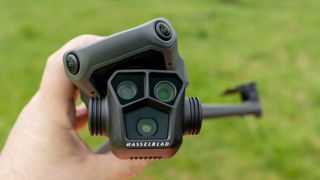 While the previous Mavic 3 drone features a 7x camera, this is a new lens to improve resolution over the Mavic 3 (there is the 'focus' mentioned in the teaser!) Flight time will be 43-minutes with the new camera block.
This is the new flagship drone for the consumer/prosumer range, and is being offered in both the standard (MicroSD card) and Cine versions. The Cine edition can encode in ProRes HQ, ProRes 422, and ProRes LT and records to a built-in 1TB SSD. A 10Gbps data connection allows data transmission, just like the Mavic 3, but here all three cameras support ProRes.
The main camera is a 4/3 CMOS, and can capture video at 5.1K at 50fps, 4K at 120fps, and 4K at 60fps with features like subject tracking working. The medium telephoto is 1/1.3 inch and the longer 7x telephoto uses a 1/2-inch sensor. Their resolutions are 20MP, 48MP, and 12MP respectively.
New software features include – at last, DJI – waypoint flight, allowing the drone to follow a route you've already planned. In this regard, the Mavic 3 has been some way behind Skydio, as discussed in our review of the Skydio 2+. Cruise control will allow long smooth flights in any direction and there are improved return-to-home options.
In other respects, though, the DJI Fly software is familiar and has the advantage of being ready at launch rather than following some months later as with the Mavic 3.
The Mavic 3 Pro will be available in a number of bundles, starting at $2,199 / £1,879 / AU$3,099, rising to $3,889 / £3,169 / AU$5,329 for the Fly More Combo with the RC Pro, and peaking at $4,799 / £4,109 / AU$6,939 for the Mavic 3 Pro Cine Premium Combo, see the DJI store.
We've already had a quick test, so check our Mavic 3 Pro review.