DJI has today announced the long-awaited Inspire 3, six and a half years after the Inspire 2, and the specs are as high as we'd imagined. The drone carries the 8K full-frame Zenmuse X9 cinema camera, sports a new 1080P FPV camera with night-vision, and has built-in support for exacting RTK waypoints for filmmakers to create a "3D dolly."
"The Inspire 3 is the professional-level aerial platform all filmmakers have been waiting for," says Ferdinand Wolf, DJI's Creative Director, and that definitely seems to be the route the company is taking with it. Our Inspire 2 review asked if it was still useful in the 2020s. That drone offered prosumer and pro alternatives, but this time there only seems to be a pro route.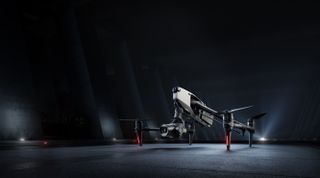 The new Inspire 3's adopts the now-familiar approach of slinging the camera beneath the airframe and changing shape after take-off to afford an unlimited view (the camera can be directed up ot 80˚ upwards). A change arranges the arms so they open wider on landing, holding the front higher for easier camera access.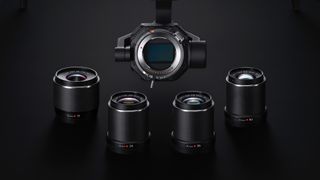 The new Zenmuse X9-8K Air camera is, DJI say, the lightest ever full-frame camera. It can shoot 8K at 25fps Cinema DNG, or 8K at 75fps in ProRes RAW. 4K at 120fps is on offer too. Dual-native ISO will offer EI 800/4000 at 24fps and 320/1600 at 30fps for low-light productions, and the camera has over 14 stops of dynamic range.
The improved FPV camera, with 1080P 60fps video, offers a 161˚ field of view, but perhaps more interesting is night vision. This should make dual-camera operations at night much easier. The old FPV camera was poor in low light, while this sensor will have 3m pixels.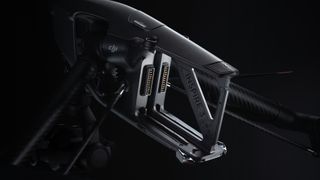 Flight times of 28 minutes won't impress consumer pilots, but the dual hot-swappable batteries mean crews can land and lift off without power-cycling the drone. The 9-camera all-round collision sensing system may excite those looking for trickle-down tech. A new-to-DJI feature, the pilot can monitor the collision cameras and define their own alert criteria even with avoidance switched off.
Including incredibly precise RTK positioning (and ceramic antennae to achieve it) means planned flights can be centimeter-accurate. Of course, satellite positioning is still included too, but the inclusion of RTK (without any awkward-looking accessories) means creatives will be able to design repeatable shots with far more accuracy than in the past. This hardware will also assist the new Spotlight Pro subject-tracking AI.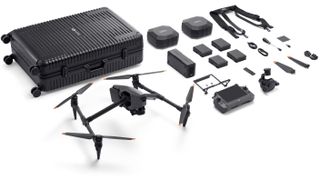 Pros used to a DJI workflow will feel at home. The DJI Collar System (DCCS) is supported, which matches the Ronin 4D. The Inspire 3 features a USB-C port for direct transfer from the included 1TB SSD at 900MBps. It'll also be possible to monitor in 4K within 5km.
The included controller is the DJI RC Plus, with a 1,200-nit 7-inch screen and hot-swappable batteries. O3 Pro has a transmission control range of up to 15 km or 12 km (7.4 miles) in dual control mode. The controller sports HDMI-out for monitoring and 3-channel follow-focus for remote focus and iris control.
The Inspire 3 will ship "by the end of June" in a bundle with the Inspire 3 drone, Zenmuse X9-8K, Air Gimbal Camera, RC Plus remote, six TB51 batteries, a charging hub, 1TB SSD, trolly case and foldable propellors. Pricing will be $16,499 / £13,419 / AU$20,469.
The DJI DL 18mm f/2.8 lens will retail for $1,299 / £1,209 / AU$1,749, while other DL-mount lens options are available. CinemaDNG and ProRes licenses are also extra.
If you're interested in seeing where this fits in the range, check out our list of the best DJI drones, or simply the best camera drones. If you're a cinematographer on a budget below five figures, it's probably time to check out the Mavic 3 Cine.