Rumors continue to circulate that Canon will launch a lower cost APS-C EOS R camera using the mirrorless Canon RF mount. It sounds like a great idea, and a way to extend the reach of the RF system into the amateur/enthusiast market. There's only one problem: what happens to the EOS M range?
Rumors of an APS-C Canon RF camera have been around since 2020, with reports that a new EOS R7 model could arrive later in 2021, and more recently Canon Rumors reports that patents have been uncovered for new APS-C RF mount lenses.
We've speculated plenty about the future of the Canon EOS R system in our own Canon camera rumors article, but as ever with Canon, nothing happens until it happens.
But if (and that's a big IF) Canon does launch an APS-C RF mount camera, that poses two big questions: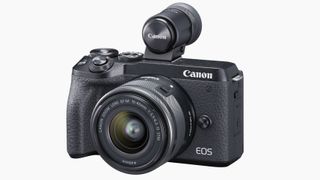 1) What will happen to the EOS M camera range?
The first Canon EOS M mirrorless camera was launched way back in 2012, and since that point the EOS M range has gone through several different models and upgrades… and yet it just hasn't had the impact that Canon must surely have hoped for. The cameras are good in parts but often lackluster, while the lens range has grown slowly but stuck to low-cost amateur-orientated optics with limited appeal for serious photographers and vloggers.
The Canon EOS M6 Mark II is pretty capable and fresh, but pricey too and reliant on a clip-on EVF, since there isn't one built in, but below that there's the EOS M50 II, a very minor refresh of the original EOS M50, and the unlovable Canon EOS M200. The EOS M5 and M200 both shoot cropped 4K video that doesn't even offer Canon's Dual Pixel CMOS AF in that mode. They're last year's cameras with last year's tech.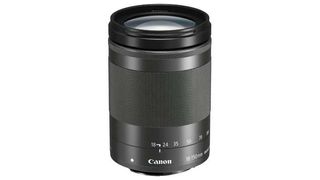 And even now, Canon only makes eight EOS M lenses, including just three primes, and no constant aperture zooms (see Best Canon EF-M lenses).
We imagine Canon has invested too much in the Canon EOS M brand to just shut it down, but with Sony and Fujifilm far ahead with APS-C mirrorless technology and lens ranges, it probably wouldn't be much of a loss to the photo market as a whole if it did.
Indeed, if Canon were to shut down the EOS M line, we think it might do it quietly over time and just not launch anything new. Which is what it feels like right now, to be honest.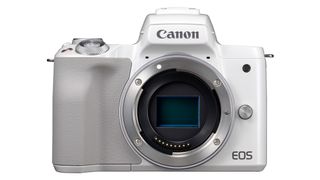 2) Can Canon make YET ANOTHER lens range?
The trouble with APS-C cameras is that you need APS-C lenses to go with them. That's not strictly true with macro lenses, portrait lenses or telephotos, where the increase in focal length from the APS-C crop factor can actually be an advantage, but Canon would definitely need to make some APS-C kit lenses and wideangles, where full frame RF lenses just would't offer a wide enough angle of view.
You only have to look at the Nikon Z50 to see how important the lens range is. The Z50 is a great camera, but it's held back through having only two native DX Z-mount lenses – the Nikkor Z 16-50mm kit lens and the Nikkor Z 50-250mm telephoto. There is a DX-format Nikkor Z 18-140mm superzoom on the way, but already that feels too little, too late. If you want a wide-angle lens for your Z50, what are you supposed to do? Use the FTZ adaptor and a DSLR lens?
If Canon does make an APS-C RF mount camera, it will need to make a core set of lenses to go with it – and it will have to decide what to do about the EOS M. If it doesn't, it will be left with no fewer than five different current lens ranges:
• Canon EF-S DSLR lenses
• Canon EF DSLR lenses
• Canon EOS M lenses
• Canon APS-C RF (RF-S?) lenses
• Canon RF lenses
Out of that list, the Canon EOS M and APS-C EOS RF lenses would be in direct competition. Everyone will be confused about what to do, not least the customers.
Could Canon simply give any new APS-C EOS R camera an EF-M lens mount? Hardly, because that would leave no compatibility or upgrade path between two sets of EOS R cameras, which would seem unthinkable.
But then having two APS-C format mirrorless lens mounts seems equally unthinkable too.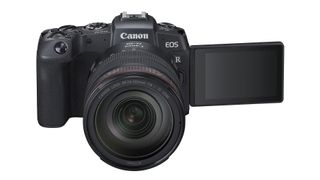 What's next for Canon mirrorless?
If Canon does decide to launch an APS-C EOS R camera (our money is on an enthusiast level EOS R7), that will surely kill off the EOS M camera range and Canon will still have to do some pretty fancy marketing footwork to make it all look logical and straightforward.
Honestly, we don't know how Canon would do that, and that's one reason at least while an APS-C Canon RF range might not happen tomorrow. But those, of course, sound like famous last words…
Read more:
• Best Canon cameras
• Best Canon RF lenses
• Best Canon EF-M lenses
• Best mirrorless cameras
• Best beginner cameras
• Best enthusiast cameras
• Canon reveals what the R in Canon EOS R really means