It looks like the long-gestating Canon RF 35mm f/1.2L lens will finally arrive in 2021, rounding out Canon's offering of three f/1.2 focal length optics for the EOS R system. However, we might actually be getting two versions of the lens – one with Defocus Smoothing, for feathery smooth foreground and background blur.
First rumored last August, the Canon RF 35mm f/1.2L would join the existing Canon RF 50mm f/1.2L IS USM and Canon RF 85mm f/1.2L IS USM lenses, to complete the lineup of 'trinity primes' for the EOS R family.
• Read more: Best Canon RF lenses
However, the latest reports are that the new lens will also be accompanied by a sister Defocus Smoothing version, which would join the Canon RF 85mm f/1.2L IS USM DS as the manufacturer's second DS optic.
That's according to two separate stories, one from Canon Watch and another from Canon Rumors, both claiming that the 35mm f/1.2 tag team will be announced in the first half of next year.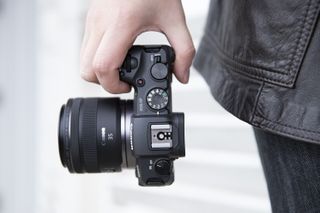 As noted, the Canon RF 35mm f/1.2L has been known about for some time, with initial reports suggesting that it would be added to the Canon RF lens roadmap for release in 2020.
While this is the first we've heard of a DS version, Canon has been experimenting with a number of optical formulas including a 35mm f/1.4 with soft focus and a 50mm f/1.4 with apodization – so it's clearly interested in more boutique lenses to showcase the capabilities of the RF mount.
Of course, the manufacturer already produces a 35mm lens for the mount, the Canon RF 35mm f/1.8 IS STM Macro – an incredibly compact, lightweight and very capable lens that was designed to pair with the smaller Canon EOS RP body. However, the new f/1.2L version of the lens will almost certainly take the same form factor as its much larger RF 85mm f/1.2L and RF 50mm f/1.2L siblings.
While we think it's far more important for Canon to get more affordable EOS R lenses onto the market – like the 35mm f/1.8 and the new Canon RF 85mm f/2 IS STM – the existing f/1.2 primes are such powerhouses that we would welcome another one with open arms. And the 85mm DS is one of our favorite lenses ever, so we wouldn't sniff at another one of those either!
Read more:
Canon RF 35mm f/1.8L IS STM Macro review
Canon RF 50mm f/1.2L IS USM review
Canon RF 85mm f/1.2L IS USM review
Canon RF 85mm f/1.2L IS USM DS review