Recently we heard that Canon profits were expected to decline by 40% this year following a few setbacks amid the general decline of the camera market.
Today it has been confirmed as the firm has released its official financial results for Q2 of 2019, and they have been revised in a distinctly downwards direction. This is in spite of some high-profile releases from the firm, namely the new EOS R and EOS RP mirrorless cameras. Unit sales for the second quarter this year were down 22% to 1.08 million.
According to the report, while sales of Canon's mirrorless cameras did increase at an above-market rate, this was not enough to offset the impact of "DSLR market contraction" (meaning people aren't buying DSLRs much any more).
Therefore, as you might expect, Canon's plan for the rest of the year is to keep investing in mirrorless.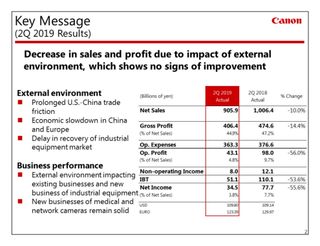 "Specifically, we will enhance our lineup launching 5 new lenses for mirrorless cameras. Through kit sales that leverage our broad range of mirrorless camera lenses and by bundling cameras with accessories like our lens adapter that makes it possible to use our existing rich lens lineup we will promote further expansion of mirrorless camera sales."
Other plans include providing more opportunities for prospective customers to handle mirrorless cameras before buying them, particularly in Japan, and providing "enhanced support" for its professional photographer customers, especially at sporting events (what this support consists of is not yet clear).
In terms of compact cameras, sales were reportedly "in line with [Canon's] plan", which seems kind of amazing considering that market has reportedly been in total freefall for years. Nevertheless, there will be more premium G-series compacts on the way.
You can download and read the full report here. Thanks to the eagle-eyed folks at Canon Watch for digging into this one.
Read more:
Sony just 1% behind Canon for Japanese mirrorless market share
Canon profits to decline 40% this year, Nikkei reports
The best Canon camera in 2019