Much has been made of the Canon EOS R5's recording limitations when shooting 4K and 8K video, due to the camera overheating. Well, not only is Canon aware of the issues – it has already designed a solution to them.
The Canon EOS R5 is one of the most formidable cameras on the market – though its uncropped 4K 60p, 4K 120p and 8K 30p modes are all subject to recording limits due to overheating. This is due to the R5 body being so compact, slim and weather sealed; unlike cinema cameras, or bodies like the Panasonic S1H, it doesn't have a built-in fan to cool itself – and the lack of airflow causes heat buildup.
Enter Canon's ingenious solution, which it designed and patented last October: an RF mount adapter that effectively acts as a fan-driven cooling chamber, to remove excess heat from the interior and image sensor.
• Read more: Canon EOS R5 overheats when shooting 8K (and 4K)
The fact that Canon conceived this idea last year indicates that the manufacturer was well aware of the overheating issue, and was already coming up with solutions to it. (We dare say that there were many prototypes of the R5, some of which featured a built-in fan, and ultimately it was decided that such an adapter would be the best all-round solution.)
We first saw the design last year, when it was spotted by Canon News, though at the time it didn't seem to have any practical application. Now that the R5 – and the Canon EOS R6, which is subject to similar issues – has been launched, though, it's quite clear what its purpose is.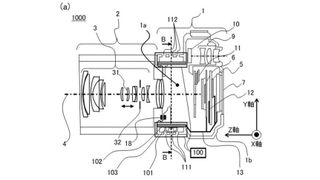 "A cooling device having a hollow shape, heat transfer means for transmitting heat generated from the electronic component or the image sensor to the cooling device, an inner peripheral portion formed so as to surround the optical axis, and the cooling device," describes the machine-translated Japanese patent.
"An outer peripheral part that is an exterior and is formed so as to surround the optical axis; and a hollow part that is formed between the inner peripheral part and the outer peripheral part and serves as a gas flow path. Is provided with an intake port for allowing gas to flow into the hollow portion, and an exhaust port for discharging gas from the hollow portion, and the hollow portion includes gas from the intake port to the exhaust port. Fan that gives driving force to flow into Characterized in that it is arranged."
As noted by Canon News, this has potential applications beyond just videography and could also be very useful for astrophotography (where heat and resulting sensor noise obviously becomes very pronounced).
The elephant in the room, of course, is that this is an RF-EF mount adapter – which means that, as currently patented, it would only provide a solution when mounting EF-mount lenses. Though of course, for many professionals wishing to use this in production environments, EF glass and cinema lenses are the optics of choice anyway, so this would actually be a very practical solution.
Either way, it's a very welcome development and a huge step towards addressing one of the few weak points of the R5 and R6. Now, if Fujifilm could do something similar to address the 4K overheating issues on the Fujifilm X-T4…
Read more:
Hands on: Canon EOS R5 review
Hands on: Canon EOS R6 review
Canon EOS R5 vs R6: What are the differences and which is best for you?