There's always more gossip about the Canon EOS R than your average professional football player, and the latest gossip is juicier than usual: specs have been leaked of a purported prototype of a high-res version of the camera, which may materialize as the Canon EOS RS.
The new camera will reportedly feature an 80MP sensor, dual SD card, a larger LCD screen, a new joystick design and potentially a tilting electronic viewfinder, among other additions.
While obviously these details need to be taken with a pinch of salt, they do at least corroborate a patent disclosing an 83MP Canon sensor; given that a sensor's gross megapixel count is higher than the effective megapixel count (the Canon EOS R, for example, has 31.7MP in total but an effective 30.3MP), it is likely that the 80MP and 83MP reports relate to the same sensor.
The latest details of the Canon EOS RS – the name we're assuming Canon will use for the high-resolution model, as it will effectively replace the Canon EOS 5DS – come courtesy of a story by Canon Rumors, citing a source who has been using a prototype of the new camera:
• A slightly larger body and grip than the EOS R
• 80MP full-frame image sensor
• A "new style" of joystick
• Larger LCD than the EOS R
• Larger viewfinder than the EOS R
• The "viewfinder" can be tilted up and down (We're not sure if this was the LCD screen or the EVF, we have reached out for some clarification)
• Dual SD card slots
• No video specifications are known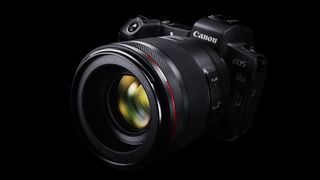 Dual memory card slots is obviously a big deal, as it has been perhaps the single biggest criticism of the EOS R since it launched. Also of note is that the M-Fn touchbar appears to be history, along with the top OLED screen.
The addition of a new joystick of some sort is interesting – could Canon be experimenting with a similar touch-sensitive input to the M-Fn bar, but in joystick form? The suggestion of a tiltable EVF is also fascinating, and would certainly make sense as the Canon EOS 5DS line was marketed to landscape photographers.
Canon has also apparently revised the timetable for the announcement of the EOS RS. Initially believed to be announced by the end of 2019, sources now anticipate that it will appear in the first half of 2020.
We expect this camera out in early 2020, with both Photokina and CP+ being the two main dates to plan around, however, this could slip to Canon Expo in August / September as well," wrote Canon News.
One thing's for sure: it's never dull where the Canon EOS R is concerned!
Read more:
Canon EOS R review
Canon discloses 83MP sensor… is this for the new, hi-res Canon EOS R?
Camera rumors 2019: what new cameras are coming out this year?