Details regarding a new 83-megapixel image sensor have been revealed by Canon, which could very well be the sensor powering the high resolution Canon EOS R (possibly called the 'Canon EOS RS') that's expected later this year.
An 83MP sensor would tally with previous reports, claiming that the new camera will possess an image sensor somewhere between 75 and 100MP – a huge step up on the 30.4MP of the existing Canon EOS R.
Information regarding the sensor came courtesy of a story by Canon News, which uncovered an otherwise innocuous patent for improved focus accuracy that mentioned an 83.06MP sensor with 11,150 x 7,450 pixels. From the patent:
"A large number of pixels of 4 columns × 4 rows (8 columns × 8 rows of focus detection pixels) shown in FIG . 2 are arranged on the surface to enable acquisition of a captured image (focus detection signal). In the first embodiment, the period P is 4 [mu] m, the number of pixels N in the lateral 5575 columns × vertical 3725 lines of pixels = about 20.75 million pixels, the column period P of the focus detection pixels AF is 2 [mu] m, the focus detection pixel number N AF lateral The description will be made assuming that the imaging device has 11150 columns × vertical 7450 rows = approximately 83.06 million pixels."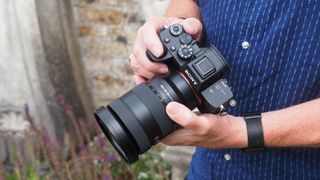 Such a description could simply be used as a hypothetical example for the purposes of the filing. However, as the website concurs, we cannot recall Canon ever using such hypotheticals in patent filings in this way.
It therefore seems plausible that the 83MP sensor is actually a working example, and this could be our first concrete tip as to the resolution of the hi res 'Canon EOS RS', which is said to have a megapixel count "way beyond the Sony A7R IV" and its 61MP sensor.
Precious little else is known at this stage but, since the camera industry is appalling at keeping secrets, we expect more information to creep out sooner than later.
Read more:
Canon EOS R review
New Canon EOS R has resolution "way beyond" the 61MP Sony A7R IV
Camera rumors 2019: what new cameras are coming out this year?