Canon has officially announced full details of the Canon EOS-1D X Mark III, its latest flagship camera aimed at professional sports and wildlife photographers, as well as photojournalists working in the field.
The Canon EOS-1D X Mark III features a 20.1MP image sensor and a radical new autofocus system, which makes the camera a true hybrid of mirrorless and DSLR technology that enables photographers to get the best of both worlds. Combined with 5.5K internal 12-bit RAW video, a game-changing new Smart Controller, support for HDR stills and video standards plus CFexpress support, it is in many ways the camera of the future.
• Hands on: Canon EOS-1D X Mark III review
While it may "only" pack a 20.1MP sensor – which is less than both the Sony A9 II and even the Canon EOS-1D X Mark II – Canon claims that the camera is capable of sharpness and resolution equal to a 24MP pro sensor. This is thanks to a completely new quad-layer, 16-point subsampling low pass filter that manages to block moiré without introduces the layer of softness found on other pro cameras.
More importantly, the 20.1MP sensor is the sweet spot for achieving new levels of autofocus performance, as well as the one stop improvement in both dynamic range and ISO sensitivity.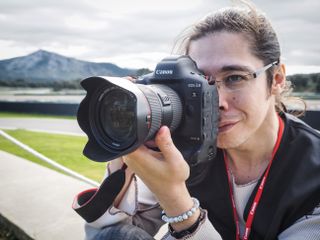 When using the optical viewfinder for lag-free shooting, enabling fast action to be captured in real time, the 1D X Mark III can shoot at a fierce 16 frames per second (using its mechanical shutter), finding focus with a 400,000-pixel metering sensor in conjunction with a dedicated Digic 8 processor, offering 191 AF points (155 of which are cross-type).
When ultimate precision tracking is required, shooting in Live View enables the camera to capture a ferocious 20 frames per second (using either the mechanical or electronic shutter), powered by the brand new Digic X processor using the full 20.1 million-pixel readout of the image sensor, combined with an enormous 3,869 Dual Pixel CMOS AF points. In Live View, the 1D X Mark III is capable of full eye detect autofocus, using the same tech as the Canon EOS R's latest firmware update.
At the heart of the new AF system is the much vaunted deep learning AF algorithm – a subset of artificial intelligence, which used millions of images from the major photographic agencies and Canon ambassadors to teach the camera how to recognize human subjects. While this isn't true AI (despite the name, it isn't actually in a continual state of learning), it enables the camera to perform head tracking with remarkable accuracy – even if no face or eyes are visible.
When it comes to video, Canon has finally got the uncropped 4K monkey off its back. The Canon EOS-1D X Mark III is capable of full-width internal 12-bit 4K RAW recording at 5472 x 2886 (oversampled 5.5K) up to 60fps – though AF/E and tracking are only supported up to 30fps. In addition to a selection of 4K crops, it also supports 1080p video at up to 120fps with AF/E and tracking. And Canon Log offers 4:2:2 10-bit with HEVC using the H.265 codec, with a claimed 12-stop dynamic range.
Above: The Canon EOS-1D X Mark III's Smart Controller in action (video)
The camera can record RAW and MP4 video simultaneously to two separate memory cards – which are now dual CFexpress cards. These are a true revelation for shooting, particularly for stills, with a virtually unlimited buffer capable of capturing bursts of up to 1,000 RAW or RAW + JPG images.
The pièce de résistance, however, is the new Smart Controller – which makes the traditional joystick almost redundant for moving AF points around. It works like an optical mouse, turned upside-down; you can whizz your thumb across it and ping the AF point around the screen or viewfinder as fast or as slow as you want to. It's so good that it's begging to become an industry standard.
The Canon EOS-1D X Mark III will be available from the end of February for $6,499/£6,499/AU$9,999. Aware that CFexpress cards are currently tricky to come by, the Canon is also partnering with manufacturers to offer a bundle including a card and reader, which will determine the final release date. In Australia, retailers are offering Canon EOS-1D X Mark III with 512GB CFexpress card and reader for $10,999.
For full details, sample images and impressions, check out our in-depth Canon EOS-1D X Mark III review.
Canon EOS-1D X Mark III specifications
Sensor: 20.1MP full-frame CMOS sensor
Image processor: Digic X
AF points: Optical viewfinder – phase detection using AF-dedicated sensor,
191 points (155 cross-type) / Live View – Dual Pixel CMOS AF, 3,869 points
ISO range: 100-102,400 (exp. 50-819,200)
Max image size: 5472 x 3648
Metering modes: Evaluative, partial, spot, center spot, AF point-linked spot, multi-spot, center weighted average
Video: 4K RAW, 4K DCI, 4K UHD, 4K DCI Cropped at 23.98, 24, 25, 29.97, 50, 59.94fps / 1080p at (23.98, 24, 25, 29.97, 50, 59.94, 120fps
Viewfinder: Pentaprism, 100% coverage, 0.76x magnification, 20mm eyepoint
Memory card: 2x CFexpress 1.0 Type B
LCD: 3.2-inch fixed touchscreen, 2.1million dots
Max burst: Optical viewfinder 16fps mechanical shutter / Live View 20fps mechanical or electronic shutter
Connectivity: Wi-Fi (2.4GHz), USB-C (USB 3.1 Gen 2), Bluetooth, HDMI mini, external microphone, headphone Jack, N3 remote release terminal, Flash PC, gigabit ethernet (10BASE-T, 100BASE-TX, 1000BASE-T)
Size: 158 x 167.6 x 82.6mm
Weight: 1,250g (body only)
Read more:
Hands-on: Canon EOS-1D X Mark III review
The best cameras for professionals
The best Canon camera: from EOS to Ixus, pro DSLRs to PowerShots!