Update: our full test of the Canon EOS 250D/Rebel SL3 is now in
The EOS 250D/Rebel SL3 is actually a development of the existing Canon EOS 200D/Rebel SL2, which currently tops our list as the best Canon camera, but with a new DIGIC 8 processor that adds a big list of new features.
These include 4K video capability, for the first time in a cheap DSLR camera aimed at beginners at this price level. This works alongside improvements to the Dual Pixel CMOS autofocus system to make the camera's vari-angle touchscreen display even more effective for composing photos and videos. The Dual Pixel system now offers an amazing 3,975 user-selectable focus points across the whole screen in live view mode. This might not immediately make the EOS 250D/Rebel SL3 the best 4K camera for filmmaking for experts, but it's a big boost to its general consumer appeal and its usefulness as a vlogging camera. We also really rate the existing EOS 200D/Rebel SL2 as one of the best travel cameras around right now.
Unusually for a DSLR, the EOS 250D/Rebel SL3 works just as well if not better when you're composing shots on the rear screen as it does for regular viewfinder shooting. In fact, it has a lot in common with the Canon EOS M50 mirrorless model, but with an optical viewfinder system built in. The mirror in the body makes it chunkier than a mirrorless camera but, just as Canon claims, it's the smallest and lightest DSLR on the market with a movable screen. It's also potentially one of the best cheap cameras generally.
• Spot the difference? Canon EOS 250D vs EOS 200D / Rebel SL3 vs Rebel SL2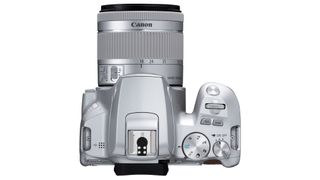 The free-angle pivot means you can flip the screen out sideways and rotate it to face in any direction, including forwards, so it's perfect for selfies and for filming yourself in 4K video. When we get a sample in for a full review we can find out if it will make our best cameras for vlogging list.
Alternatively, you can compose photos in the optical viewfinder, which uses a pentamirror design and covers 95% of the image area. Here, Canon has stuck with its basic but effective 9-point autofocus system, which might disappoint some tech fans, but is simple to understand and use.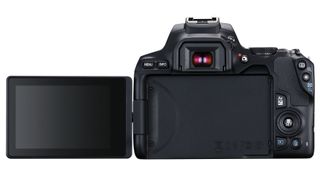 Technical improvements
The APS-C size 24.1-megapixel Dual Pixel CMOS AF sensor in the EOS 250D/SL3 is one we've seen in a lot of Canon DSLRs and it's a very good performer. It can now capture 4K video at up to 25/24 frames per second, and can also record 4K time-lapse movies – it's even possible to grab and save individual frames from 4K movies.
Canon's new DIGIC 8 processor adds other advantages, including an Auto Lighting Optimizer for handling tricky lighting situations, a Digital Lens Optimizer for getting the best out of your lenses and a Highlight Tone Priority mode to help prevent blown-out highlights in very bright scenes.
The EOS 250D/Rebel SL3 is now arguably more effective in its live view mode than it is for viewfinder shooting, which is something we never thought we'd say about a DSLR.
Who's it for?
The EOS 250D/Rebel SL3 is aimed at novices, families and anyone upgrading from a smartphone or another digital camera. Canon wants it to be the ideal introduction to interchangeable lens photography and the Canon system of over 80 lenses, flashes and other accessories.
We already think the existing EOS 200D/Rebel SL2 is one of the best cameras for beginners, and the new model comes with a guided user interface offering on-screen hints and tips, and a Creative Assist feature with effects and filters you can apply while you're taking pictures or after they've been taken.
Bluetooth and Wi-Fi are built in and work alongside the free Canon Camera Connect app for iOS and Android for image transfer and remote control of the camera.
Confusingly, Canon uses different names around the world. In Europe the new camera will be called the Canon EOS 250D, in North American it will be known as the Canon EOS Rebel SL3, while it will be titled the 200D in Asia, the 200D II in Southeast Asia, and the Kiss X10 in Japan.
The Canon EOS 250D will come in black, white or silver finishes and is available for pre-order now, becoming officially available in Europe April 25. The price will be £529.99/$549 body only, or £599.99/$649 with EF-S 18-55mm f/4-5.6 IS STM kit lens (recommended).
The Canon EOS Rebel SL3 will go on sale in North America 'toward the end of April' in black and white color options for an estimated retail price of $599.99 for the body only and $749.99 for the body with a EF-S 18-55 f/4-5.6 IS STM lens.
Read more:
• Best cameras for beginners
• Best Canon camera
• Best mirrorless camera
• DSLR vs mirrorless cameras: how they compare