UPDATE 30 OCTOBER: Canon has reached out to us to clarify that, "we have no plans to abandon jpegs just give users a new image option." The story has been edited accordingly.
ORIGINAL STORY: The announcement of the Canon EOS-1D X Mark III marked many things for the manufacturer, but most notably it marks Canon's first steps in migrating towards the HEIF image format. Perhaps Canon believes the hype that pros really don't shoot JPG.
This development has implications not just for Canon's own product line, but also for the landscape of the photographic industry as a whole, should HEIF become the preferred format of the world's number one camera manufacturer.
When the Canon EOS-1D Mark III, the company's new flagship professional camera, was announced, it made headlines for a number of reasons – like its new Digic processor, AF deep learning algorithm, 4K 60fps video, 20fps stills shooting, CFexpress storage and "hybrid" mirrorless qualities.
However, flying totally under the radar is the fact that the 1D X Mark III will move towards 10-bit images in the HEIF format – mirroring the move by Apple in 2017 when it introduced iOS 11 and dumped JPG in favor of the 'High Efficiency Image Format', which can store twice as much data as a JPG of the same file size.
"We've moved on to HEIF files," Canon UK's product intelligence specialist, David Parry, told us when the company invited us to see the new flagship in the flesh.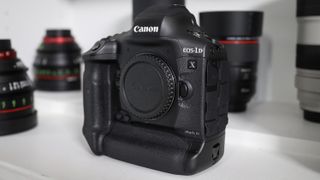 It certainly makes sense, when you consider that the camera is designed specifically for rapid-fire burst shooting. Capturing images with twice as much data without increasing the file size is a huge boon for the camera – especially with the adoption of CFexpress memory cards to handle their 10-bit fidelity.
Canon has since clarified that the 1D X Mark III will still shoot JPGs, in addition to offering HEIF files, so there will be the option of file formats (much as some cameras enable you to capture TIFFs, for example).
That said, with JPG being made quite redundant by HEIF, there is little practical point in actually using it. Back in 2017 when Apple adopted the format, there were issues with PCs and Windows applications not being able to handle the files – but that is no longer an issue, and all that remains is a superior, effectively smaller format.
So the question now becomes how soon the trickle-down effect will take for the rest of Canon's cameras. Will the officially teased Pro Canon EOS R, for example, similarly offer HEIF? How long before the next PowerShots do likewise?
Now that the ball is rolling, we think it's only a matter of time until Nikon, Sony, Olympus, Fujifilm and co fall in line and offer HEIF as standard – meaning that the days might be numbered for our beloved JPGs.
Read more:
The best cameras for professionals in 2019: which pro camera system is best?
Pro Canon EOS R teased, IBIS confirmed! "We are considering a high end EOS R…"
CFexpress cards are here! Canon is first to use SanDisk's superfast memory cards