Blackmagic showed us a really interesting Atem Mini Pro phone tethering update and a new Atem Mini Extreme controller in its livestream today, and a brand new Atem Mini Extreme controller, but in true Apple 'one more thing' style, it then brought out a brand new camera...
The new Pocket Cinema Camera 6K Pro is like a heavy-duty version of Blackmagic's existing Pocket Cinema 6K camera for more demanding filmmaking use. It has the same Super35 format sensor and takes the same Canon EF lenses.
Super35 is roughly equivalent to APS-C in the stills photography world but is a well established cinema and filmmaking format in its own right. Filmmakers are moving towards full frame cameras, but Super35 is still arguably the most-used filmmaking format.
• The new camera is a little larger and bulkier than the regular 6K with built in motorised ND filters, a larger, tilting screen and an improved sensor. The battery is upgraded too. The camera body is designed from carbon fiber polycarbonate composite material.
• A new tilting rear HDR touchscreen has 1500 nit brightness.
• It shares the same 6K resolution as Blackmagic's earlier 6K Pocket Cinema camera, with 6144 x 3456 resolution, 13 stops of dynamic range and dual native ISO up to 25,600.
• The new camera includes Blackmagic Generation 5 color science.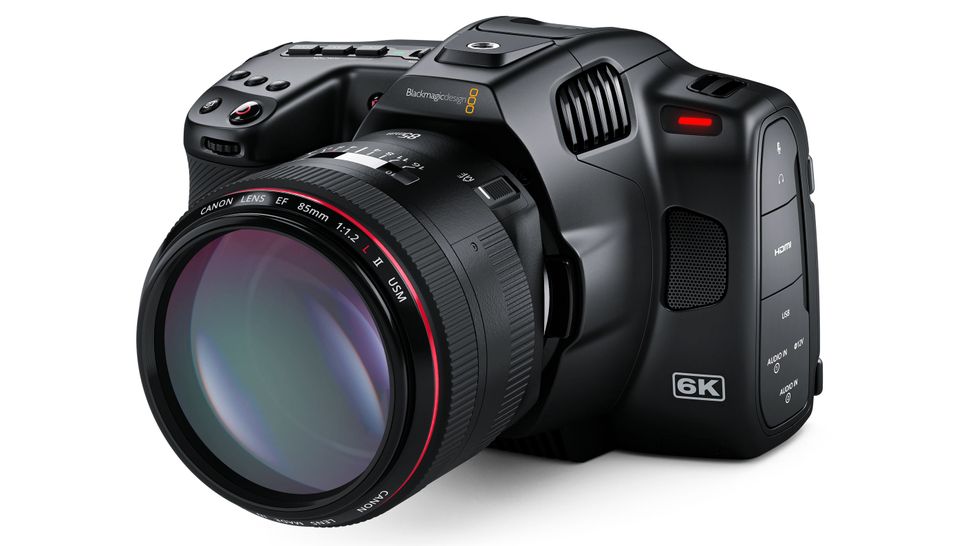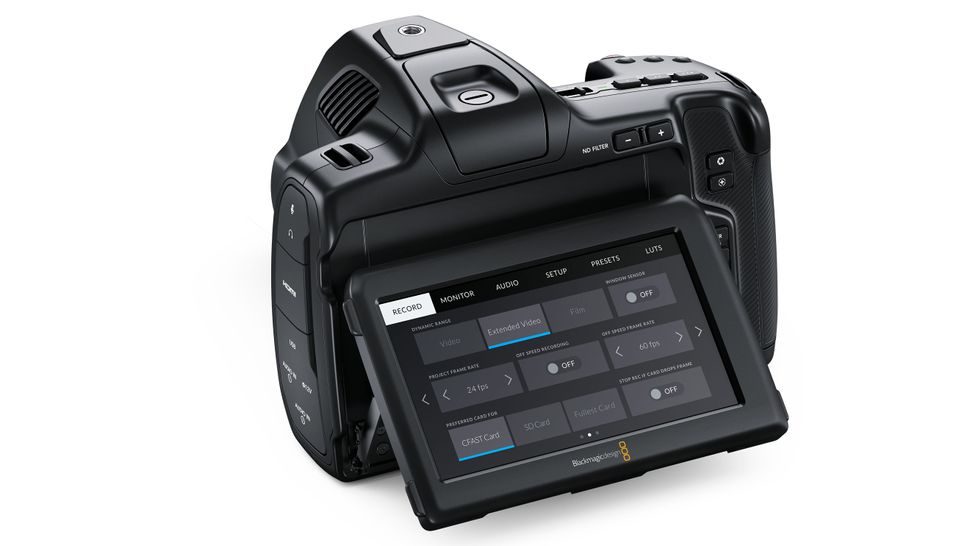 • There is an optional clip-on OLED EVF with eye sensor and a choice of glass eyepieces for both left and right eye users.
• It uses the same SD media as the other Pocket Cinema cameras and the same connectors, but adds professional mini XLR inputs with 48-volt phantom power.
• There's a new Battery Pro Grip for longer shooting sessions with two extra batteries that doesn't displace the internal battery but simply screws to the base and connects with power pins on the base of the camera – and you can connect and disconnect it with the camera running.
• Even without the battery grip, the new Pocket Cinema 6K Pro has a larger NP-F570 battery for longer running.
• The full DaVinci Resolve Studio software is included for post production work.
Blackmagic Pocket Cinema 6K Pro price and availability
The Blackmagic Pocket Cinema 6K Pro will cost $2495 / £2254 / AU$3,935 and is available now. The EVF will be $495/£510 and the Pro Grip is $145/£138 (without batteries).
Pre-order the Blackmagic Pocket Cinema Camera 6K Pro at Adorama (US)
Pre-order the Blackmagic Pocket Cinema Camera 6K Pro at B&H (US)
Pre-order the Blackmagic Pocket Cinema Camera 6K Pro at Park (UK)
Pre-order the Blackmagic Pocket Cinema Camera 6K Pro at Wex (UK)
Read more:
• Best 4K cameras for filmmaking
• Best cinema cameras
• Pocket Cinema 4K review
• Pocket Cinema 6K review
• Ursa Mini Pro 12K review