Blackmagic Design's press conference is now live - and there are two big announcements so far:
• The popular Blackmagic Atem Mini and Atem Mini Pro switchers now get mobile phone support – so you can stream on location, or in places without the need for wifi.
• A new Blackmagic Atem Mini Extreme is added to the family with a lot more buttons and the ability to connect up to eight sources (up from the four available with its siblings). It also offers two USB connectors – and a whole load more buttons!
The Extreme provides 4 ATEM Advanced Chroma Keyers, a total of 6 independent DVEs, 2 media players, 2 downstream keyers, 16 way multiview, 2 USB connections and multiple HDMI aux outputs. Like the Atem Mini Pro, the Extreme has built in hardware streaming engine for high-quality live streaming via their ethernet connections to YouTube, Facebook and Twitch.
The Atem Mini Extreme will be available immediately for $995 / £922.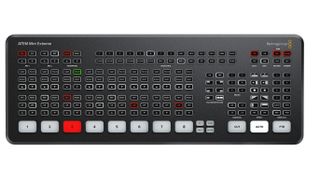 • There will also be a Blackmagic Atem Mini Extreme ISO version that allows you to record all nine inputs at the same time with a suitable portable SSD drive – so that you have a backup of all the feeds for editing once your live stream is over. This version is just entering production, and will retail for $1,295 / £1,198 when it goes on sale later in the month.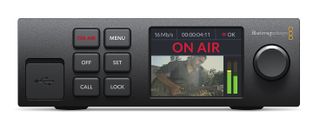 • Also announced is the Web Presenter HD - which is a significant update to the current Blackmagic Web Presenter - an H.264 encoder which allows you to stream websites, making your computer thinking any SDI or HDMI input is a webcam. It will cost $495 / £466.
• Also announced is a new camera - the Blackmagic Pocket Cinema Camera 6K Pro - see our separate story on this new PCC flagship cinema camera.