Billingham has long been recognised as a name which suggests superior quality and a premium feel in the photography industry. The UK firm's line of luxury camera bags are as much of a fashion statement as they are a functional tool for mobile photographers.
Billingham have now revealed details of a new line of products in the Hadley Small Pro line-up - a series of Grey Canvas and Black Leather bags. According to Cradley Heath-based company the choice to provide these options in the Hadley portfolio was inspired by requests from their firm customer base around the globe. The limited edition bags will only be available to buy while stocks last, suggesting they will soon become collectors items, sought after by loyal users of Billingham products.
In line with other bags in the range, the new Hadley Small Pro's are made from either hard-wearing canvas or FibreNyte. These materials are held together by a substance known as Stormblock material, made by a process of fusing dual layers of fabric with butyl rubber. This offers superior weather proofing, which does not degrade over time - Billingham proudly state that their bags never require re-proofing.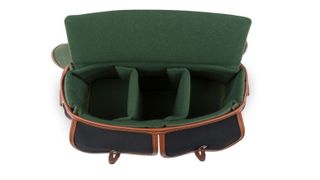 Headline features include a durable leather-reinforced top handle, adjustable and detachable shuttle woven polyester shoulder strap and water-repellent zips. The removable strap makes the bag an even better contender for carry-on airline luggage. A rear luggage strap enables the user to easily attach the bag to a trolley suitcase handle - useful when transiting through an airport.
All of the Hadley Small Pro's buckles are crafted from solid brass, while each unit is identified by a unique production number, adding to the premium feel and collectability of the bags.
Billingham Hadley Small Pro specs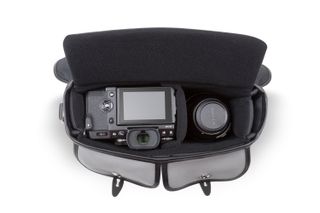 The internal and external dimensions of the bag measure 260mm x 80mm x 190mm and 330mm x 140mm x 260mm respectively (WxDxH). The main compartment has a 3.5 litre capacity while the front pockets each support 0.5 to 0.75 litre expandable capacities. The empty weight is 0.9kg.
Price: £200 / $259
The internal dimensions can be customised by removing the padding insert, which can be easily unclipped. This insert itself contains adjustable top-to-bottom vertical dividers for longer lenses, while further soft dividers enable shorter optics to be stacked in the bag. Further protection to equipment is provided via a flap at the top of the insert, which incorporates a additional padding, to absorb shock in the event of dropping the bag or knocking it into a hard surface.
The bag also features two large expanding pockets on the front, for storage of filters, documents, other peripherals or even lenses. The forward straps employ a quick release system for unhindered access to the bag's contents. Usefully this is designed with one-handed operation in mind. Further brass buckles allow secure fitting of straps around the bag.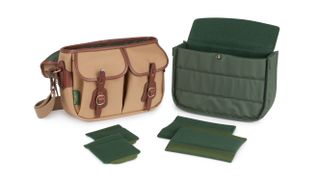 Read more
The best messenger bags for photographers in 2020: bags for camera gear and a laptop!
The best leather camera bags: luxury for your photo kit in leather and canvas
It's only 22 days until The Photography Show… But do you have your tickets yet?!