Although traveling and overnight stays are currently be on pause in the UK, that shouldn't stop you being inspired for your first post-lockdown 3.0 getaway. From stunning countryside views to scintillating city architecture, there are plenty of beauty spots across the UK just waiting to be discovered.
To help inspire your next trip, CEWE has released a collection of new images taken by photographers on their travels as part of the 2021 edition of the CEWE Photo Award, the world's largest photo competition. The UK snaps were submitted as part of the Travel & Culture category of this year's competition, which aims to celebrate the best in photography across the globe.
The competition, now in its fourth edition, opened for entries earlier this year and is everyone is eligible, from keen amateurs to established professionals. There are 10 categories in total and entrants have until May 2021 to submit their photos.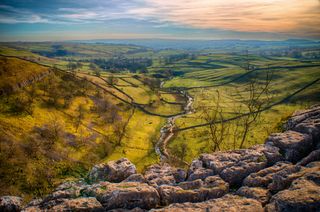 The Yorkshire Dales, pictured above, offers endless opportunities to capture truly striking images. Located to the east of the county, its coast, steam railway and rolling moors offer fantastic opportunities to grab beautiful photos. Meanwhile to the west, the Dales offer fields lined with dry stone walls, longstanding working villages and natural wonders such as Otley Chevin.
For the ultimate photos, we'd recommend a trip to York to photograph the incredible Minster, a visit to Knaresborough in the north to capture the viaduct and pretty rowing boats, and a stop at Runswick Bay to shoot the cliffs bathed in sunlight.
And an absolute must is a trip to the Brimham Rocks, where you can capture out-of-this-world shots of the strange natural rock formations that have occurred after centuries of wind and rain erosion. This photo, taken from the top of Malham Cove, is a perfect example of the stunning views on offer.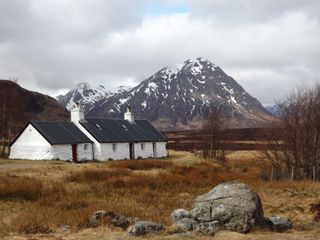 Glencoe (above), in the Highlands of Scotland two hours north of Edinburgh, is a steep-sided valley of volcanic origins known for its waterfalls and walking trails, and could be a perfect staycation for active adventurers.
Edinburgh ranked as one of the most photogenic locations in the UK, with Arthur's Seat making the top 25 most photogenic places in Britain. This is one of four hill forts that are around two thousand years old. Located within Holyrood Park, it offers rich cultural heritage, walks, wildlife, volcanic geology and incredible views of the city – perfect for capturing those landscape shots.
When in Edinburgh, you must visit Edinburgh Castle – which was voted as one of Britain's top 10 landmarks and is well worthy of a whole day to enjoy. Explore the grounds, take a guided tour, dare to step in the dungeons or just take in the extraordinary views.
These stunning icicles captured by Michelle Blaken in a beach cave in Portheras, Cornwall are a perfect example of hidden gems that you wouldn't expect to find in the UK. And it doesn't stop there, with a true treasure trove of photographic offerings and opportunities elsewhere in Cornwall.
St Michael's Mount topped the chart as the most photogenic place in the UK, and is one of the country's premier landmarks. If you're looking to capture this iconic view at its best, remember to consider the time of day you visit; the early morning and late-evening light enable you to capture stunning photographs at either blue hour or golden hour.
And it's impossible to talk about Cornwall without mentioning Land's End, home to some of the most dramatic cliffs in the United Kingdom. Take your camera to Enys Dodnan or Armed Knight and Longships Lighthouse viewpoints to capture some incredible images!
With the popularity of staycations showing no signs of slowing down (especially in times of restricted international travel), wherever you go, be sure to bring your camera and make the most of the majestic landscapes.
Read more:
Best cameras for landscape photography
Best lenses for landscapes
Landscape photography tips