Audio specialist Comica has announced the new Comica Traxshot – a super cardioid shotgun microphone inspired by Transformers, which can literally transform according to the shooting situation.
The Comica Traxshot's signature feature is its dual capsule arm system. Unlike traditional shotgun mics, which feature static directional capture, the Traxshot can be transformed to suit a variety of recording requirements – something that could make it one of the best microphones for vlogging.
By swinging the arms into one of four different configurations (as illustrated below), the microphone can capture mono, two-level stereo (30° or 90°) and bi-directional
(180°) audio patterns. This makes the device much more versatile than standard shotgun mics, and indeed standard mics of any kind.
Given that it captures audio from multiple positions, the usual shock mounts (which only provide anti-shock to the front and rear) aren't sufficient. So Comica has designed a new 'Air-float Shock Mount', which also provides shock absorption to the left and right of the microphone.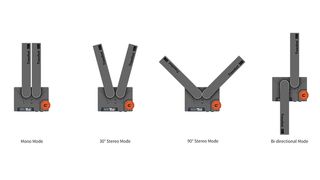 The Traxshot possesses a rechargeable battery with USB-C connection, which can be charged while in use, and features a useful OLED IPS display that indicates the power level and sound pickup mode. In addition, the USB-C interface can be used to update the device's firmware.
The super cardioid microphone has a stepless gain control, real-time monitoring, frequency response of 20Hz ~ 20KHz, with -40dB ~ -20dB sensitivity range, and is lightweight and compact at just 130g and 122 x 65 x 62mm. Its internal windproofing shields against basic wind noise, but a set of high-density wind muffs are provided to filter more aggressive noise.
An integrated foot makes it hot shoe-mountable on a camera body, but the mic also lends itself well to use with a smartphone rig, and includes both 3.5mm TRS-TRS and TRS-TRRS audio cables.
The Comica Traxshot is on sale now for $179 / £169 (approximately AU$233). For more information, visit the Comica website.
Read more:
Best microphone for vlogging
Best camera for vlogging
Best lenses for vlogging
How to vlog