Anyone can learn how to vlog. The equipment is important, but so is some basic vlogging tips and know-how. If you've got a smartphone and a YouTube account, you already have everything you need!
With eight-year-old Ryan Kaji raking in $26 million from his YouTube channel 'Ryan's World' in 2019, five 30-something friends doing stunts on their 'Dude Perfect' channel bringing in £20 million and five-year-old Russian Anastasia Radzinskaya raking in $18 million for edits of her playing video games with her dad, vlogging is a serious worldwide business.
Making videos of your life, hobbies or interests may make big money for some lucky YouTubers, but for the vast majority it's a fun way of being creative by making and sharing content you're passionate about. There are huge YouTube channels featuring everything from fashion to photography, make-up to monster trucks, fitness to fishing, woodwork to worm farming. Yes, a worm farming video has had over 2.5 million views in the past two months. Anything that anyone has a passion for can be a successful YouTube channel.
It's free and relatively easy to set up, then it's up to you to make and post videos for the great wide world to see. Or keep them private and share with friends, family or closed groups, if you prefer. Once your channel gets over 1000 subscribers, you can start to make money from adverts – if that's your goal.
But having a successful channel is not just as easy as filming yourself on your phone and uploading the results. You need to use the right kit, learn how to edit and lots more. Here are our top 10 tips on becoming a vlogger.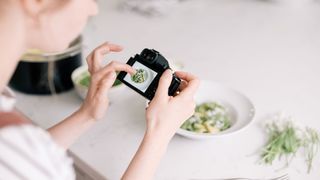 1. It's all about the content
YouTube is the biggest vlogging platform, so start by setting up an account. You'll need a free Google account and then follow the instructions on starting your own channel. Don't be tempted to just film everything in your life and post it, as chances are few people outside your friends and family will be interested. It's far better to make films on a subject you are passionate about. It could be cooking, travel, football, home décor, video games, fashion, fitness or horse riding. Often, a more niche channel will often do better as there are already thousands of channels focusing on things like celebrities, fashion or fitness. Whatever you do, make your films interesting and let your personality shine through!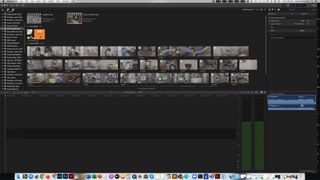 2. Learn to edit
Nobody can get everything perfect in just one take. So it's essential to learn the basics of video editing to make your films sharper and more professional. There are lots of free video editing software packages, such as Windows Movie Maker where you can drag and drop clips into a timeline, add special effects or captions. Mac computers come with iMovie free, which is a great editing package. And there are lots of free YouTube tutorials on how to do it. For more professional edits, you could invest in Final Cut Pro X for Macs, or Adobe Premiere Pro and After Effects for Mac or Windows PCs.
Read more: Best video editing software • Best free video editing software • Download Adobe Premiere Pro (7-day trial)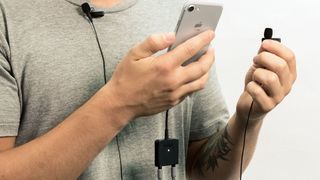 3. Use the camera you have
If you have a modern smartphone or even a computer with a webcam, you already have the basics to start vlogging. But of course, being limited to speaking to your computer or laptop is hardly ideal. A smartphone often has a high-quality video camera built in, but it can be made even better by using the phone in some sort of rig to keep it steady. Useful accessories include a small tripod, clip-on accessory lenses to widen the view or bring distant scenes closer, plug-in mini microphones to boost the audio level or plug-in mini LED lights.
Read more: Best camera phones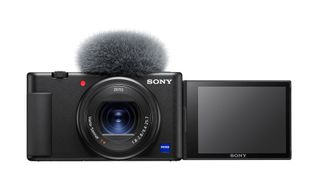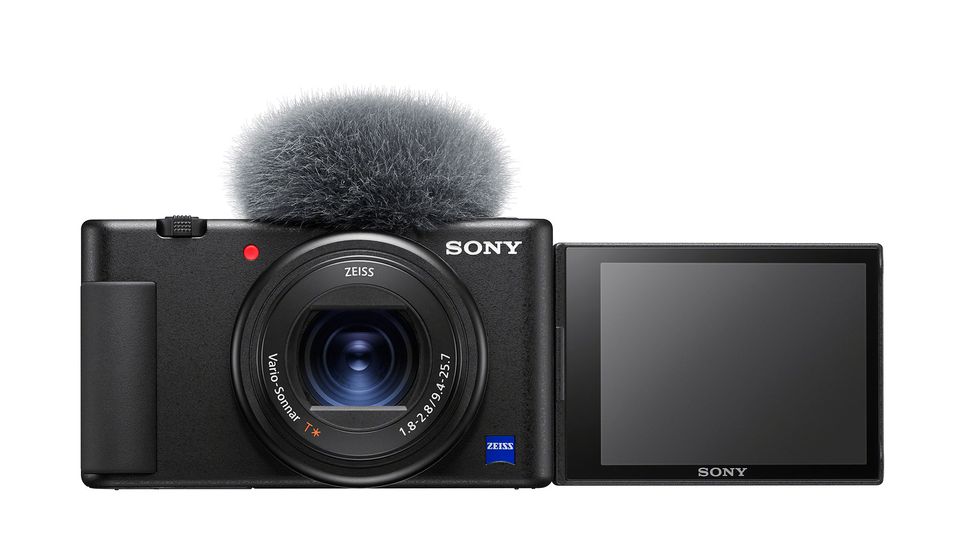 4. Choose a vlogging-style compact camera
Far better than any phone is a proper camera, and many are now designed specifically for the needs of vloggers. This includes things like a screen that can tilt and swivel around so you can see yourself if you are filming a selfie-style shot. Cameras like the Sony ZV-1 are ideal. This has a zoom lens and a relatively large sensor which means the quality of your images is far higher, even when light levels drop. Good vlogging cameras come with a headphone socket to monitor audio, fast frame rates to allow you to shoot slow-motion and a socket to allow you to plug in an external mic.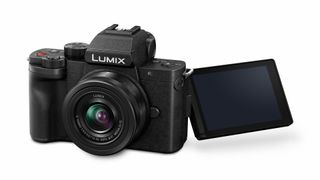 5. Or get more control with interchangeable lenses
A compact camera might come with a zoom lens, but for the ultimate flexibility an interchangeable-lens mirrorless camera is ideal. You can fit super-wide or telephoto lenses, for example, or very fast prime lenses for a shallow depth of field look to make your shots look even more cinematic. The Panasonic Lumix G100 takes vlogging one step further with three built-in microphones that cleverly cut out extraneous noise, and it has face detection autofocus to keep the subject sharp.
Read more: Best vlogging cameras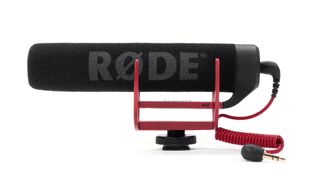 6. Master the audio
Your film might look wonderful, but if the audio is terrible, it's ruined. The built-in microphones inside the majority of cameras are pretty dire compared to the quality you can get by plugging in a separate microphone. These are often the long 'shotgun' type to cut out noise from the sides. And a windmuff – sometimes called a 'dead cat' – can cut down noise from wind when shooting outdoors. To record voices, it can be best to use a lapel mic – often called a lavalier mic – which clips to a subject's clothing. These can use a long lead to plug into the camera, or more advanced systems can be wireless so the sound is sent back to a camera-mounted receiver.
Read more: Best microphones for vlogging • Best audio recorders for video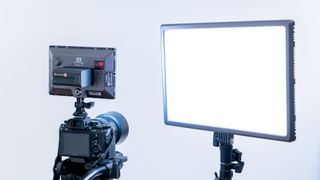 7. Think about lighting
You might think shooting outside on a bright sunny day would be ideal for great-looking films, but the harsh sunlight gives strong shadows which are very unflattering. It's best to record in the shade for more even light, or use a reflector. For recording indoors, soft light from a large window can be ideal and flattering – especially if it's diffused through lace curtains. However, many vloggers use additional lights and the ringlight has taken off as the most-used light of many YouTubers. An alternative is a large LED panel which will produce soft, even light, especially when used close to the subject.
Read more: Best video lights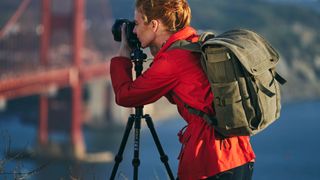 8. Keep the camera stable
There's nothing that ruins a shot quite like a wobbly camera. It's always best to put your camera on a tripod to keep it steady. And a tripod with a fluid video head will keep the camera movement smooth if you pan it around a scene. However, many vloggers want to go handheld, so a small motorised gimbal is an ideal accessory. These are available in all budgets and sizes to fit everything from phones to professional cameras, and use gyroscopic motors to keep the camera steady even when you are handholding and walking with the camera.
Read more: Best video tripods • Best gimbals for video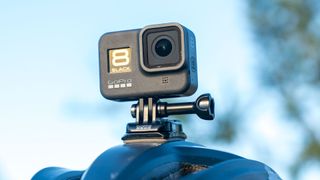 9. Add some POV action!
An action camera such as a GoPro can really bring a new angle to your films, especially if you are recording action-packed subjects such as mountain biking, surfing, skateboarding or even just diving into the pool in your travel film. They are often waterproof and rugged, so can be used almost anywhere and bring a new point of view to your story-telling. However, action cameras are notoriously bad at recording quality audio, and often have a very wide field of view – sometimes even a fisheye-style look. That means they are far from ideal at recording 'normal' scenes and are best kept for POV action. (Point Of View – your viewpoint.)
Read more: Best action cams • Best GoPros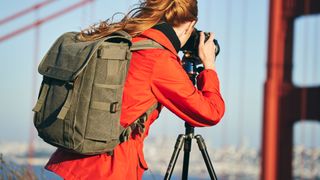 10. Get your films out to the world
Once you have made your film and put it on YouTube, then do it again! It's far better to post consistently to grow your audience. Share your film on different social media platforms, join groups of people who share your passion and give them the link to your channel. Also, carefully consider the title of your film and its description, and add tags that are relevant to the content. And create a good thumbnail image to attract attention. Again, there are lots of YouTube tutorials on this. And if you want to include music, it's best to find some royalty-free music to use rather than just using your favourite pop band, as you will not own the copyright and this could lead to your video being blocked. YouTube has a lot of royalty-free music you can use.
Read more:
• Best camera phones
• Best cameras for vlogging
• Best video lights
• Best microphones
• Best gimbal stabilisers
• Best video editing software