Fujifilm has released firmware updates that improve autofocus performance for four of its newest and most key X-series cameras.
The new firmware is available for the Fujifilm X-H2S, Fujifilm X-H2, Fujifilm X-T5, and the Fujifilm X-S20. Although there are individual unique updates for each camera, the key improvement in autofocus accuracy (in certain conditions) is common to all of them. The update note for the AF is as follows:
"AF accuracy is improved with the following focus settings and shooting conditions.
・Focus Mode:AF-S / AF-C
・AF Mode: Single point
・Lens used: Wide-angle lens
・Photography subject: High-frequency subjects such as animal hair, fine leaves, or low-contrast subjects"
Perhaps to the delight of Fujifilm wildlife and landscape photographers, the AF improvement emphasizes animal fur and fine leaves as examples of where Fujifilm has improved in detecting high-frequency subjects. Concern has previously been voiced over the X-series' ability to focus on low-contrast subjects, so any improvement here will be a welcome update.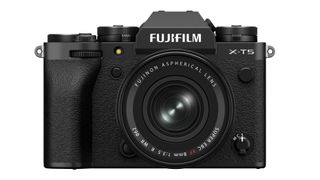 You can find links to the firmware updates through the links below
If you are not naturally of a technological mind, you may feel a little apprehensive about the process of updating your camera's firmware. I put off updating firmware for years for fear of doing the wrong thing, but there is no need for trepidation as Fujifilm provides a helpful step-by-step instructional guide to updating the firmware, for each individual camera model. This can be found under the Firmware Update Steps section of the link provided above.
Firmware updates are always a great indicator of the level of standards kept by a manufacturer, as well as how it listens to client feedback. This firmware brings an update to a significant performance aspect of the camera and one that, as a Fujifilm user myself, I am grateful for.
Take a look at the best Fujifilm cameras, which includes APS-C bodies as well as some of the best medium format cameras and the best compact cameras.