I've been writing for photography magazines for the best part of a decade, so I've shot all sorts of subjects for features and articles, as well as for my personal portfolio.
This has actually worked out quite well for me, as it has enabled me to find out which subjects I like to photograph the most – which turns out to be predominantly wildlife, landscapes and travel.
Having a quick look back through my archives, I've managed to dig out ten of my favorite shots and some with the best stories behind them… though I have hard drives full of images, so I'm sure I'll have missed some!
1. Angkor Wat sunrise
When I went travelling around South East Asia in 2016, photographing the stunning Angkor Wat temples at sunrise was on my bucket list. I knew it was a very popular photography hotspot so me and my friend went to visit the temples at Siem Reap during the day and this gave me a good opportunity to scout out roughly where I wanted to be on the morning to get the temples reflected in the water on the grounds. However, this did not quite go to plan!
I had arranged for a Tuk Tuk, a sort of motorbike taxi to pick me up from my hostel a good hour before sunrise allowing us plenty of time to get there and for me to claim my stake in the ground so I could get my shot. But he didn't turn up! So I was left running around frantically across Siem Reap in the early hours trying to get a lift to the temples which I just managed to do, however now I was late and the perimeter of the pool of water was now inundated with photographers, seemingly impossible to get through. The only thing I could do was unashamedly play the bumbling idiot Brit tourist who arranged for a Tuk Tuk that never showed up, I think people took pity on me and let me get to the spot I wanted to get to, but hey-ho it worked!
2. Tet (Vietnamese Lunar New Year)
I was in Hanoi, Vietnam in early February for Tet in 2016, which is when the Vietnamese hold their Lunar New Year celebrations. Hanoi is the old capital city of Vietnam and really a wonderful place full of character. I knew there was going to be a fireworks display in the Hoan Kiem Lake, close to the accommodation we were staying in. So learning from my experiences with large crowds at Angkor Wat, I set up my tripod by the lakeside hours in advance so I could get a good shot. This is actually a composite of several images to build up the amount of fireworks above the Temple of the Jade Mountain and red bridge.
3. One Million Bats
Just outside of the aptly named town of Battambang in Cambodia, we heard rumours of a temple you could visit where you could witness the spectacle of a million bats flooding out at dusk. Interested in the prospect me and my friend decided to go and check out the temples as even if we didn't see the bats it'd still be a fun adventure.
But the rumours turned out to be true and as the sun started to set, a crowd of people started to gather around an opening high up in the mountain, this was the opening to the cave and noises within started to get louder and louder.
Suddenly, a stream of bats rushed out of it and didn't stop flowing out of the cave entrance for a full ten minutes. I experimented with some slower shutter speeds to get some abstract pictures of the motion of the bats and also went super wide to catch this moment of three young kids all recording the stream of bats on their phones.
4. 'X' Marks the spot
However, it was actually the following evening when I arranged to go back and this is when I got my favourite shot. Now armed with a bit more knowledge of where the bats would fly and also the promise of a stronger sunset I had a Tuk Tuk driver drop me off down the road from the temple and asked him to point me in the direction they'd fly. I then shot towards the colourful sunset with a telephoto lens for a different perspective and was lucky enough to get this shot where the bats split into two streams, creating this striking 'X' pattern in the sky.
5. Ha Long Bay
This was one of those moment where everything fell into place. This was again taken in Vietnam, this time in the stunning Ha Long bay. I had seen this row of boats in the distance with Vietnamese flags waving in the wind and I thought if I could move into a position where the flag of the middle boat was in the middle of the sun for a nice central composition.
I used Live View to compose so I wasn't looking directly at the sun, and also underexposed a lot as it was such a bright scene to make sure the highlights didn't blow out. Shooting in the portrait orientation also let me include the reflection of the sun in the water too - magical!
6. Catch of the day!
I've been extremely lucky with some of my trips and pictures and this trip to Skomer, aka 'puffin island' was no different. I knew you could stay overnight on Skomer island, just off of Marloes, Wales, but didn't realise that places get filled up a year in advance. So I think I must have sounded a bit of a lemon when I called the Welsh tourist board to see if I could book overnight accommodation for Skomer in just a few weeks time, however they had actually had a rare cancellation and I was able to!
The weather was perfect on the day I took this shot, it was bright and sunny making it possible to get rapid shutter speeds without pushing the ISO too far. This image of the puffin flying directly towards me with its wings out and beak full of sand eels was the result of a full day's work trying to nail continuous autofocus on these very agile and difficult to photograph birds.
7. King of the pond
There's something very therapeutic about sitting in a bird hide and waiting for the right moment to present itself where you can take the perfect image. One summer I'd set myself the goal of capturing kingfishers at my local bird hide. Somedays you wouldn't see a thing, on others you'd see all sorts. They actually set up nice photogenic sticks and branches for birds to perch on close to the hide at this particular reserve so you can take frame-filling pictures of them.
But it's a waiting game and this image took weeks to get, waiting for a kingfisher to present itself and be on a branch I could shoot with a clean background. I love the lighting and colours in this shot as well as the direction the kingfisher is facing. You can tell it's a juvenile because of the slight white tip on its beak.
8. The Lighthouse
In 2015 me and a group of friends planned a trip to Iceland. While you can never guarantee seeing the Northern Lights we all really wanted to see them and booked ourselves on a Northern Lights tour to give ourselves the best chance of seeing them. However, we were there for a total of six days and the tour kept getting cancelled and pushed back due to very bad stormy weather.
That was until the last night before we were due to fly back - it was clear enough for us to go on the tour and we were treated to one of the strongest displays in years according to our tour guide, so we were very lucky. I actually took this picture of the lighthouse when the tour had finished and we were back in Reykjavik as I'd seen the lighthouse in the days previous and thought it'd make for a good landscape with the aurora in the sky above.
9. Blacktip Reef Shark
The last leg of my journey when I was travelling was in Cairns, Australia, so I definitely wanted to go and explore the Great Barrier Reef. But as a photographer I wanted to come back with some half-decent underwater pictures, but also being a bit of a picture-snob I wanted my shots to be a step up from the ones you get with a cheap waterproof compact.
I found a camera shop in Cairns that I was able to hire a Canon EOS Kiss X7 (aka Rebel / 100D) with an 18-55mm kit lens and an Ikelite acrylic underwater housing. On the trip out to the reef I was able to get this shot of this black tip reef sharp pretty close up (don't worry I was told they're pretty harmless). You lose a huge amount of detail through the murky water but luckily was able to bring this back quite a bit thanks to having a DSLR with decent image quality and using Dehaze in Adobe Camera Raw.
10. Taal Volcano
Climbing up Taal volcano in the Philippines to get this image looking at the alluring emerald green waters in the volcano crater was a particularly gruelling trip that I won't forget in a hurry. Getting to the top took around an hour which we foolishly decided to do in the strong midday sun, with very few places to stop for a shade break, it was a very hard-going ascent.
The view from the top was worth it though, as we were rewarded with this beautiful bright blue sky and the strange green colours inside the crater of the volcano, this is apparently caused by algae in the water. Even with my wide 20mm lens I had to shoot this picture as a four section panorama to fit in the huge, wide expanse of the volcanic crater. I also learnt that Taal volcano erupted earlier this year in January 2020, so I'm very glad I wasn't around for that!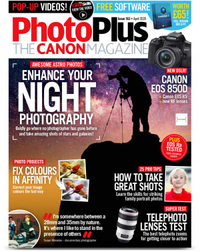 PhotoPlus: The Canon Magazine is the world's only monthly newsstand title that's 100% devoted to Canon, so you can be sure the magazine is completely relevant to your system.
Read more:
The best camera for portraits in 2020: cameras and lenses perfect for portraits
The best lens for portraits in 2020: our pick of the best 85mm lenses right now
The best travel camera in 2020: see the world and capture amazing images