This month Nikon invited me, on behalf of N-Photo magazine, to attend an event at Printworks London, in the UK. This magnificent industrial building's days of churning out national newspapers are far behind it and, if you know anything about the venue in its current guise, you might be wondering if Nikon had invited us to a rave – well, you're closer than you might think.
There were, in fact, neon lights, dancing and electronic music. However, rather than throwing my arms wildly in the air – face covered in glow-in-the-dark paint – I spent the afternoon and evening playing around with the very best Nikon camera tech (I'd take that over the former every day of the week). Almost all Z-series cameras and lenses were available to test throughout a veritable sandbox of studio portrait setups, complemented perfectly by the utilitarian, industrial location.
• Looking for the best Nikon lenses to go along with your camera?
Nikon wasn't leaving the purpose of the event up to interpretation, either. A seemingly excessive neon sign displaying the words "Nikon is the future" loomed over the proceedings but, as I held down the Nikon Z9's shutter button and rattled off a 120-fps burst as a dancer sautéd in front of me, I realized that the Big N wasn't laying it on thick – it was putting its money where its aperture is.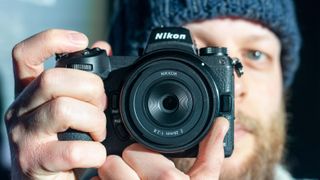 I've made no secret that I'm a fan of the good ol' fashioned DSLR, but over the past couple of years I've witnessed more and more pros commit to the Z system and not look back. The DSLR vs mirrorless debate is about as tiresome as reruns of The Simpsons nowadays, but this was the first time I'd got to play with Nikon's entire Z-series roster in one place – and it made one thing abundantly apparent: the Z system is all grown up.
Super-telephoto lenses, check. Macro lenses, check. S-line holy trinity, check. Pro-grade and vlogger-centric video capabilities, check. Dedicated DX lenses, enthusiast-to-pro camera line-up, cutting-edge mirrorless flagship, check, check, check!
Heck, I even got to play with the latest lenses to come out of Tokyo: The Nikkor Z 85mm f/1.2 S and the Nikkor Z 26mm f/2.8. The former is a super-duper-fast beefy prime that's capable of silky-smooth background blur, and the latter has just received an impressive 4.5/5 stars on test – where we praised its impressive image quality, lightweight build and incredible 23.5mm thickness.
Nikon has long committed to the mirrorless revolution – and unless you're thinking of switching to Pentax, it's the same story across every other major manufacturer. And the good news is, we've reached a point where last-gen mirrorless tech is becoming increasingly affordable. You can pick up a used Nikon Z6 for the same price as a new Nikon D7500 (and a Nikon Z50 for nearly half!).
My Nikon D800 ain't going anywhere yet, but I firmly believe that Nikon is the future. And the future is Z mount.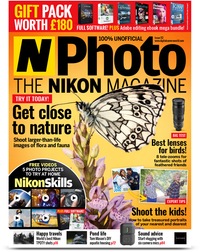 N-Photo: The Nikon Magazine is a monthly publication that's entirely dedicated to Nikon users. For the best news, reviews, projects and more, subscribe to N-Photo today!
If you enjoyed this article, you might be interested in reading about the best Nikon Z lenses for FX and DX cameras. If you're clinging to your DSLR you can also check out the best lenses for the Nikon D850, and it you're embracing the revolution then take a look at the best lenses for the Nikon Z50.