UPDATE 02 Jun: Canon has revealed more details about the Canon EOS R3, effectively answering all but one of these unknowns.
We still don't know what resolution the Canon EOS R3 will possess, but the manufacturer has confirmed plenty else – from which memory cards it uses and the new motorsports AF subject tracking, to the presence of the Smart Controller optical joystick and an articulating screen. You can find out all the latest details about the R3 right here.
…
ORIGINAL STORY (15 Apr): Canon has revealed the newest and most surprising member of the R-system family, the Canon EOS R3 – and it's unlike anything else we've seen from the EOS R lineup. In fact it's unlike anything we've seen from Canon, period.
The Canon EOS R3 is designed for professional sports and news photographers, and will sit between the Canon EOS-1D X Mark III and the Canon EOS R5. It boasts blistering 30fps continuous shooting (which matches the Sony A1) thanks to a brand new, back-illuminated, stacked CMOS image sensor that's able to read out at lightning speed – which also virtually eliminates rolling shutter distortion. And of course, the R3 has Eye Control Function AF that literally enables you to move focus points by moving your eyeball.
However, this is really about the extent of what we know about the EOS R3. There are plenty of details that Canon has yet to disclose, thanks to the fact that it was only revealed as a development announcement – the full details and specifications will be unveiled at a later stage, which means that there are a lot of unknowns.
So, here are five key things that we don't yet know about the Canon EOS R3…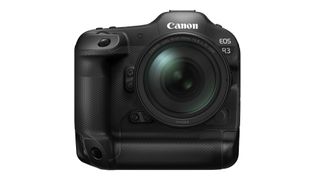 5 things we DON'T know about the Canon EOS R3
1) Megapixel count
Crucially, we don't know what resolution the R3's sensor will be – and Canon's track record when it comes to its professional cameras suggests that this might be an area where it trails behind the 50.1MP Sony A1. Historically it has restricted its pro bodies – such as the 1D X Mark III – to 20.1MP, which is perfectly fine. However, with the A1 boasting 50.1MP (and even the Sony A9 II having 24.2MP), Canon really needs to pack in the pixels if it wants to compete.
2) Video capability
After the poisoned chalice that was the EOS R5's 8K capability, Canon seems to be playing its video cards much closer to its chest this time. It's almost a given, at this point, that pro sports and newsgathering cameras can shoot 4K at 120p, but the big question is whether or not the R3 will record 8K – which the Sony A1 can, and the Nikon Z9 is confirmed to do. Still, if the phrase "8K video" is indeed uttered, then at least we'll know that the image sensor is at least 39MP!
3) New AI-powered AF tracking mode
Canon has confirmed that the R3 will have "next generation Dual Pixel CMOS AF" that builds on the Dual Pixel AF II seen in the Canon EOS R6 and R5. It has also confirmed that "it will add a new subject (yet to be disclosed) to the camera's AF tracking," so the question is what will that subject be? Canon already has face, eye, head and body detection for humans and animals, so the smart money says that it will employ its Deep Learning AF to track something like automobiles, since motorsports photographers are key users of pro cameras. Will we see even more than the R5's staggering 5,940 AF positions, too?
4) Smart Controller and inputs
Canon has been very careful not to reveal anything except the front of the EOS R3 – which means that we have no idea about what kinds of buttons, controls and inputs to expect. We can be sure that the camera will have a joystick, but will it also possess the (far superior) Smart Controller from the 1D X Mark III? Will we see something else radically new, like the M-Fn touchbar from the Canon EOS R? Or is Canon banking on its Eye Control Function AF to replace these inputs altogether?
5) Touchscreen articulation
This will be a contentious one. Historically, Canon has always had fixed LCD screens on its professional cameras. While even the Sony A1 and A9 II at least featured tilting screens, the 1D X Mark III maintained the status quo of having a non-moving screen – ostensibly for durability purposes, as there's no way for a fixed screen to snap off. While it's true that most pro shooters almost exclusively use the viewfinder, it's also true that your ability to take photographs is broadened by the ability to tilt or fully articulate your screen – and obviously the latter is basically a requirement for video.
5 things we DO know about the Canon EOS R3
1) Stacked, back-illuminated image sensor
The Canon EOS R3 is the first EOS camera to feature an entirely new 35mm back-illuminated stacked CMOS sensor. Developed by Canon itself, the manufacturer says that this will "achieve next-level, high-speed photography and filmmaking." The stacked construction delivers a high-speed readout that makes the R3 capable of 30fps burst shooting with full AF/AE tracking and minimal image distortion when using the electronic shutter.
2) New version of Dual Pixel CMOS AF
"Professionals can push creative boundaries with pin-sharp accurate tracking and focus on fast-moving action. The EOS R3's next generation Dual Pixel CMOS AF can track subjects' eyes, heads and bodies traveling at speed – excellent for capturing even the finest of details in a split second."
3) AF control – with your eye!
The most colorful feature of the R3 is an improved technology first seen in the Canon EOS 5, and last seen in the Canon EOS 3. "It is the first EOS digital camera to provide a new generation of photographers with ground-breaking Eye Control Function, which enables users to simply select and move the AF point using their eye via the viewfinder. This instinctive feature offers professionals natural and speedy control over AF. Reducing the time to focus, which is usually done with a multi-controller/button, this feature is again perfect for photographers looking to capture the most important subject for their frame at speed".
4) Professional build
As you'd expect from a professional camera, the R3 takes its lead from the EOS-1D series when it comes to build quality and form factor. "Professionals can expect the same durability and dust and water resistance as provided in Canon's legendary EOS-1 series bodies. The camera also has the integrated grip that EOS-1D series users love and trust."
5) Fast connection with Canon's new Mobile File Transfer
"The EOS R3 will be fully compatible with Canon's Mobile File Transfer smartphone app. This provides a new way to transfer images and speed up workflow whilst on the move, using mobile network services and without the need for wired LAN equipment. Canon is launching Version 1.2 of its Mobile File Transfer for iOS via the Apple App Store in June, which is compatible with Canon's EOS-1D X Mark III, EOS R5 and EOS R6. Android support will be added in the future."
Read more:
Canon EOS-1D X Mark III
Canon EOS R5 review
Canon EOS R6 review
Sony A1 review
Sony A9 II review