If you shoot footage, you'll almost certainly need a video tripod at some point to keep your film looking professional. That's not to say you can't shoot moving footage handheld, of course – just that smooth pans and other movements are tricky to achieve unless your camera is balanced and stable. And for that, the best tripod for video you can afford will make all the difference. (Luckily, there are lots of cheap camera deals around at the moment, and tripod prices have never been lower.)
While it's certainly possible to use many different kinds of tripods for video, one of the options from the list that follows would be our recommendation. Each one of these offers something that videographers will appreciate, whether it's the design of its lens, the type of head with which it comes, or its flexibility and portability. Read on to discover the best video tripod.
1. Miller 1514 DS20 Tripod System
A light, easily transportable tripod, that still manages to be sturdy and reliable
Material: Carbon fibre | Extended height: 175.1cm | Folded height: 37.1cm | Weight: 4.9kg | Leg sections: 2 | Maximum load: 10kg
Very respectable extended height
Only two leg sections
Thanks to its carbon fibre build, the Miller 1514 DS20 Tripod System is an ultra-light option that can support rigs of up to 10kg. Because of this, it's a viable option for filmmakers at various points throughout their careers, regardless of what kit they move on to. The light build of the tripod also makes it a good choice for smaller roving crews who need to lug their own gear around and set up spontaneously. The system features a choice of 1/4in pin or 1/4in and 3/8in screw mounts, with sliding quick-release mounts for quick lens and battery changes. There is a trade-off in setup versatility, with only two leg-sections, but overall this is one of the best video tripods you can buy right now.
2. Velbon DV-7000N Video Tripod with PH-368 Fluid Head
This low-budget option is the arguably the best choice for amateur crews
Material: Aluminium | Extended height: 162.5cm | Folded height: 57cm | Weight: 3.47kg | Leg sections: 3 | Maximum load: 6kg
Super affordable
Not as easy on the eye as other options
Generally available for less than £199, this tripod/head combo is ideal for low-budget film crews, with its 6kg load capacity ideal for the DSLR or mirrorless setups these crews will likely be using. Thanks to its quick-release platform and built-in spirit level, the tripod is quick to set up, making it excellent for run-and-gun situations. Well-armoured rubber feet ensure it'll grip onto plenty of surfaces, and the long control arm on the head, with separate pan-and-tilt adjustments, give it the feel of a studio model, without the cost.
3. Camlink TP Professional Video Tripod
Thrice the legs, thrice the stability?
Material: Aluminium | Extended height: 138cm | Folded height: 73.4cm | Weight: 4.92kg | Leg sections: 3 | Maximum load: 6kg
Great price for the spec
Heavy
The standout feature of this tripod is obvious: its triple-braced legs, which are designed to provide significantly increased stability even in tricky situations on uneven surfaces, with extra grip via the rubberised feet. The head is designed for smooth panning, with dual control handles, friction-damping features and a built-in spirit level. Overall, a pro-level spec at a competitive price to boot.
4. Manfrotto MVK502AQ Video Tripod with MVH502A Fluid Head
Highly versatile, with a generous load capacity too
Material: Aluminium | Extended height: 171cm | Folded height: 59.5cm | Weight: 1.8kg | Leg sections: 4 | Max load: 20kg
Massive payload
Some may prefer spreader for heavier kit
If you're using heavier rigs involving professional camcorders or large DSLRs, then the Manfrotto MVK502AQ Video Tripod and the MVH502A Fluid Head's 20kg payload is the obvious choice. The spreader-less design of the legs also means that the tripod is quick to set up and pack down, and the tension-adjustable leg locks mean users can make regular adjustments to stop them from loosening over time. The feet can be set to spiked or rubberised thanks to the adjustable covers, making the tripod usable on a broad range of surfaces. So, indoors or out, on flat surfaces or more challenging ones, this model fits the bill.
5. Velbon Videomate 638 Video Tripod with PH-368 Head
Extremely affordable, with everything you need to get started
Material: Aluminium | Extended height: 171cm | Folded height: 67cm | Weight: 1.98kg | Leg sections: 3 | Maximum load: 4kg
Light weight and great price
4kg payload may not be enough for some kit
Perfect for lightweight mirrorless bodies or smaller DSLRs, the Velbon Videomate 638 Video Tripod with PH-368 Head is one of the most keenly priced models here. The quick lever leg locks allow for fast setup, while the quick-release plate means it's easy to switch to handheld shooting at a second's notice. The PH-368 fluid head also allows for smooth camera movement, and the 1.98kg weight makes the Videomate 638 perfectly portable. The 4kg payload is slightly on the low side, but for most camera and lens combinations it should be more than enough.
6. Magnus VT-4000 Professional High Performance Tripod System with Fluid Head
A sturdy, stable model designed for ergonomic operability
Material: Aluminium | Extended height: 150cm | Folded height: 77cm | Weight: 3.6kg | Leg sections: 3 | Maximum load: 4kg
Included spreader is useful
Quite long when folded
Another tripod for lighter loads, the Magnus VT-4000 uses a head that has all of its controls set on the left-hand side, leaving the right hand free to operate panning controls. There is also a fixed counter-balance spring built into the head to allow for smoother tilt movements, while a spreader fixed between the legs provides increased stability. The feet also screw up to reveal spikes, so you can place it on softer surfaces and be sure the tripod will stay put at all times.
7. Benro A373FBS7
A good option for those who like a precise degree of control
Material: Aluminium | Extended height: 160.5cm | Folded height: 29.5cm | Weight: 3.87kg | Leg sections: 3 | Maximum load: 7kg
Tiny when folded
Continuous pan drag mechanism could be better
With a 4-step counterbalance system, the Benro S7 kit allows the user to precisely set the correct level of counterbalance for the weight of their rig, while continuous pan drag adjustment makes it easy to set the level of tension required. Pan and tilt locks operate independently, and there are also two 3/8in threads for attaching extra accessories like external recorders or monitors. As with some of the other options here, the rubber feet can be swapped out for spikes, making the tripod dependably versatile.
8. Manfrotto 755XB MDeVe Aluminum Video Tripod
Special levelling aids in this tripod allow for perfectly straight shots
Material: Aluminium | Extended height: 164.9cm | Folded height: 63.5cm | Weight: 2.5kg | Leg sections: 3 | Maximum load: 7kg
Useful levelling feature
Price doesn't include head
The central column of this versatile pro-video tripod features a built-in levelling ball and bubble spirit level, allowing users to quickly establish perfectly level shots every time. Its leg selectors can also be used to provide preset leg angles, allowing for quick deployment and setup. While crafted from aluminium rather than carbon fibre, it's nice and light too, and so useful for location shooting and those occasions when you need to be a little more mobile than usual.
9. Manfrotto 535BK 2 Stage 535B Carbon Fibre Tripod with 504HD Fluid Head
Feature-packed, but nice and light, this is a serious pro option
Material: Carbon fibre | Extended height: 184cm | Folded height: 88.4cm | Weight: 5kg | Leg sections: 3 | Maximum load: 7.5kg
Great height/weight/payload combination
Somewhat long when folded
Sporting a counterbalancing system to ensure that rigs of different weights are correctly balanced, this setup is designed for professional users – and carries a price to match. Additional threads allow for attachment of monitors and recorders, the tripod offers a leg angle selector for precise adjustment, and its extended height is the greatest on this list. Also, the carbon fibre build means that all the extra functionality doesn't come with a significant weight increase.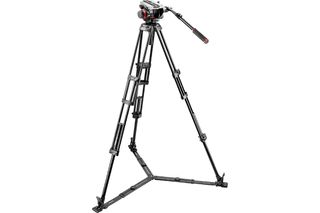 10. Manfrotto 546GBK Video Tripod with 504HD Head
Twin legs and a video bowl allow for heavy pro video rigs
Material: Aluminium | Extended height: 171cm | Folded height: 84cm | Weight: 6.3kg | Leg sections: 3 | Maximum load: 12kg
Excellent payload
Not as portable as some other options
The braced twin legs on this tripod provide impressive torsional rigidity, making for a thoroughly decent maximum capacity of 12kg, with stability bolstered by a ground-level spreader. A 75mm bowl attachment enables use of pro-level gear, while the incorporation of the 504HD head (also in the previous featured set) gives this setup a distinctly professional feel. Stylish and practical, this setup will suit small crews, or even single-person work.
More great buying guides