The 3 Legged Thing Nicky is just one step down from the company's top tripod, the Tommy, and part of 3LT's premium Legends range. These are tripods for photographers and videographers who need the best kit for the job, and the price is a secondary factor. Just as well, because the Nicky's price tag practically puts it in Gitzo territory.
Most enthusiasts will prefer a more even blend of quality and value, and that's where 3 Legged Thing's Pro range comes in. Cheaper still is 3LT's fashion-savvy 'Punks' range.
3 Legged Thing makes tripods across a range of price points, then, but the Nicky is right at the top end, with its thick 4-section carbon fiber legs, large baseplate and rock-solid rigidity.
It's designed equally for photographers and videographers. There's no center column, and no way we can see to fit one, but it's high enough not to need a center column, and what it does have is interchangeable plates for mounting a regular tripod head or a levelling bowl attachment (sold separately) for video heads.
Specifications
Max Height: 1.56m / 61.41"
Min Height: 12.4cm / 4.88"
Detachable Leg Max Height: 1.66m / 65.3"
Folded Length: 59cm / 23.2"
Leg sections: 4
Load Capability: 60kg / 132lbs
Tripod Weight: 2.4kg / 5.29lbs
Leg Angles: 23º, 55º, 80º
Max Leg Tube Diameter: 32 mm / 1.25"
Key features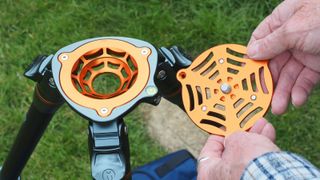 Like many of the best tripods, the Nicky is actually very straightforward. It has four-section legs which offer a good compromise between folded length and set-up speed, and the maximum height is a decent 1.56m. That's above eye level for a shortie like me.
That's just as well, because there's no center column. To be fair, you want the maximum stability, rigidity and payload, a center column would be a handicap, not a benefit.
Another key feature is the width of the baseplate platform. Not only that, it's removable. The Nicky comes with both a flat plate for regular use and a 75mm bowl plate for an optional levelling bowl (not included). For many videographers, a levelling bowl is a must-have – it enables you to get the platform for head dead level without having to spend ages tweaking the leg lengths. You need this for any kind of panning shot.
Swapping the plates is just a minute's work. You just need to undo three hex screws with the supplied multi-tool.
Beyond that, there's not much else to say. All three legs are detachable, in typical 3LT style, so you can make yourself a monopod if you need one. You can detach your tripod head and screw it straight to the top of the leg.
Talking of screwing things on, you can also attach 3LT's VANZ short legs and feet either into the end of each leg or, if you remove all three legs, straight into the Nicky base to make a massively over-engineered mini-tripod.
Build and handling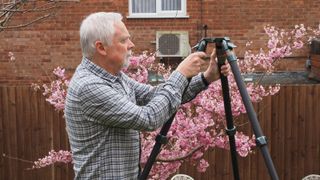 Being carbon fiber, the Nicky is pleasantly warm to the touch, even on a cold day, and the four section legs are quick to open out and lock firmly with a short twist on the locks.
You push in a prominent catch lever on the top of each leg to change the leg angles, but these levers have a pleasantly light touch, so you don't get the busted thumbnails that some other tripods give you.
When you're done, folding the Nicky back up again takes almost no time at all, and it slips neatly into its bag with a little room to spare – handy if you decide to fit the bowl plate and leave 3LT's 75mm bowl attachment (sold separately) fixed on. There's not enough room in the bag, however, to leave a head attached too, which could be a bit annoying.
Performance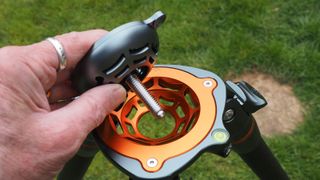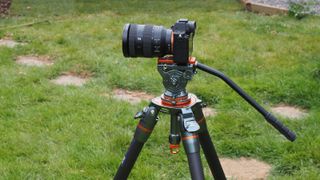 At full extension with all the legs locked, the Nicky feels rock-solid. it's still possible to provoke a little 'twist' by grabbing the legs and turning, but this is an artificial test – tripods are designed for vertical forces not torsion.
The lack of a center column helps with the rigidity, as does the very wide baseplate, which offers a much larger contact patch with bigger tripod heads. It's the only tripod in our cupboard with a baseplate wide enough for our massive (and massively strong) Gitzo GH4383LR Series 4 ball head.
The Nicky is not just for big heads (there's got to be a joke there somewhere). Its broad mounting platform is also ideal for heavier and potentially off-balance kit like sliders. We tried it out with the motorized Moza Slypod Pro and it coped easily, even with the Slypod at full extension.
Swapping the flat plate for the bowl plate turns the Nicky into an excellent video tripod, though you will also need (if you decide to stay in the 3LT stable) 3LT's 75mm levelling bowl and its expensive but excellent Airhed Cine video head.
I tried all of these during our testing, and the Nicky proved solid and unmoved throughout. It's not a complete tripod kit on its own, but matched it's an excellent supporting base.
Verdict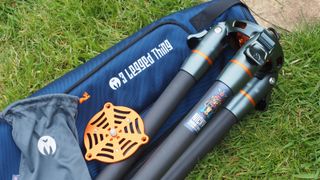 It's probably worth repeat this key thing about the Nicky. It is a tripod to which you add your own head, levelling bowl or other accessories – it's not complete in itself. It's ideal for photographers and videographers who already have these things and just want a better tripod, but if do need all these extras too, then you're going to need to get your wallet out – and keep it out.
So for sure, the Nicky is not cheap, but professional gear of any quality never is. It's not a travel tripod, and the lack of an angled boom arm means it's not great for confined spaces, close-ups or nature photography. But for heavy kit, more complicated rigs and more considered photography/video setups, its simplicity, style, ease of use, stability and adaptability have won me over. At this price, though, it would be good to get a head, or at least a kit that saved just a little on the combined price bought separately.