The best greeting card software makes designing your own bespoke cards easy. That's a great way to show your loved ones you care, whether it's for a special occasion or just to let them know you're thinking of them.
With the options on our list, you don't need to have special skills, you can get started straight away, and you won't even have to pay! All of the greeting card software we've featured works in your web browser, as well as on your phone, and makes it easy to design cards by customizing existing templates, using drop-and-drop.
Once you're happy with your design, you can either share it in digital form as an e-card, or create a printed version that people can hold in their hands. You might want to do this using your own home printer or using an online photo printing service. Number two on our list even has the latter option built in.
So read on, as we outline the best greeting card software available today, explain how it works, and how to choose the right option for you.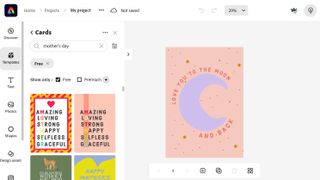 In the main, Adobe is known for making photography, design and film-making software for professionals. And that tends to be both expensive and tricky for beginners to use. But Adobe Express is a marked exception.
This browser-based tool is free to use, and aimed at people without any design or software skills, who just want to create a card quickly and easily. You'll then be able to share your design in digital form, or print it out yourself. (Be aware, though, that there's no print-on-demand service built-in: if you want that, head to the next entry on our list.)
Let's be clear: this is a general tool rather than one specifically for making cards. But if that's what you want to do, then Adobe Express makes it easy. Once you've signed up, just head to Adobe's page on making custom cards and click through to start creating.
An easy interface allows you to browse thousands of card templates (6,266 at time of writing), in the following categories: baby, birthday, congratulations, funny, get well, seasonal, sympathy, thank you, thinking of you, and Valentine's. Click on the one you like, and use the simple tools to tweak it to your liking.
If you're happy with how it looks, you can just add your own text and then you're done. If you want to customize things further, there's a lot of scope to tweak, shapes colors and fonts, remove specific elements bring in your own photos or artwork, add stock textures, overlays, backgrounds and animations, and so on.
Once you're done you can download your design to your computer as a PNG, PDF or JPG file, add it to Google Drive, share it on social media, or schedule it to appear on social media at a predefined time.
The main disadvantage of using the free version of Adobe Express is that you only get access to some, not all, of their templates and assets. The free stuff is still pretty professional, though, so it's very easy to design a very nice-looking card without spending any money. We particularly like how you can filter out either the free or paid-for templates, to save you time faffing about.
Also note that there are mobile apps for iOS and Android if you prefer that to using a web browser.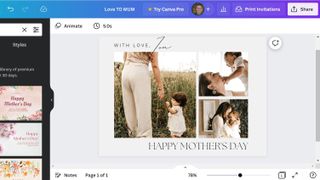 Canva is similar to Adobe Express, number one on our list, in that it's free, general-purpose design software that anyone can use in the browser. But one thing it offers that the latter doesn't is print-on-demand.
That means that once you've designed your card, you can pay Canva to produce printed versions and deliver them to your doorstep. You can select the type of paper (standard, premium or deluxe), finish (matte, gloss, uncoated), and number of cards (in packs ranging from 1, 5 or 10 up to 250, 500 or 1,000).
Once you've signed up to Canva, head to its card templates, and you'll find a massive 33,690 to choose from. As with Adobe Express, many of these templates aren't available on the free plan. Unlike Adobe Express, though, it's not immediately obvious which is which, so you have to click on each one in turn. This is a bit of a hassle, and is the main reason why we put this at number two on our list rather than number one.
Otherwise, though, Canva has a lot to offer. It offers a very easy way for non-designers to make cards, and provides a lot of sophisticated tools for designers (or just enthusiastic amateurs) to customize them. The templates are very well designed, even the free ones. And as well as iOS and Android apps, you have the choice of using Windows and Mac apps too.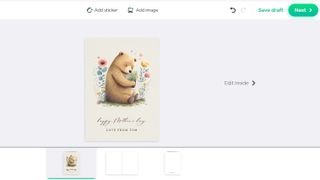 While the first two entries on our list are general design software, Greetings Island is purely focused on the design of greeting cards and invitations. It offers thousands of card designs under categories including birthday, thank you, wedding, anniversary, new baby, graduation, get well, good luck, sympathy, friendship and sorry, as well as holidays ranging from Passover to St Patrick's Day, Kwanzaa to Ramadan.
There aren't quite as many options to customise the design of your card, as with the first two on our list, so we wouldn't recommend this option for pro designers. But at the same time, this does make the interface simpler and easier to use for non-designers. Every card is both printable and available to share online via email, Facebook or Whatsapp.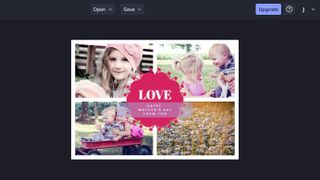 BeFunky is another general-purpose browser-based design platform that includes a photo editor, collage maker, and graphic designer. The latter is well suited for designing cards, and once you've signed up to BeFunky, head to its Card Maker page to get started.
The interface is nicely thought-through, and is similar to the other apps on our list, in that it lets you take card templates and customise them in the browser. The highlight here is the image manager, which makes it easy for you to search for free stock images from legitimate sites like Pixabay and Pexels, then integrate them into your design. On the downside, when you're browsing templates, there's no way of telling which are free and which you need a Plus account for, other than clicking on each individually.
Once you're done, you can save your design to your computer, Google Drive, Google Photos, DropBox, Pinterest, Twitter or Facebook. You can also save your project within BeFunky itself, even in the free version.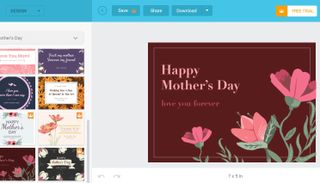 Launched in 2015, Fotojet is a free online graphic design and collage tool that works in a similar way to the other apps we've mentioned so far. We've put it a bit lower down this list because, quite simply, the interface isn't particularly nice looking. It's not horrible, though, and it still does all the things you'll probably need to design a card based on customising a template.
On the plus side, Fotojet makes it clear which templates are free and which need paying for, by placing a crown icon on the latter, and this helps you to find the right one for your needs quickly. Once you're done, you can download or print your design, or share it to Twitter, Pinterest or Tumblr.
Ultimately, there's nothing particularly amazing about Fotojet, but it does allow you to design cards for free, and does a pretty good job of it overall.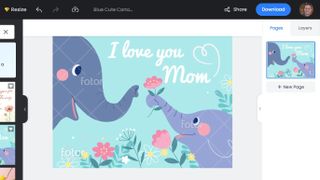 Founded in 2012, Fotor is a photo editing tool, collage maker and graphic designer. In a similar way to Fotojet (above), once you've signed up, select the latter and search templates for 'card'. You'll find a variety of options, covering categories including birthday, thank you, wedding, party and baby. You can't see which templates are paid-for at first glance, but you can by hovering over the image. When you're done, you can download your design, or share it to Facebook, Twitter, Pinterest, Tumblr and - unlike with most on this list - Instagram.
The best photo cards
Best photo calendars
Best photo books
Best website builders for photographers