Above image: Redd Angelo
Adobe has been at the top of its game for over 25 years now, so much so that the brand's most famous software has entered everyday language.
But it's Adobe other major image-editing program that has arguably seen a bigger rise in popularity over recent years, due both to its ease of use and its ability to organise your workflow.
What is Lightroom?
Adobe Lightroom is a Raw image-conversion software for Macs, PCs and some tablets that does so much more than just enhance your photos. Don't worry if you've never used Raw – you can also use it to edit JPEGs.
Designed with an easy-to-navigate module interface, the program used to be fairly pricey, but the Lightroom 6 version can be bought as a standalone program for just £119 (at the time of writing).
Better still, the Lightroom CC version is available via Adobe's Creative Cloud subscription service, which means you can get the latest and constantly updated versions of Lightroom and Photoshop for one monthly fee.
Unless you're intending to dramatically manipulate your images, or add stylised filters, you can generally do what you would normally do in Photoshop using Lightroom. You can, for example, crop, clone and adjust properties of the image such as exposure, white balance, saturation and sharpness. For this reason, it's seen by many photographers as a more streamlined way to edit many images in one go.
The Lightroom interface is simple to navigate and features a main preview window in the middle, with a number of modules that, when selected, offer up alternative options. While this may seem a little intimidating, it's actually quite a logical layout. We're going to walk you through each module in turn.
The Library Module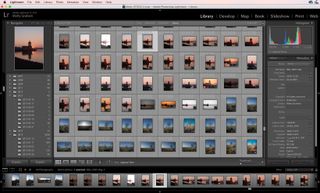 One of the most important modules in the software, this is where you'll find all the tools you need to import and label your images so that you can find and access them quickly in the future.
On the left of the Library interface, you'll see your Catalogs and Folders which shows where images are stored. This is also where the options are to quickly publish your images to sites like Facebook or Flickr.
In the middle of the interface is the main preview window, which showcases images ready to be imported (or already imported) into your Library, and these can be viewed either in a grid or one at a time.
Finally, the panel on the right lists all the metadata of the image (what camera was used, the lens, the exposure etc), along with the date it was taken. This panel also offers a Quick Edit option, but this is worthwhile bypassing.
There's also section to add Keywords to your image. Keywording is one of Lightroom's best features and enables you to add relevant tags to your images (landscape, Yorkshire, sunset, Wide-angle etc) so that you can find and sort images more easily.
Read more: How to use Lightroom's Spot Removal tool
The Develop Module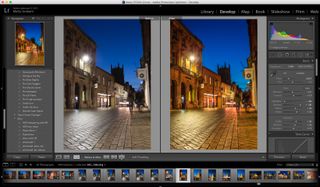 This is where all editing is done and your image is transformed, essentially the heart of the program.
This time the left of the interface displays all of your Presets. Presets are a speedy way to make multiple changes to an image in just one click. You can make your own Presets or import one made by someone else, and these can be added to multiple images in one go.
The Preview window shows the image change in real time as you make any adjustments, but the interface can also be changed to show a Before/After display.
Down the right-hand-side of the interface is where adjustments are made, and there's also a histogram to chart data too. The main adjustment options take the shape of sliders that you drag to make edits, but there are also more specialised options.
The main sliders make what's called Global Adjustments, which means that the changes affect the whole image. There are also options for Local Adjustments which affect just a selected area of the image. These tools include a Healing tool, Selective brush and a Radial tool.
The main sliders are sectioned into groups, also called tabs. The Basic tab includes adjustments such as White balance, Exposure, Shadows/Highlights and Saturation, and this is a good place to start your editing.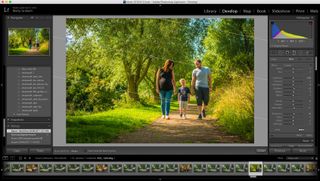 Click below to continue reading