The TCL 20 Pro 5G isn't a TV, which may come as a surprise if you're familiar with the TCL brand. Even if you haven't heard of TCL phones though, it's been making mobiles for a few years now, with phones like the TCL 10 5G launching in 2020. Prior to launching phones under its own name, TCL also released a range of Alcatel Androids over the last decade, all of which had one thing in common: very good value for money.
With the TCL 20 Pro 5G, the brand is clearly keeping one eye on value, and another on flagship elements, with the phone sporting a glass front and back, metal frame and an expansive AMOLED screen. A vertically stacked camera setup is flush with the back of the phone, and there's a great fit and finish to the 20 Pro 5G.
With Qualcomm Snapdragon 750G power, the phone misses out on flagship specs, even if it does pack stacks of storage (256GB), 5G mobile data speeds and wireless charger compatibility. With the 20 Pro 5G being a true hodgepodge of premium and midrange, therefore, and its price tag reflecting that positioning (£499, approximately US$699), can it really stand out, or does it get lost in a sea of wannabe midrange flagships?
TCL 20 Pro: Display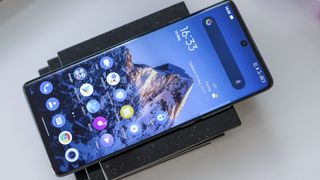 When you first pick up the TCL 20 Pro 5G, you'll probably take note of how well put together it feels for a phone that costs less than £500 (US$700/AU$1099). Glass, metal, curves, an expansive screen; there's a lot to love with TCL's new flagship. Also impressive is the fact there's no camera bump around the back. From a styling point of view, it's a standout look in the face of phones like the Samsung Galaxy Note 20 Ultra and the Xiaomi Mi 11 Ultra, which positively celebrate their massive chunky bumps.
Look a little closer and elements of the TCL 20 Pro 5G's design are a touch less refined than some of the finest looking phones around, like the OPPO Find X3 Pro. Given the lack of camera bump, the whole phone is a touch thicker than some top-enders. There's also a headphone jack at the base, which is a staple of midrange smartphones, and as we'll come onto, the camera position invites lens smudges.
Despite these midrange telltales, the TCL 20 Pro 5G looks and feels great, and that impressive impression extends to its screen. Combining a 6.67 inch screen size with 1080 x 2400 resolution and Super AMOLED technology, on paper, it's competitive for the price-ish. While some phones you can buy for less feature 90Hz or 120Hz displays (admittedly, not with curved OLED technology), the TCL 20 Pro 5G caps out at 60Hz.
A 60Hz display is perfect for everything from Netflix to most games. Heck, an iPhone screen is 60Hz. When set alongside a phone like the OnePlus 9 with its significantly smoother screen though, it just feels a touch clumsier when scrolling through menus and social feeds.
The TCL 20 Pro 5G's screen quality is great when it comes to punch, pop, viewing angles, and depth levels. The phone supports HDR10 video playback, and showcases content off with gusto. Even brightness levels are decent, with easy outdoor viewability on all but the sunniest days. As a package, therefore, TCL delivers something that definitely looks and feels the part.
TCL 20 Pro: Cameras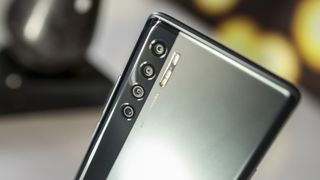 TCL chooses a Sony IMX 582 sensor to lead the charge on its 20 Pro 5G's quad-camera system. With 48MP resolution and OIS, matched with a six-element lens with an f/1.79 aperture, the phone's main camera looks like that of the Xiaomi Mi 9T Pro, with added OIS thrown in for good measure. Instantly, we know it probably won't be the best smartphone of the year, but it could still be in the running for best budget camera phone.
Onto the ultra-wide camera, and it features a 16MP Sony sensor (1/3.0", 1.12µm) matched with a 16mm equivalent lens (123-degree field of view), with an f/2.4 aperture. Unlike most top-tier flagships, it doesn't feature autofocus, but we're not too upset about that fact given the phone's dedicated macro camera.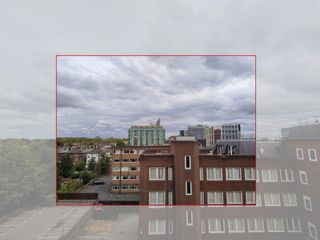 As with the Xiaomi Mi 11, the TCL 20 Pro 5G features a 5MP macro camera. Much better than the mediocre 2MP fixed-focus system on budget phones like the Realme 8 5G, it sports autofocus, an f/2.2 aperture, and outputs decent quality photos.
The fourth camera around the back of the phone is a 2MP depth sensor, with the rear camera system able to capture 4K video at 30 frames per second (fps), and 1080p at up to 60fps. As for the selfie camera, its 32MP resolution is way up there, however, selfies are captured at 8MP with four-in-one pixel binning.
TCL's shooting modes include Auto, Video, Portrait, Super Night, Pro, Light Trace, Slo-Mo, Stop Motion, High Pixel, Pano, Super Macro, and Short Video.
Camera performance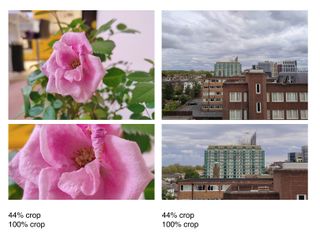 The main camera on the TCL 20 Pro 5G is a strong performer in most environments. With 48MP of detail squished into 12MP stills in automatic mode thanks to Sony's Quad-Bayer tech. There's still plenty of scope to crop into photos, and with no optical zoom, that's fortunate. Additionally, the High Pixel 48MP mode can help eke out more image information in well-lit scenes, primarily useful when capturing landscape photos.
TCL's photos look punchy, with healthy saturation levels matched with accurate white balance. The phone can have a tendency to oversaturate elements, specifically, blues in darker scenes, with night skies looking artificially boosted across a number of images we took.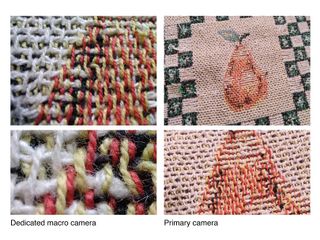 While the macro camera can do a great job at shining a light on a level of detail that's just out of reach of the main camera, its photos are a touch undersaturated. The ultra-wide-angle camera also pulls up occasional color balance inconsistencies when compared to the main camera, so TCL has a bit of work to do on marrying the 20 Pro 5G's cameras to function like one.
The phone's automatic mode handles dim scenes well, but when the lights drop all the way, unfortunately, the Super Night mode doesn't fire up automatically, as found on phones like the Asus Zenfone 8 Flip or iPhone 12 Pro. Still, so long as you remember to select Super Night, you can grab a long-exposure shot that competes with some of the best cameras at the phone's price point.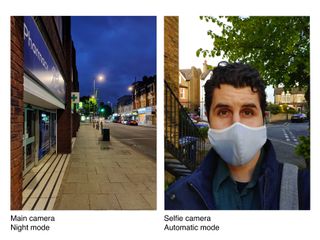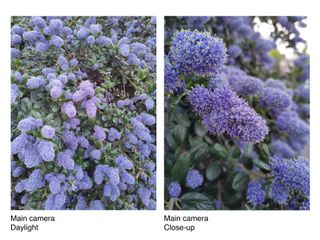 Interestingly, the worst thing about the TCL 20 Pro's camera isn't down to the photo quality itself, it's down to the phone's design. With the stacked set of cameras around the back being a vertical strip on the phone's side, the main camera is at the bottom. This makes it too easy to cover up and smudge. The fact that the whole camera array is seamlessly flushed with the back of the phone (a design highlight), actually works against the phone from an ergonomics point of view. At least with camera bumps, you know when you're smudging up the camera lens; with the TCL Pro, the whole back feels homogeneous.
Get used to the phone's design, and on the front and back, its cameras deliver the goods at its price-point, with the selfie camera performing respectably in bright environments, and its front flash firing up when the lights go down. Its video capture is also steady, with EIS and OIS coming together well. In dim scenes, however, it falls way behind flagships like the Huawei Mate 40 Pro.
TCL 20 Pro 5G additional specs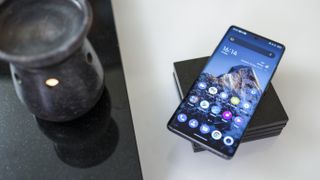 Powered by a Qualcomm Snapdragon 750G 5G chipset paired with 6GB RAM, there's no two ways about it, the TCL 20 Pro 5G packs midrange power. We experienced no slowdown in our time with the phone though, and in a turn for the books, found its interface to be seriously well-optimized.
Running Android 11 with TCL's custom skin over the top, there are plenty of apps available to download through the Google Play Store, and there's also a customizable button on the left of the phone. Totally programmable, you can quickly fire up apps, a side bar (with useful shortcuts), or your selfie camera, for example. While we normally don't love interface tweaks that make a phone look and feel busy, the TCL additions are all welcome for the most part.
Also worth noting, with 256GB storage, the TCL 20 Pro 5G gives its owners more room than virtually anything else in the price range for photos, movies, music, and video captured on the phone. There's also space for a microSD card too, so if you're a file or app hoarder on a budget, very few phones under $700/£500 come close to the TCL 20 Pro 5G.
Speed demons in need of the fastest charging around, look elsewhere. The TCL 20 Pro 5G charges at up to 18W wired and 15W wireless, so takes almost two hours to fully power up. On the plus, with its 4500mAh battery and midrange internals, battery life impresses even with that big screen, and it delivers a very comfortable full-day of power with regular use.
TCL 20 Pro: Verdict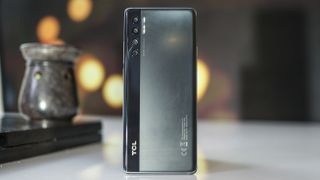 As with any midrange phone, the TCL 20 Pro 5G is a balance of compromises. It's class-leading in some respects, including design and storage capacity. It's also incredibly rare to see wireless charging at its price, and the fact the phone features 5G is also impressive. We enjoyed its camera too, even with its quirks.
The 20 Pro 5G is a great alternative to the pricier Google Pixel 5. It delivers more bang for buck, display size, and versatility when it comes to imaging. There are a couple of elements that are unrefined, and you can get more power and better camera performance for less in Xiaomi's lineup. Nevertheless, for a design-conscious buyer on a 5G contract who never ever wants to see a low storage warning again, the TCL 20 Pro is a winner.
Read more:
• Best camera phone in 2021
• Best budget camera phones
• Best iPhone for photography
• Best burner phone
• Best 5G phone
• Best phablets
• Best flip phones
• Best phablets