Having briefly made BlackBerry smartphones under license, Chinese manufacturer TCL now presents its first 5G smartphone. The 6.5-inch TCL 10 5G comes at a time of plenty in the mid-range market for super-fast smartphones. Affordable 5G phones are everywhere, from the Oppo Reno4 Z and OnePlus Nord to the Realme X50 5G and Google Pixel 4a 5G. So what makes the TCL 10 5G so special?
Costing US$515/UK£399 and built around a Snapdragon 765G chipset – the same one found in the Google Pixel 4a 5G and the Realme X50 5G – the TCL 10 5G is further proof of just how mainstream a proposition the once elite-level quad lens camera now is. Capable of shooting stills in 64MP stills and with a large battery on board, it sports an Android-based – though TCL-flavored – user interface and 128 GB of storage.
Mid-range smartphones don't come with everything, and one notable difference to high-end phones is the TCL 10 5G's lack of an AMOLED display. However this phone's quad camera array and its sub-£400 makes it a definite candidate for being one of the best budget camera phones.
TCL 10 5G: Specifications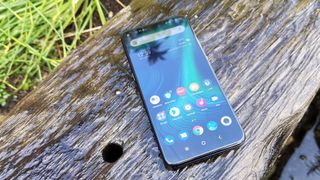 It's hard to argue with what's under the bonnet of the TCL 10 5G. A 6.5-inch design, its IPS LCD screen has a 19.5:9 aspect ratio, a resolution of 1,080x2,340 pixels and 395 ppi. There's a hole-punch notch in the top-left for the selfie camera. It's built around a Qualcomm Snapdragon 765G chipset and it runs the Android 10 operating system with the TCL UI sprinkled lightly on top. Sharing a microSDXC card slot with the SIM slot, the TCL 10 5G has a standard 128 GB of storage and runs on a 4,500 mAh battery that supports 18W fast-charge (but not 30W modes).
Its camera suite is unexpectedly vast, with four lenses on its rear. Its main sensor is a Samsung Bright S5KGW1 matched with a 26mm wide-angle, f/1.9 aperture lens that can shoot 64MP stills – the so-called 'High Pixel' mode. There's also an 8MP, 13mm ultrawide camera, which sports an f/2.2 aperture lens, alongside a 5MP macro lens (f/2.2) for a 'Super macro' mode, and a 2MP depth sensor (f/2.4) to power its bokeh-style portrait mode.
Video is captured at a maximum resolution of 4K at 30 frames per second (fps), though in 1080p it's possible to capture in 60 fps and 120 fps (though there's no 960 fps slo-mo option).
The front's selfie camera takes 16MP stills through a 26mm wide-angle, f/2.2 lens. The front-facer can also record 1080p video at 30 frames per second (fps).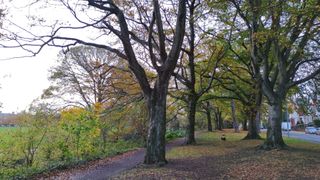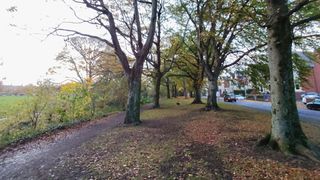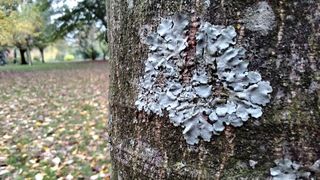 The TCL 10 5G's camera has five basic modes; Auto, Video, Portrait and Pro. Portrait allows tweaks to aperture (f1 to f16) while Pro gives you manual control of ISO (up to 3100), shutter speed, exposure convention, colour temperature and focus. A 'more' tab takes you to a page of extra modes – any of which can be dragged on to the main camera – comprising Super Night, Slo-Mo, Stop Motion, Light Trace, Pano, Super Macro and High Pixel (64M).
Where the TCL 10 5G does appear to lose out to the OLED screens of its rivals Google Pixel 4a 5G and the nePlus Nord is with its IPS LCD screen. However, during our review its 1080p images always appeared crisp and colourful, with decent contrast shadow detailing. If you do get round to watching video then know that the TCL 10 5G does support HDR content from Netflix.
Perhaps to make up for its lack of OLED the TCL 10 5G does NXTVISION, a suite of picture enhancements that's effectively a brand extension. That only really makes sense if you already know that TCL makes huge 'NXTVISION'-branded TVs in China. Practically speaking, on the TCL 10 5G that NXTVISION suite is aimed at getting video spot-on. Inside the home-baked app is a 'visual enhancement' mode that automatically adjusts contrast, sharpness and saturation and attempts to reveal shadow detail in dark scenes. There's a mode in NXTVISION to upscale video to HDR colour as well as a reading mode that makes the TCL 10 5G's display monochromatic when specific apps are opened. NXTVISION also contains a sunlight mode to increase its readability in direct sunshine.
Also on the TCL 10 5G are 'Super Bluetooth' support for up to four pairs of headphones, support for HiRes Audio, and a 3.5mm jack. It's also nice to see an integrated FM radio.
In the box is a transparent plastic cover with custom cut-outs for the rear camera array. You're probably going to replace it within days, but until then it's going to keep the phone free from scratches.
TCL 10 5G: Build & handling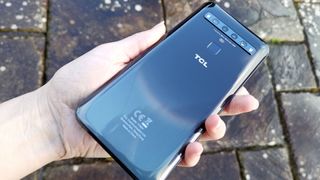 Despite it being a 5G phone, the star turn on the TCL 10 5G – and arguably on any decent smartphone these days – is the four-strong camera suite on its rear. Rather unusually the four lenses are arranged horizontally, and placed between two LED flashes. Ranged just below is a fingerprint sensor.
Measuring 164x77x9 mm and weighing 210g, the TCL 10 5G is on a par with an Apple iPhone 12 Pro Max in terms of size and weight. It's glass all over with an aluminium frame between. Is it a looker? Not really. The 'Mercury Gray' version we tested struggles to look like anything more than a vanilla smartphone, but perhaps the 'Chrome Blue' version stands out more.
The handling is excellent; there's never a worry with processing power and the phone handles all kinds of apps and operations fluently.
TCL 10 5G: Sample images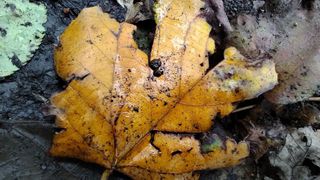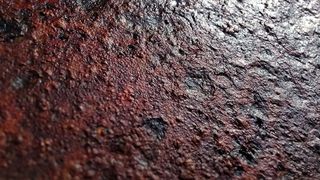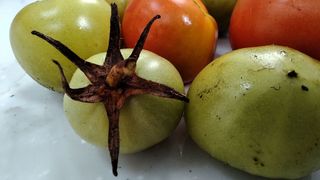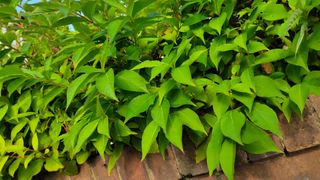 TCL 10 5G: Performance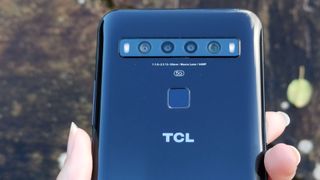 With plenty of processing power and an uncluttered UI, the TCL 10 5G is an easy phone to operate. What's more, its camera is always simple to use and lightning-quick, and that's no mean feat. However, beyond its main camera, it does lack a wow factor. Its strongest suit is definitely that main 26mm camera, which takes excellent, detailed still images in 64MP that have plenty of dynamic range (though it shoots in 16MP unless you engage the 'High Pixel mode'). Its portrait mode also impresses, combining a bokeh-style blurred background with a sharp and well-focused subject, while its HDR mode boosts clarity and shadow detailing enough to justify its existence, though oddly it doesn't do much for color.
The TCL 10 5G is at its best in good light – as all smartphones are – though not even good lighting helps its ultra-wide camera, which suffers from blur in the corners and an overall softness. While the macro lens takes images with lots of color, they're also not as detailed as they could be.
The all-important low light performance is also very average, with that Super Night mode producing images that appear clean yet lacking realism.
With a fast, comprehensive camera app that has core quality if little else, the TCL 10 5G is a reasonably impressive first step for a new brand in camera phones.
Where the TCL 10 5G does do well is with its battery life, which lasted for a few days during our review. Note that when connected to a 5G network it does tend to run-down rather quickly, which seems to be a feature of all 5G phones.
TCL 10 5G: Verdict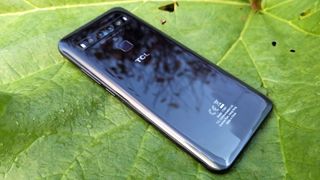 There's little to get really excited about on the TCL 10 5G. It's all about embracing 5G on a good value, fast-working big screen all-rounder, but it does have a good quality main camera. However, despite being a quad-camera phone its secondary cameras are pretty average. Its large display will suit most users, but it's not OLED. However, with excellent 64MP images from its main camera, a long battery life and a good – and fast – all-round performance, the TCL 10 5G is going to be close to the sweet spot for anyone after a good value 5G phone.
Read more:
• Best camera phone in 2020