The Asus Zenfone 8 Flip is a rehashed Zenfone 7, loaded with updated internals and software boosts. Given the limited release of the Zenfone 7 series, we're not too mad about the serious case of deja vu – after all, nothing else on the market looks or functions quite like Asus's flipping phones.
With their ample, full-screen displays, what make the Zenfone 6, Zenfone 7 and Zenfone 8 Flip special, other than the motorized cameras, is the fact their screens are free of any selfie camera interruption. Yep, that's right, no notch, no punch hold, and not much in the way of bezel – just a giant screen. That said, the phones are all big, bulky, and pretty heavy.
The Zenfone 8 Flip's heft is, in part, justified by its ample 5000mAh battery. Additionally, the phone's powered by a flagship Qualcomm Snapdragon 888 chipset, and sports up to 256GB storage. That said, the phone's also missing wireless charging and IP68 dust and water resistance – so it's clearly a balance of highlights and compromises.
The question is, are its highlights enough to warrant its £699 (approximately US$970 / AU$1,270) price, or does its familiar design and camera system fail to stand out in a sea of high quality, sleek 2021 flagship smartphones?
Asus Zenfone 8: Design & screen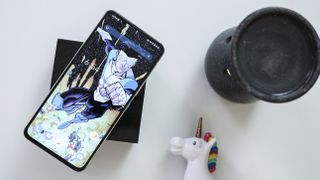 Set the Asus ROG Phone 5 and Zenfone 8 Flip alongside one another, and you'd be forgiven for thinking Asus exclusively makes giant phones. Heck, at 230g, the Flip is one of the heaviest phones you can buy. The ultimate irony is that the Flip has been launched alongside a much smaller Zenfone 8, which Asus makes a point to call one of the most compact flagships on the scene, with its Google Pixel 5-like size.
Back to the flip, and its screen-heavy front is matched with a curved glass back with a fingerprint-loving mirror finish. It's rounded, so despite its heft, sinks comfortably in the hands, and with buffed metal sides, it also feels solid and premium.
The camera element is motorized to rotate around the topside of the phone, bringing the three cameras that are rear-facing around and forward, so they face the user and double up as the selfie cameras. Despite the fact we've seen this before, most people haven't, and it's a very neat party trick that generated a lot of fuss when we used it in public. The feature is also useful, much more so than the rear screen on the Nubia Z20 or Xiaomi Mi 11 Ultra. After all, you get a fantastic viewfinder for selfies, rather than an awkward compromise that's either discolored or far too small to be useful.
Combining a 6.67-inch screen size and FHD+ resolution, the Zenfone 8 Flip isn't particularly sharp on paper, but in the flesh, it's as crisp as it needs to be, and with Super AMOLED screen tech, matched with support for HDR10+, content it showcases looks great. The phone's 20:9 aspect ratio makes it well-suited for most content, and with a Huawei Mate 40 Pro matching 90Hz refresh rate, it's also smooth, albeit not quite the smoothest out there.
Despite the fact the Zenfone 8 Flip doesn't topple $1,000+ phones like the Oppo Find X3 Pro or S21 Ultra in every respect, at its price, the phone's design and display hit the mark. Add to the mix a case in the box that locks the flip-out camera, and there's a nice to have value add that compensates for the lack of water resistance.
Asus Zenfone 8: Cameras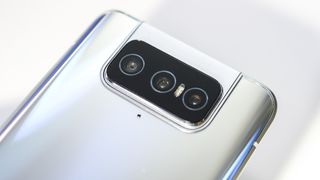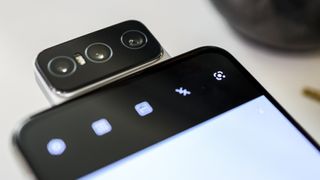 The Asus Zenfone 8 Flip's main camera module features a 64MP SonyIMX686 sensor, with Quad Bayer technology, combining four pixels into one for the final photo. The sensor is matched with an f/1.8 lens, delivering a 78-degree field of view (26.6mm). With no optical image stabilization, the phone Flip falls behind the OnePlus 9 and 9 Pro in that respect, however, thanks to a competent night mode, we still enjoyed impressive results across lighting conditions with the main camera.
With a Sony IMX363 12MP sensor powering the ultra-wide camera, it's no slouch. The dual-pixel image sensor sports a 112-degree field of view (14.3 mm), matched with an f/2.2 aperture. The ultrawide lens also includes autofocus, enabling macro shots as close as 4cm.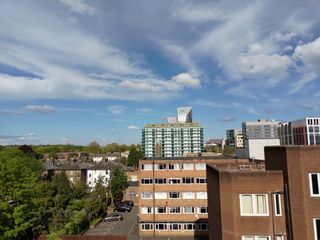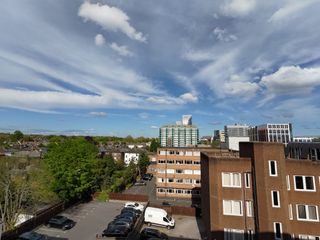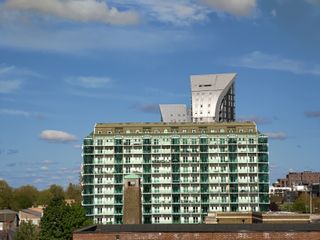 Finally, the telephoto camera is the key differentiator when comparing the camera setup to the Zenfone 6 and 8 Flip, and the three times zoom module (80mm) is powered by an 8MP OmniVision OV08A sensor. OmniVision is behind the sensors on the Lenovo Legion Phone Duel 2, and we've had mixed experiences with its hardware in the past (mainly bad to be honest), but a telephoto module is a welcome feature nevertheless.
It's worth noting, the Zenfone 8 Flip can shoot video at up to 8K resolution at 60fps, or 4K at 60fps, keeping it in line with the best from Samsung and its key competition. It also features a number of shooting modes that benefit from its motorized camera module. Panorama, for example, rotates the module automatically while you keep your hand still, and the phone captures a full view of everything its wide or ultra-wide angle cameras see. The results are good, but no better than those taken with another flagship that is manually rotated. Additionally, there's a motion tracking mode, though this was a bonafide gimmick in our experience.
Camera performance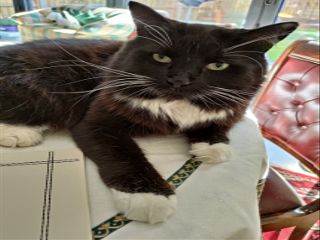 Detail is definitely the Asus Zenfone Flip's strong suit. The 64MP Sony sensor grabs crisp, cropable shots in good to middling light without too much trouble. We anticipated the lack of OIS would hamper performance more than it did, but across a range of outdoor and indoor scenarios, we captured pleasing results.
Even when the lights drop, the Zenfone 8 Flip's camera is respectable, firing up automatically across the wide and ultra-wide cameras. It keeps the shutter open for in excess of four seconds, creating a composite shot that is low on noise while being high on detail.
If you're feeling creative, you can also rest the phone on a surface, while part rotating the camera through a range of set angles (roughly 45, 90, and 135 degrees). This means if you steady the Zenfone 8 Flip, you can capture a long exposure photo, or use a remote shutter that's that bit crisper than a handheld alternative. It's also great for star and sky shots.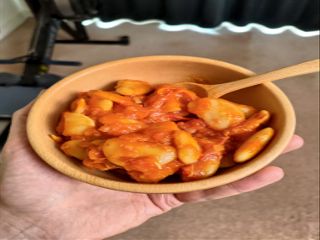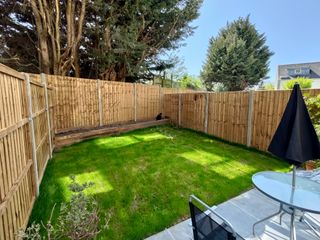 Color consistency across the three cameras matched relatively well both indoors and out. Asus phones have a pleasing, neutral look to their photos, and while they might not be as zingy as Realme's, or as cool as Xiaomi's, they are neutrally punchy, and make for easy enough editing. This is especially true if you're shooting RAW photos, which can be captured across all three of the phone's cameras.
The two areas the Zenfone 8 Flip doesn't quite match up to some of its key competitors are dynamic range, and zoom. Occasionally, backlit subjects can get the better of the phone, with Asus's HDR processing failing to take the edge out of hotspots. Additionally, the telephoto OmniVision module is the weakest of the three, producing the dullest photos as soon as lights dim down.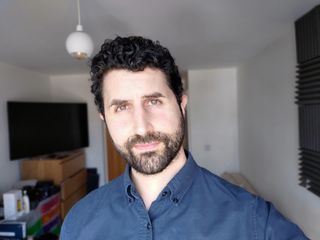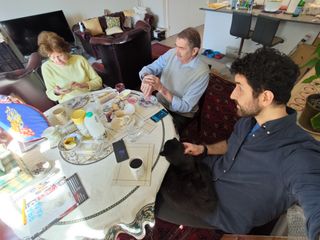 What saves the phone from mediocrity is the Zenfone 8 Flip's key selling point – selfies. Given the main cameras are also its selfie cameras, for lovers of the art form, very few phones come close. Extend your arm, flip the camera around, switch to the ultra-wide angle, and you can get as many as 10 huddled-up friends in the frame – and they likely look great. Switch to the main camera, and you can take incredibly detailed editable selfies, or a high-impact portrait mode shot. While photography purists might scoff at the Zenfone 8 Flip's appeal, therefore, for fans of the selfie genre, Asus nails it.
Asus Zenfone 8 Flip: Additional specs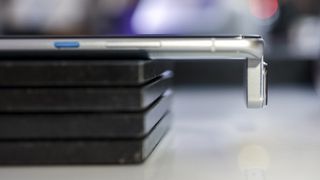 Powered by a Qualcomm Snapdragon 888 octa-core chipset clocked at 2.84GHz, the Zenfone 8 Flip has gaming phone power, and that's matched with 5G data speeds. Practically speaking, in London, we were seeing downloads of about 170Mbps, which equates to a 1GB movie in under a minute.
Running Android 11 with Asus's skin over the top, the Zenfone 8 Flip packs support for plenty of apps, and Asus also adds some welcome customizations to the UI, from themes that make the phone look and feel more unique, a handy one-handed mode to help you handle its heft, not to mention a host of sound options to help those stereo speakers sing.
With 128GB or 256GB storage onboard, not to mention microSD card expansion options, there's very little chance you'll run out of storage on the Zenfone 8 Flip. The phone's 5000mAh battery is also huge, besting most flagships out now. While it comfortably lasts a day, the lack of wireless charging (available in the similarly priced OnePlus 9), and super-fast charging is felt. Nevertheless, with 30W wired charging, the phone's speeds still beat those of the iPhone 12 Pro Max and Samsung Galaxy S21-series.
Asus Zenfone 8: Verdict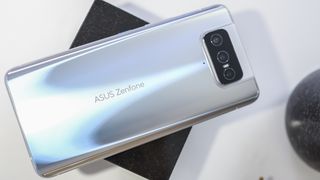 We could penalize the Asus Zenfone 8 Flip for being too similar to the Zenfone 6 and 7, and we would more so if anything else on the market did what these phones could do. That said, they don't, and the series's flip-out cameras make for some creative photography opportunities and best-in-class selfies.
While other brands have attempted selfie screens – ZTE with the Nubia Z20 and its discolored rear display, and Xiaomi with the Mi 11 Ultra's tiny viewfinder, none have done it with the success of Asus's flip-out camera solution. Is the Zenfone 8 Flip the best camera phone of 2021? No, but it is the best selfie camera phone we've used.
So, of course, if you don't need the latest, greatest specs, you can pick up the cheaper Zenfone 7. If, however, you fancy gaming phone power matched with stellar selfies, and a competent performer across the board, the Zenfone 8 Flip could be your perfect, quirky remedy to the sea of samey slabs currently on the market.
Read more:
• Best camera phone in 2021
• Best budget camera phones
• Best iPhone for photography
• Best burner phone
• Best 5G phone
• Best phablets
• Best flip phones
• Best phablets