Lab tests
We pitched the A6500 against three similarly-priced rivals with similar features but different approaches to camera design – the Nikon D7500, Fujifilm X-T2 and Panasonic G9.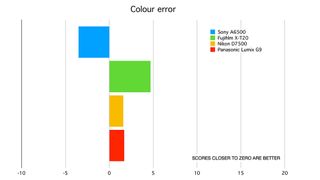 Colour error
The A6500 lies in third place for colour error, but it's not a bad result. In fact, all four cameras are quite close, and these differences would easily be swallowed up by post-processing adjustments.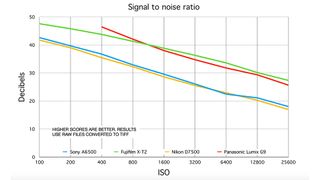 Signal-to-noise ratio
Here, the Sony A6500 and Nikon D7500 languish a little behind the Fujifilm X-T2 and Panasonic G9. The Panasonic's performance is especially good when you consider its smaller sensor size.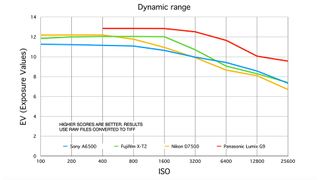 Dynamic range
Here, the Panasonic G9 scores another surprising win. Indeed, the A6500 lies in fourth place behind the rest, only catching up at higher ISO settings, a legacy perhaps of the age of the A6000-series sensor design.