The A6500 doesn't look very different to the previous A6300 and A6000. Its rectangular rangefinder-style design is neat and uncluttered, and it feels well made. The top plate has a mode dial, a control dial and two custom buttons, and that's it – the shutter-release button and power lever are on the front grip.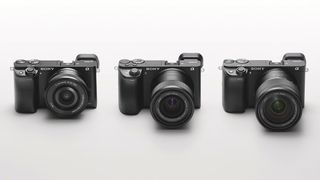 Round the back, things get more complicated, with a further custom button, an Fn button, playback button, menu button, pop-up flash button and a focus-mode lever.
There's also a dual-function, four-way control pad and control ring, on which you click up, down, left or right for the display mode, ISO setting, exposure compensation and drive mode options, or spin the outer ring to make settings changes.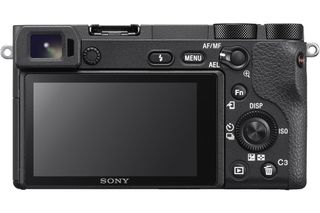 As ever with these combined dials, it's a little too easy to click when you mean to spin, and it's a poor substitute for a dedicated second dial. To be fair, the A6500's body is very compact with limited space for external controls – but then Fujifilm crams in exposure compensation, shutter speed and drive mode dials on the barely larger X-T20, while Olympus has found space for twin control dials on the pint-sized OM-D E-M10 Mark III.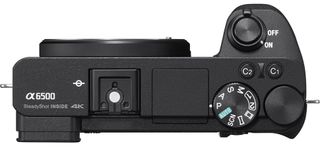 Overall, the A6500 is certainly packed with features, but its external controls are pretty minimal and could leave you spending a good deal of time navigating menus (there are 35 menu tabs, by the way) and tapping on the touch-screen interface.
The EVF is a good performer, though the eyecup protrudes quite a long way and is somewhat annoying. Furthermore, although the rear screen is a three-inch unit, it's in the 16:9 ratio rather than the more usual 3:2. It's ideal for video, then, but the extra width and reduced height means the usable screen area for regular stills photography is a little smaller than usual.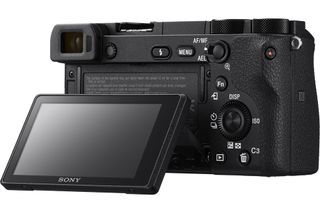 The oddest thing is the video record button, which is a tiny pimple on the outside of the rear thumb rest that's practically flush with the surface of the camera. This makes it difficult to find by feel, and you have to shift your grip to do this, which is the last thing you need at the start and end of your clips. Video is such a large part of the A6500's capabilities that this seems very strange indeed.
In fact, the A6500's external design has changed little compared to earlier models. Perhaps Sony thinks it can't be improved on, or wants to confine its R&D investment to internal changes only. Either way, for a camera whose selling points are high-speed shooting and 4K video, its exterior controls don't seem especially well adapted to either.
This extends to the A6500's general shape and handling characteristics. The A6500 is the perfect size and shape for a portable street-photography or travel camera, and it handles very well when fitted with a small zoom or prime lens. If you use a longer, wide-aperture zoom or telephoto, however, it becomes very nose-heavy, and if you try it with the Sony FE 70-200mm f/4 G OSS or a another wide-aperture telephoto lens – as you might, given this camera's continuous shooting and AF performance – the combination feels very awkward.
Normally, the answer would be to fit a battery grip. We couldn't find one in the Sony catalog, however, which means resorting to a third-party grip. Video shooters are in the same boat, although semi-pro or professional videographers are likely to use the A6500 in a rig, where its design will no longer be a factor.