Developed for Canon EOS full-frame DSLRs, Samyang's XP (XPert) range of premium quality manual-focus prime lenses aims for top-drawer image quality. They're designed to fully meet the needs of cameras with 50 megapixels or more under the bonnet, and the ability to shoot 8K video. There are currently five on the market, ranging from 10mm to 85mm in focal length. The Samyang XP 10mm f/3.5 edition delivers a world-beating viewing angle for rectilinear (non-fisheye) lenses. (It's worth noting that this lens is called the Rokinon SP 10mm f/3.5 in the US market.)
• Read more: Best fisheye lenses
Samyang XP 10mm f/3.5: Specs
Mount: Canon EF
Lens construction: 18 elements in 11 groups
Angle of view: 130 degrees
Diaphragm blades: 7
Minimum aperture: f/22
Minimum focusing distance: 0.26m
Maximum magnification ratio: 0.07x
Filter size: N/A
Dimensions: 95x98mm
Weight: 731g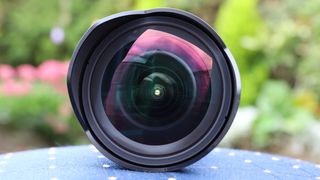 Samyang XP 10mm f/3.5: Building and Handling
Immaculately turned out, the lens has a full metal barrel and mounting plate, and a wonderfully tactile rubberized focus ring. Surprisingly though, it lacks the weather-seals that adorn many of Samyang's less 'premium' lenses. Another omission is that the focus distance scale doesn't have any depth of field markers, which would be useful for zone focusing. This enables you to easily set the minimum and maximum distances governing the 'in-focus' zone of a scene, within the markers a given aperture. On the other hand, the depth of field is so enormous at medium to narrow aperture settings, that the markers would be a little superfluous.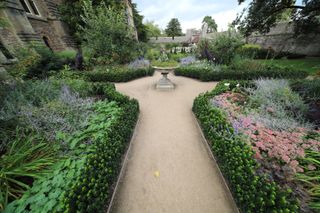 Although it's a manual-focus lens, it's not like Samyang's fully manual lenses and does feature built-in electronics. This enables the aperture to be set from the camera body, so you can shoot effectively in the full range of PASM shooting modes. In addition, visual indication is given in the viewfinder for the aperture in use, as well as for focus confirmation. Every little helps.
As you'd expect in such a wide-angle lens, the hood is permanently fixed and protects the protruding front element. The aperture rating is sensible as it enables the lens to be reasonably small, although it's fairly weighty for its size, at 731g, mostly due to the sturdy metal build.
Samyang XP 10mm f/3.5: Performance
Not only is sharpness impressive, but the huge depth of field enables you to keep very close and distant areas within a scene similarly sharp, even into the extreme corners of the frame. You can focus as close as 26cm and, considering this is the distance measured from the focal plane near the back of the camera, that's very close indeed. At f/16, that enables a depth of field that stretches from immediately in front of the lens, all the way to infinity.
Contrast and color accuracy are similarly high-ranking. True to its claims, distortion in real-world shooting is virtually impossible to spot, while color fringing is entirely negligible. Image quality is assured by clever design and the use of high-tech glass, including three aspherical elements, three ED (Extra-low Dispersion) elements and one HF (High Refractive index) element.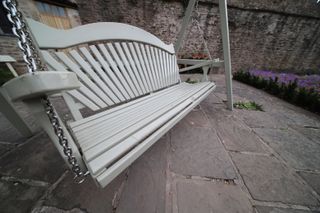 Samyang XP 10mm f/3.5: Lab tests
Sharpness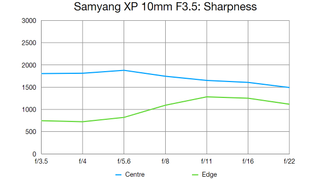 Sharpness is impressive but, as you'd expect with such a wide-angle lens, it drops off towards the corners.
Fringing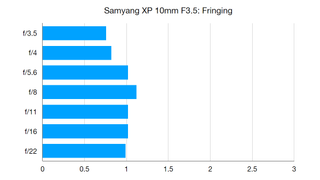 Color fringing is very minimal, even in the extreme corners of the frame.
Distortion: -3.69
Our close-range lab tests revealed some barrel distortion but it's negligible in real-world shooting at normal distances.
Samyang XP 10mm f/3.5: Verdict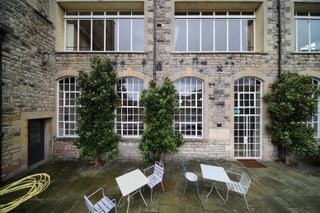 Shooting with the Samyang XP 10mm f/3.5 lens is something of a revelation. The focal length takes the blinkers off your camera and gives you a phenomenal viewing angle. Indeed, it can often be easier to shoot in live view mode and hold the camera in front of you at arm's length, to avoid your feet creeping into the frame. It's also great that you can shoot extreme close-ups, to really exaggerate perspective effects. It's a pricey lens, at least for a Samyang or Rokinon, but it's impeccably made and is nevertheless very good value for money.
Read more
Best wide-angle lenses for Canon in 2019: which one should you buy?
Best wide-angle lenses for Nikon cameras in 2019: for DSLRS and Nikon Z
Best lenses for astrophotography in 2019