iPhone 12 Pro Max vs Samsung S21 Ultra - which should you choose? This is a real clash of the titans, with both being the line-leaders in their respective iOS and Android platforms. These are highly-priced phones with a host of specifications that are likely to reel in anyone who is looking for a smartphone with excellent photographic credentials.
Both have a multiple-camera setup, both have large displays and both offer other useful features such as 5G connectivity, wireless charging and various capacity options. However, there are also plenty of key differences - such as when it comes to video capabilities, the number of lenses and, of course, the operating system and native camera apps that each device uses.
We've used both in the same situations to try and ascertain which wins in the ultimate battle between Android and iPhone - read on to find out which comes out on top.
iPhone 12 Pro Max vs Samsung S21 Ultra: Cameras
Why you can trust Digital Camera World Our expert reviewers spend hours testing and comparing products and services so you can choose the best for you. Find out how we test.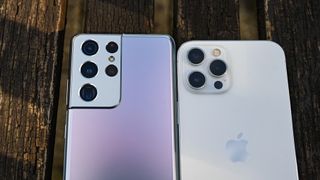 Multiple cameras have long been commonplace on both Android and iPhone models for some time, with both the devices here offering a variety of focal lengths to choose from. However, with an extra lens on board, and extra zooming power, it's the Samsung S21 Ultra which has the edge in terms of flexibility.
With the iPhone 12 Pro Max, you get a triple lens set up, giving you ultra-wide (13mm equivalent), wide (26mm) and telephoto (65mm - 2.5x) lenses to choose between. All three are backed by 12 megapixel sensors. Meanwhile, the Samsung S21 Ultra offers four lenses - a 12 megapixel ultra wide (13mm equivalent), a super-high resolution, 108 megapixel main sensors with a 24mm equivalent lens, plus two 10 megapixel telephoto lenses offering equivalents of 70mm (3x) and 240mm (10x).
• Read Samsung Galaxy S21 Ultra review
• Read iPhone 12 Pro Max review
Speaking of digital zoom, however, a major headline specification of the Samsung S21 Ultra is that it offers 100x zoom - a digital offering. By contrast, the iPhone 12 Pro Max offers a 12x digital offering. While that's an exciting headline specification, in real-world usage, it seems unlikely that you'll be wanting to activate the 100x zoom all too often. However, it's fair to say that in terms of "optical zoom", or being able to get closer to your subject with a longer lens, the Samsung S21 Ultra is definitely the clear winner here.
Although both models have lenses which put in good performance, we can see that the Samsung generally puts in a better performance in many situations. Its low light performance was better in our tests, while being able to reach further without having to rely on digital zoom also makes for much more detailed long-range shots. It's harder to pull apart the differences when comparing the main sensor/lens combinations when shooting in good light, while both of the ultra-wide-angle lenses perform at their worst in low light.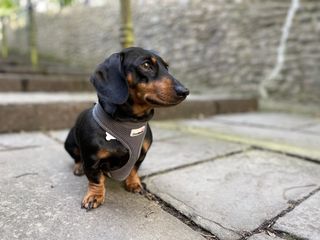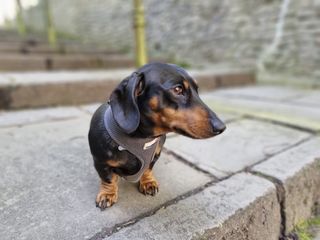 One exception where the iPhone seems to put in a more favorable performance than the Samsung is when it comes to portrait mode (called Live Focus for Samsung), with the former producing a more aesthetically pleasing result, though both are pretty good.
iPhone 12 Pro Max vs Samsung S21 Ultra: Screen and Design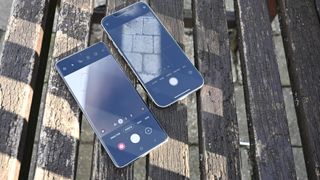 Both the iPhone 12 Pro Max and the Samsung S21 Ultra can easily be described as "phablets". That is, they straddle both phone and tablet due to their mammoth sizes. That won't be to everybody's tastes, but the ultra large screens are undeniably great for playing back your images and video.
Both the phones have similar sized screens, with the iPhone 12 Pro Max's Super Retina XDR OLED being just a touch smaller at 6.7-inches (compared with 6.8-inches of the Samsung S21 Ultra's Dynamic AMOLED). The iPhone 12 Pro Max also has a slightly smaller overall body design, being 78.1 x 160.8 x 7.4mm in size, compared to 75.6 x 165.1 x 8.9mm for the Samsung S21 Ultra.
The Samsung S21 Ultra uses Gorilla Glass Victus for the screen, and has an IP68 dust/water resistant rating. It's claimed that it be resist water at a depth of 1.5 metres for up to 30 minutes. Meanwhile, the iPhone 12 Pro Max also uses Gorilla Glass for the screen, and also has an IP68 rating, however Apple claims that it can go as deep as 6 metres - also for 30 minutes.
Place the phones side by side and it's difficult to pick an outright winner - both are bright and vibrant, while the style you prefer - the curved/smoother edges of the Samsung might be more appealing than the squarer design of the iPhone (or vice versa).
iPhone 12 Pro Max vs Samsung S21 Ultra: Battery and capacity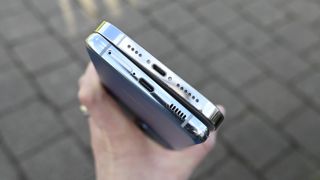 Apple is a little coy about its battery capacity, not listing the official specs on its website. However, several websites have done a tear down of the battery, and discovered it to have a 3,678 mAh battery.
By contrast, the Samsung S21Ultra's battery is more impressive, at a whopping 5000 mAh.
Whether you are concerned about battery life largely depends on what you are doing with the phone. We've found that the iPhone 12 Pro Max generally lasts the average day of reasonable usage, and it's only if you're having a particularly video / photo intense day that you might need to give it an extra boost before the sun goes down.
The Samsung's battery definitely lasts longer, giving you scope to create more content as the day stretches on, with it easily lasting a couple of days or longer without charge if you're not using it too heavily.
Both models are compatible with wireless chargers, with two different types of wired connectors -
In terms of capacity, the Samsung S21 Ultra and iPhone 12 Pro Max are evenly matched, both offering 128GB, 256GB and 512GB options to choose between, depending on your needs (and your budget). Neither model offers a microSD card slot (this is usual for Apple, but a new development for Android).
iPhone 12 Pro Max vs Samsung S21 Ultra: Video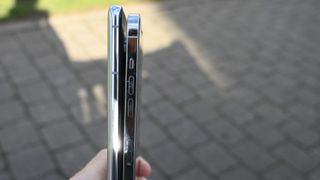 Here's one area where there are some more big differences between the two devices. One of the Samsung's headline specifications is the fact that it can record 8K at 24fps - albeit with a crop applied.
The iPhone 12 Pro Max meanwhile maxes out at 4K/60 (uncropped), which is also available for the Samsung S21 Ultra. Samsung has a "SuperSteady"mode, which you can use if you're recording shaky footage - such as walking and talking for vlogs - but this maxes out at Full HD / 60fps.
Meanwhile, the iPhone 12 Pro Max has sensor-shift optical image stabilisation, which is available across all resolutions. To test how the two compare though, I shot handheld while walking, with the two models held side by side. I recorded at Full HD / 60fps with both, with SuperSteady switched on with the Samsung, while also recording at 4K to see if the lack of stabilization on the Samsung at this resolution made a big difference.
Here, the iPhone 12 Pro Max puts in a better performance when it comes to capturing smooth video at 4K60p, however there are other benefits to the Samsung - such as the option to use a "Pro" video mode to take greater control of your movie clips, as well as of course the ability to record 8K.
iPhone 12 Pro Max: 4K video sample at 60p
Samsung Galaxy S21 Ultra: 4K video sample at 60p
iPhone 12 Pro Max vs Samsung S21 Ultra: Connectivity
It's a dead heat between the iPhone 12 Pro Max and the Samsung S21 Ultra as they both offer 5G connectivity. For Apple, it's the first time 5G connectivity had been included in an iPhone model.
iPhone 12 Pro Max vs Samsung S21 Ultra: Price
Both of these phones are pretty expensive - as you might expect for premium top-of-the-line smartphones. Apple has gained a reputation for being expensive (some might say overpriced), but it's actually the cheaper of the two models here for the base option in terms of recommended retail price (but in reality you probably will find better discounts on the Samsung).
You will pay more depending on how much storage you require, with the cheapest price for the iPhone 12 Pro Max coming in at $1099/£1099, compared to $1,199/£1,149 for the Samsung S21 Ultra 5G. Both feature 128GB of memory. At the other end of the scale, if you want 512GB memory, it's actually the Samsung which comes out cheaper - you can pick it up for $1,339/£1,329, meanwhile the iPhone 12 Pro Max 512GB option is $1,399/£1,399.
iPhone 12 Pro Max vs Samsung S21 Ultra: Verdict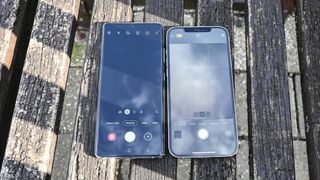 These two line-leading smartphones offer the latest and greatest in what Apple and Samsung has to offer the market. On paper, at least, the Samsung is the very clear winner in most regards.
It offers an extra lens, more flexibility when it comes to video recording, a slightly larger screen, and a better battery life. In real-world shooting, images taken on the main lens in good light are harder to choose between, but as soon as you want to get closer to the subject, or take shots in low light, it's the Samsung which just about has the edge in most cases.
For video, Samsung wins when it comes to on-paper specs, but if you're not planning to use 8K video recording, then it's arguably the iPhone which just about pips it, with smoother video in 4K. Using the SuperSteady mode with the Samsung is a good idea for vloggers and the like, but it limits you to Full HD.
Putting all these specs aside however, as well as the real-world performances of the duo, there will be some for whom an iPhone is an absolute must, while for others, the same will be true for Samsung. If you're tied into or are particularly fond of either system, there's not too much here to convince dyed-in-the-wool Android/iOS fans to complete a major switch to the opposite platform, but, if you're a bit less free with your loyalty - it's the Samsung which just about comes out on top.
Read more:
• Best camera phone
• Best budget camera phones
• Best iPhone for photography
• Best burner phone
• Best 5G phone
• Best phablets
• Best flip phones
• Best phablets
• The best TikTok lights
• Best camera for TikTok