Fujifilm announced two new medium format cameras at Photokina 2018. The Fujifilm GFX 100 is under development and a working prototype is not yet available, but we were able to get a special hands-on session with the GFX 50R.
This a brand new, rangefinder-style version of the existing GFX 50S. The closest comparison in the Fujifilm range is perhaps the X-T3 versus the X-E3. The GFX 50S is a modular design styled like a DSLR for the maximum flexibility; the new GFX 50R is a smaller, lighter and slimmer camera designed for speed and portability.
Technically, the two cameras are very similar. The GFX 50S and 50R use the same 50-megapixel sensor, autofocus system, lenses and lens mount. The difference is in the design of the body… and the price.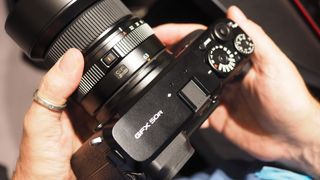 Build and handling
The GFX 50R is not small by regular APS-C and full frame camera standards, but it's a good deal more wieldy than the GFX and similar in size and style to the Hasselblad X1D.
When you pick it up, it's lighter than its size suggests. It's still easy to grip, despite the slimmer, rectangular body, and although the viewfinder eyepiece is placed way off centre in the top left corner on the back, you adapt so quickly to its position that it feels perfectly natural.
The viewfinder image is bright, crisp and clear, though Fujifilm says it's not the same display as the one used in the GFX 50S.
The control layout is instantly familiar, with aperture control via a ring on the lens (control via the camera body is an option via a 'C' setting on the aperture ring) and a shutter speed dial on top of the camera. It's a simple, intuitive setup that feels perfectly matched to the camera's neat, rectangular body.
Performance
The autofocus system is unchanged from the GFX 50S, so it's measured and precise rather than quick. It's not a camera you can rush, exactly, though our experience with the GFX 50S suggests you soon adapt to the camera's shooting pace.
The payback, with the GFX 50S at least, is superb image quality, with a definition, depth and sense of space that you just don't get from smaller format cameras – it's not just about the megapixels.
The GFX 50R uses the same sensor and lenses as the 50S, so we've every reason to image it will achieve the same stunning levels of image quality.
The best news of all, however, is the price. At £3,999 body only and £4,500 with the 63mm f/2.8 standard lens (an exceptional deal), the GFX 50R will be the cheapest medium format camera ever. We're told the price of the GFX 50S is set to drop too, so suddenly at these prices it looks as if the raft of full frame cameras at this year's Photokina faces a pair of unexpected rivals.
Read more:
Fujifilm adds three GFX lenses to roadmap
Fujifilm GFX 100S: 100 megapixel medium format beast is on the way