Storage can be a real headache for photographers. You may already be at the stage when your image archive won't fit on your computer's internal disk drive. An external desktop drive is the obvious solution, but these have two drawbacks.
First, they will eventually run out of storage capacity too. Second, there's the nagging fear of hard disk failure and the loss of all your data. You should always make regular backups, of course, but you still stand to lose all the work you've done since your last back-up.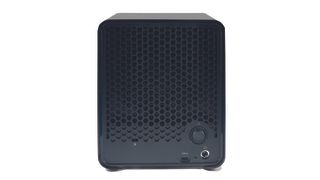 The Drobo 5C is designed to solve both these problems using a special 'BeyondRAID' adaptation of the RAID storage systems used by data centres, companies and many tech-savvy computer buffs. Drobo recommends maintaining your backup routine regardless.
With a conventional hard disk drive, upgrading it means copying all that data from the old drive to the new one – but with the Drobo, you just replace an old, small drive with a new, larger one, and you can even do this while it's running.
Setup and operation
The quoted price is for the Drobo 5C for the enclosure only: you have to buy the disk drives themselves separately. Alternatively, if you've got a drawer full of 3.5in internal drives from old computers, you can slot those in instead (although they need to be SATA II or III drives). You don't have to fill all five bays – you can start with as few as two – but the Drobo uses the storage more efficiently if you have more.
For the initial setup you need the free Drobo Dashboard utility, which you can download from the Drobo website. You use this to choose the format (do you use a Mac or a Windows PC?) and various configuration and setup options. Once that's done, you don't really need the software, except for settings info and updates.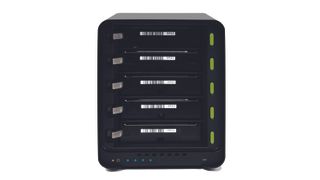 Although the unit can contain up to five separate drives, your computer always sees it as just one. As a result, it will always report the Drobo 5C's maximum design capacity; the actual capacity available will be lower, partly because it uses data redundancy, and partly because you're unlikely to fit drives of the maximum capacity, at least not straight away. You can always find out the actual storage capacity of your own configuration using the Dashboard app.
Performance
The Drobo 5C is only slightly more technical to set up than a regular external drive. To change a drive for a bigger one, or to swap out a faulty drive (indicated by a red drive light), you take off the front cover, release the catch for the drive, remove it and slot in another. This ability to 'hot-swap' external 3.5in drives takes some getting used to if you're a long-time PC user. It's so easy it feels like it shouldn't even be possible.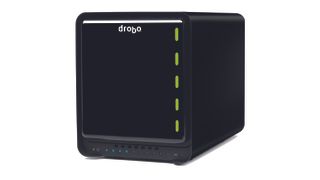 Because it's running up to five different drives at once, the Drobo 5C can make a bit more noise than the average desktop drive. It's pretty weighty, but the four rubber feet keep it anchored securely in one place, and it feels very well made.
We checked its performance using Blackmagic Design's free Disk Speed Test app, which is designed primarily for video, but this test still gives a good indication of performance. And with this, we measured read/write speeds of up to 650MB per second.
It felt perfectly quick in day-to-day use, and the figures show it's around five times faster than our Western Digital Passport 2TB mobile drive.
Verdict
IT experts and power users might prefer a conventional RAID solution for reasons of performance and connectivity but for non-experts, the Drobo 5C is a supremely simple way to get the security advantages of a RAID system and enjoy incredibly easy data storage upgrades. It's not cheap, but you're paying for security, simplicity and flexibility – and that's worth a lot.
Specifications
Drive compatibility 3.5-inch internal SATA II/III (sold separately)
Drive bays 5
Connectivity 1 x USB Type-C port
Operating systems Windows 7, 8 or 10; macOS 10.10 or later
File system options Windows, NTFS; macOS, HFS+
Software Drobo Dashboard 2.8.3 or later (included)
Disk redundancy Single disk (default), dual disk (optional)
Maximum capacity 64TB
Power protection Internal battery
Power AC power adaptor
Dimensions 150 x 185 x 262mm
Weight 3.9kg (without drives)