The might strike a chord for some – remember those giant coin-operated binoculars affixed to a metal post found at beauty spots to survey the scene for miles around? The Celestron Skymaster Pro 20 x 80 binocular, which marries a 20 magnification for long distance viewing to a huge 80mm objective lens, feels a bit like that!
This is a large and chunky pair of rubber armoured binoculars obviously designed for use in conjunction with a tripod, with a centrally located tripod adapter built in for the purpose, along with a rail for attaching an optional red dot finder-scope if so desired. While those with adult sized hands might be able to use them hand held for a very short period of time, we found this quickly becomes impractical and untenable.
Specifications
Magnification: 20x
Objective diameter: 80mm
Field of view at 1000m: 56 metres / 168 ft
Closest focusing distance: 20 metres, 65.6 ft
Eye relief: 15.5mm
Weight: 2,449g
Dimensions: 330.2x241.3x101.6mm
Key features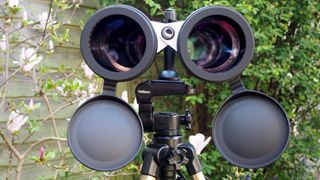 Suitable for nature lovers and bird watchers operating in the great outdoors, at night as well as during the day, the Skymaster Pro binos are usefully claimed to be both waterproof and fog proof.
Yet, thanks to the huge objective lens and long distance magnification on offer here, the Celestron Skymaster Pro 20 x 80 binocular is not only suitable for observing skittish wildlife in a variety of lighting conditions in the great outdoors, but potentially can be used for astronomy too. With a 20 metre minimum focus, this isn't an option for a ramble through the woods or summer music festival; it's most useful for bringing the very faraway that much closer from a static viewpoint.
As you heft the device out of the box, in terms of size and weight wise you could be forgiven for thinking that this is a £1,000 pair of binoculars. But no, the retail price is considerably less. So, right from the get go, the Celestron Skymaster is confounding expectations. We were also surprised to find a strap provided, along with the usual lens cleaning cloth. Since it weighs 2.5Kgs, we can't imagine that strap is going to get used by many observers. The cheap looking carry case provided does however come in handy to keep the binos dust free when not in use.
Build and handling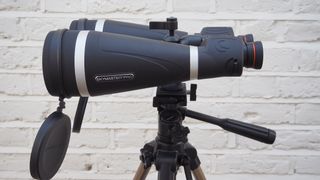 When choosing any binoculars it's always a trade off between firepower and overall size. Here, an unusually large objective lens married to a generous 20x magnification has necessitated a physically imposing product. If you're looking for a pair of binos to stash in the car glove box, keep in your jacket pocket, or even slip into the rucksack occasionally, then you'll want to look elsewhere. Compact the Celestron Skymaster Pro 20 x 80 is not, although, thanks to a polycarbonate and aluminium housing, it's not as hefty as you might first imagine from the size of the box it arrives in.
Essentially, we get the features here that we'd expect to find on any pair of binoculars, only everything has been 'super sized'. Thus we find a familiar focus wheel located directly between the eye pieces, where it can be twisted via the middle finger while your eyes are pressed up against the eyecups themselves. A dioptre adjustment ring for fine tuning encircles the right eyepiece – so far, so relatively conventional.
Roughly the size of two litre bottles of water stacked side by side, a rubberised feel to the construction of these binos helps prevent slippage, a screw thread is provided via a rod that runs directly between the lenses for attaching to any tripod as discussed, while protective rubber lens caps and eye cups are provided front and back, as one would expect. Winged eyecups for optional attachment, in order to reduce the possibility of stray light affecting viewing, are also included in the box. Although value for money, the overall build of the Celestron Skymaster Pro 20 x 80 doesn't feel overtly cheap, which is to be commended.
Performance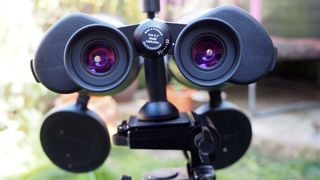 If you're looking to grab the faraway and bring it up close and personal while maintaining clarity of vision and hardly moving from the spot you're in, because of the size and weight involved, then the Celestron Skymaster Pro 20 x 80 will be worth considering.
As well as using the device in daylight we used it at 11.30pm at night, which delivered surprisingly sharp and clear results – helped no doubt by a full moon. Training the Celestron Skymaster Pro 20 x 80 on the moon itself, however, we were able to pick out the lunar seas on its surface as well as, more clearly, the Tycho crater near its base, plus the various geographical streaks and surface scars leading up to it. While we couldn't achieve an image that would be described as razor sharp – living in an urban area we also had to factor in a degree of light pollution – the results were pleasingly impressive nonetheless.
Verdict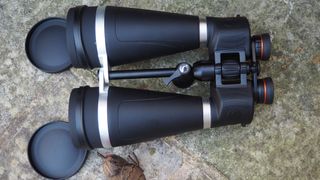 If you're considering buying this one then you'll need to factor in the purchase of a tripod to go with it, if you don't already happen to own one, as well as a bigger backpack. Though not the most compact or practical ever, with these binos we do however get plenty of bang for our buck in terms of power and visibility. If you need to reach just that bit further, and continue viewing in conditions just that bit darker, then you may find a suitable match in the Celestron Skymaster Pro 20 x 80. A lifetime limited warranty provides added peace of mind for potential purchasers.
Read more:
• Best binoculars
• Best budget binoculars under $100
• The best monoculars in 2021
• Best binocular harness
• The best spotting scopes
• The best opera glasses
• The best night vision goggles and binoculars
• The best telescopes for astrophotography
• The best microscopes in 2021
• Best borescopes and inspection cameras
• The best portable hides for wildlife photography