Canon has finally revealed its full-frame mirrorless camera system.
The Canon EOS R boasts a new mount, new lenses and is the only full-frame mirrorless body to boast a fully articulated touchscreen. Broadly equivalent in spec to the EOS 5D Mark IV, it makes an attractive proposition for those looking to experience all the benefits of mirrorless photography… minus one fairly egregious omission.
After playing with a production sample of the camera, what follows is our hands-on opinion of the Canon EOS R. We've also shared a selection of sample images taken on the camera – most of them under very challenging lighting conditions, playing to one of the system's major strengths (scroll right to the bottom of the article).
How does the EOS R fare as Canon's first full-frame mirrorless body? Is it a match for Nikon's newly announced Z6 and Z7 models? Can it stand toe-to-toe with Sony's reigning champion, the A7R III? Is it worth replacing your Canon 5D Mark IV, or even your 6D Mark II? Let's find out…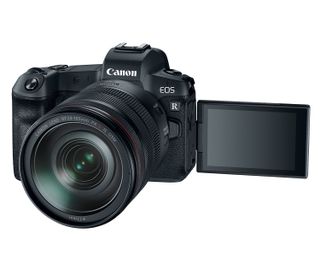 Canon EOS R: Key features
30.3MP full-frame CMOS sensor
Digic 8 processor
New R lens mount and lenses
Phase-difference detection system with 5,655 Dual Pixel AF points
Customisable M-Fn Bar
ISO 100-40,000 (expandable to ISO52-102,400)
TFT color, liquid-crystal monitor
3.15-inch fully articulating touchscreen, 2.1 million dots
0.5-inch EVF, 3.69million dots, 0.71x magnification
Dust and weather resistant body
8fps burst shooting
Single SD card slot
Wi-Fi, Bluetooth, GPS-enabled
4K UHD video up to 30fps (with IPB or ALL-I)
1080p (FullHD) video up to 60fps
720p (HD) video up to 120fps
Focus peaking
LP-E6N battery with in-camera USB charging
Weight 660g with battery
Battery life - CIPA-rated 540 shots eco mode (550 in power saving) 370 shots LCD screen (450 in power saving), 350 shots EVF (430 in power saving)
Canon EOS R: Sensor
• 30.3MP full-frame CMOS sensor
• Dual Pixel RAW
Possessing a similar sensor to the EOS 5D Mark IV – the first of a number of similar traits between the two models – the EOS R boasts 30.3 effective megapixels.
It also offers the same Dual Pixel RAW function, exploiting the sensor's dual photodiodes to create a larger RAW file, which opens up some inventive post-processing options to achieve maximum sharpness (including microfocus adjustment, bokeh shift and ghosting reduction).
The question, of course, is whether a 30.3MP sensor is sufficient for a major camera release in 2018 – particularly when the Nikon Z7 is sitting on the shelf next to it with a 45.7MP sensor (though admittedly, sitting next to that is the Nikon Z6 with its 24.5MP sensor).
Canon EOS R: Autofocus
• 'World's fastest' autofocus (0.05 sec)
• Phase detect Dual Pixel AF
• 5,655 autofocus points
The EOS R employs a phase-difference detection system built into the image sensor, which itself makes use of Canon's Dual Pixel autofocus technology.
It boasts a staggering 5,655 focus points. This puts it way ahead of the hybrid autofocus system featured in the Nikon Z6 and Z7, which combines a comparatively scant 273 and 493 focus points respectively with a contrast detect AF system.
Canon is very proud of its working range of EV -6 to 18 in one-shot AF, and we were able to put that performance to the test in our hands-on. Shooting in very dim, at times almost non-existent lighting conditions, the AF still performed remarkably well.
"We've got the world's first camera with low light focusing down to EV-6," we were told by Canon's product specialist, Barry Griffin. "I've been in a test room with a candlelight, and it's been focusing so quick for me, I couldn't believe it."
And if you want an idea of just how dark -6 EV is, it equates to an exposure of 30 seconds at f/2.8 using ISO1600. Yep... that is pretty dark.
On top of that, the EOS R stands right now as the fastest focusing camera on the market. "With the technology we've got here, we can state that currently we have the world's fastest autofocusing system," Griffin continued. "We've got it down to 0.05 of a second currently."
The camera features the usual array of autofocus methods, such as Face+Tracking AF, as well as eye tracking AF in S-AF.
Canon EOS R: Lens mount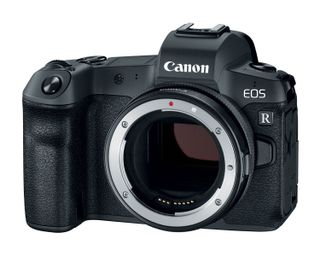 • New RF mount
• Mount diameter of 54mm
• Flange distance of 20mm
As befitting a new camera system, the Canon EOS R has been bestowed with a new lens mount and corresponding lens lineup.
The RF mount has a diameter of 54mm, the same as the current EF mount, though EF lenses are not natively compatible (more on that below).
The new mount was inevitable part of creating a full-frame mirrorless camera. But Canon is promising that this will enable it to make lenses that simply weren't possible with the 31-year-old EF mount.
In addition, the new technology – comprising a 12-pin data system, a shorter 20mm back focus and the new Digic 8 processor – enables faster communication and computation, resulting in superior performance from a number of legacy EF and EF-S lenses when used on the EOS R.
Canon EOS R: EF and EF-S mount compatibility
• Compatible with EF, EF-S lenses via adapter
• Three lens adapters
As with Nikon, Canon knows full well that the key to getting DSLR users to migrate to its new system is to ensure that their existing glass is compatible with it.
Accordingly, the Mount Adapter EF-EOS R will be bundled with every EOS R body and will enable the use of Canon EF and EF-S lenses out of the box. It will also allow operation with specialist TS-E and MP-E lenses. However, the dimensions of the mount means that there is no support for EF-M lenses (for APS-C cameras such as the popular Canon EOS M50).
The EOS R mount has a diameter of 54mm and a 'registration' distance of 10mm between the flange and sensor. The EF-M mount's diameter is 46mm, with a registration of 18mm. This means that there is unlikely to be support between the two systems, which raises longer-term questions about Canon's initial mirrorless format.
Two other lens adapters will be available for the EOS R. The Drop-in Filter Mount Adapter EF-EOS R enables users to put a variable ND (with a dial to turn it from 1.5 to 9 stops) or polarising filter into the optical path – which will be particularly useful for video.
The Control Ring Mount Adapter EF-EOS R adds a dedicated control ring, as featured on the new RF-mount lenses, which is customisable to control settings such as aperture, shutter or ISO directly from the lens.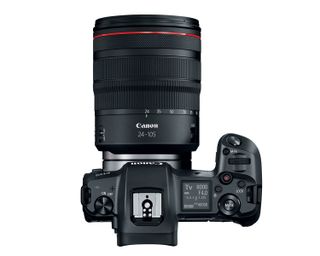 Canon EOS R: Lenses
• New RF mount lenses
• Three "killer app" lenses initially
An adaptor to use old glass is great and all, but a shiny new system is only as impressive as the shiny new lenses that go with it. Thankfully, the four initial native lenses for the EOS R are genuinely drool-worthy.
Where Nikon rolled out the fairly uninspiring 24-70mm f/4, 50mm f/1.8 and 35mm f/1.8 lineup for the Z6 and Z7, Canon pulled out some big guns for its new mirrorless monster – including a trio of red-ringed L-series lenses.
The RF 24-105mm f/4L IS USM is an all-purpose optic that's the obvious choice for a kit lens. Despite its huge focal range, the constant f/4 aperture means that it pairs well with the body in terms of both size and weight, coming in at 83.5mm × 107.3mm and 700g. It handles superbly and produces great image quality even wide open, with extremely snappy autofocus.
Perhaps most exciting is the EOS R's workhorse lens, the RF 28-70mm f/2L USM. It's fairly sizeable at 103.8mm x 139.8mm and 1,430g, and does threaten to imbalance a mirrorless body that's more svelte than its DSLR counterparts. You'll definitely want to pair the camera with the Battery Grip BG-E22 for this lens. Although we were shooting on a pre-production sample, we got some truly crisp and impressive results, and we can see this being a staple of the pro's arsenal.
If you want a fast prime with your new camera, Canon has you covered with its latest and greatest nifty fifty: the RF 50mm f/1.2L USM. Its 9 groups of 15 elements results in an 89.8mm x 108.0mm wingspan and 950g on the scale, which again seems large for a mirrorless system, but there's the rub of the EOS R ethos; going mirrorless isn't so much to create a tiny system as it is to create an optimal system. And with this 50mm beast mounted to the front, the camera becomes a truly formidable imaging machine. Razor sharp and rapidly responsive, this lens is a classic in the making.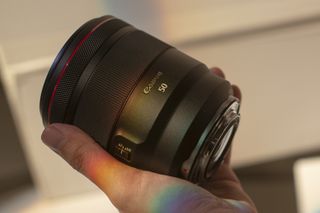 Finally there's the RF 35mm f/1.8 IS STM Macro, giving fans of prime lenses another great piece of glass to pick up with their new purchase – especially those macro shooters looking for a reason to jump to mirrorless. At 74.4mm × 62.8mm and 305g, it's the smallest – and cheapest – native lens for the system.
While the company stopped short of giving us a full road map of lenses on the horizon, Griffin did show us a teaser image of what's to come that showed 18 additional RF lenses. "You can see that we're not just coming out with just four lenses… This image here shows you the intent that we have going forward in the lenses." He promised that a road map would be coming soon.
While half of its initial lens lineup is stabilised, the Canon EOS R itself features no in-body image stabilisation (IBIS). And if this isn't the single biggest red mark against the system, it's certainly the single biggest missed trick.
Sony's A7s have five-axis IBIS. Nikon's Z6 and Z7 have five-axis IBIS. Even Olympus and Panasonic's micro four-thirds cameras have five-axis IBIS (indeed, they have far and away the best stablisation of any camera system, and even their three-axis stabilisation is impressive).
So for Canon to jump into the full frame fray with a mirrorless camera lacking any image stabilisation sticks out like a sore thumb. Even three-axis IBIS would have been something; of course, that something would also have been a clear admission of the company's inferior know-how compared to the opposition. Which is perhaps the reason for its outright omission.
Canon might position its lack of any IBIS as a conscious decision because "it's not something that photographers really need" – after all, DSLRs don't have it – but the reality is that this is a black eye for the EOS R. When Olympus' entry level mirrorless camera has in-body stabilisation, there's simply no excuse for its absence here.
Particularly when shooting at -6EV on a 1.2 lens is literally the EOS R's calling card. Shooting in such testing low light conditions, we missed critical focus on more than a few shots using the 50mm that would have been on the money with IBIS.
Canon EOS R: Video
• 4K up to 30fps with IPB and ALL-I
• External 10bit 4:2:2 with Rec. 2020
• 4K is cropped (like 5D Mark IV)
The video capabilities of the EOS R are generally very good… but the elephant in the room is that, yes, it suffers from the same 1.7x crop as the 5D Mark IV. Though Canon has positioned the EF-S mount compatibility as a sort-of solution to this issue.
"You can actually select the option of going in the 4K to going to a crop mode, and what this does is give you similar to a Super 35mm ratio," Barry Griffin explained to us. "So as a B camera to any professional video cameras on the market, like the Cinema EOS range or any other brand's pro video range, you will have a similar ratio."
This does answer, to some degree, the critics who are angry at the EOS R not natively being able to shoot wide – particularly since every EOS R is bundled with the Mount Adapter EF-EOS R that enables it to use EF-S lenses, making them almost native.
"When we talk about going to the wide end on that, this camera takes, with the mount adapter currently, the EF-S lenses," Griffin continued. "We have wide-angle lenses out there that will assist for bloggers and vloggers who are looking at shooting at high resolutions but still want a wide angle."
The EOS R shoots 4K up to 30fps. It also shoots 1080p (FullHD) video up to 60fps, and 720p (HD) video up to 120fps.
Internally on a UHS-II SD card you can record at 4:2:0 8-bit with Rec. 709 color space; externally you can record at 4:2:2 10-bit with Rec. 2020 to deliver true HDR. C-Log comes in the camera as standard, so out of the box you can get up to 12 stops of dynamic range – and that's available both internally and externally.
Canon EOS R: Controls and handling
The EOS R's size and weight are the first surprise, particularly for those used to mid- to high-end DSLRs. Weighing 660g body only, with memory card and battery, it's three-quarters the weight of the Canon EOS 5D IV, the DSLR whose technology it largely shares.
However, while it's a little shorter in height and slimmer in depth in terms of pure dimensions, in practical terms it's almost the same size as the 6D Mark II. It feels more svelte in the hands, but you won't be saving a massive amount of space in your kit bag.
Like its rivals it has with a low-profile 'pentaprism' housing on the top for the viewfinder, and a good-sized grip on the right side of the body. It also bears a top plate that slopes down at an angle, and is instantly reminiscent of past EOS camera designs. The EOS R may be one more camera in an increasingly crowded mirrorless market, but it's unmistakably a Canon.
Although the layout will be largely familiar to Canon DSLR users, there has been some reshuffling of buttons and dials to accommodate the EOS R's reduced real estate.
Those that sucked their teeth at the 6D Mark II's design will no doubt groan at the same lack of thumbstick on the back of the camera, but the new customisable M-Fn Bar may go some way to appeasing them.
Reminiscent of the Touch Bar on the latest iteration of Apple's MacBook Pro, the M-Fn Bar supports four types of input: left, right, slide/swipe and press completely. Its programmable nature offers a new layer of control that feels initially superfluous, but has the potential to be a genuinely useful addition. A quick swipe to change a preferred shooting option is always welcome.
That said, it was very easy to brush it accidentally, even when trying to be conscious not to do so. In some ways a rocker switch may have been a more elegant, if not quite so exciting, an option. This is going to be Marmite for early adopters.
During shooting it can be assigned to control ISO, white balance, check focus/display info, movie shooting, flexible-priority AE, AF mode and user customisation. During playback it can be assigned to function shortcut or jump display, and thankfully there's a safety to enable/disable it.
Of course, the big question most people will be asking is how do you select your focus point if there's no joystick – especially when there are now 5,655 of them.
The EOS R has adopted the same method introduced by companies such as Olympus: while looking through the EVF, you can drag your thumb across the LCD screen to move your AF point.
The 'Touch & drag AF setting' enables you to choose whether the left or right half of the screen becomes your "dragging pad". Instinctively you will probably choose the right-hand side, so that you can use your thumb as if it were controlling the thumbstick.
Unfortunately, the camera's ergonomics make this much slower and more cumbersome than we had hoped.
The beauty of this input on the Olympus cameras is that the micro four-thirds bodies are so much smaller, so your thumb doesn't have to travel very far. On the EOS R, however, you have to contort your shooting hand in an uninstinctive way – and you lose valuable seconds and accuracy in doing so.
As with the touch bar, it's undoubtedly something that we'll get used to… though we're sure that many photographers would rather just have the thumbstick back.
It's not the only new control. The EOS RF lenses all have a customisable control ring that offers lots of potential for quick adjustments – it's just a case of remembering that it's there, and working out how best to use it when this means of camera control has not been available before. We particularly like the idea of using it to control the lens aperture directly on the lens – just like the old days!
The OLED status display on the top of the EOS R is a welcome addition, and just like the one Nikon has fitted to the Z7. You don't get a top panel at all with the Sony A7 series. That said, with so much information and feedback available through the EVF, it does feel rather like a holdover from the old school DSLR way of thinking.
Elsewhere, the twin-dial control system is pretty conventional – except for one major difference: there's no mode dial. You can still scroll through the usual M, Av, Tv and P options, but it does require an extra couple of clicks and keeping an eye on the OLED panel. It's another control change that will require a little getting used to.
The electronic viewfinder is fantastic, as are those of the Canon's rivals, but the EOS R has a special advantage in the form of its fully articulating rear screen. Sometimes a tilt mechanism is all you need, and the screens on the Sony A7 cameras and Nikon Z6/Z7 are easy and convenient to use, but for vertical shooting and a greater range of angles, the EOS R beats them hands down.
The EOS R, its controls, features and handling look very exciting and we can't wait to spend more time with this camera to bring you a full review.
Canon EOS R: pricing and availability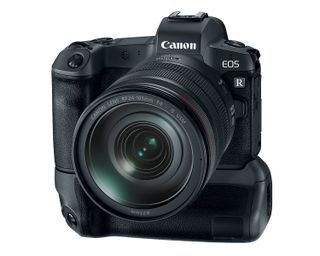 The EOS R is available to purchase from 9 October with the following recommended retail prices:
• EOS R body - $2299
• EOS R body and mount adapter - £2,349.99/ €2,729.99
• EOS R body, mount adapter and RF 24-105mm f/4L IS USM lens - £3,269.99/ €3,819.99
• EOS R and RF 24-105mm f/4L IS USM lens - $3399
The camera will be available for pre-order from 12 September.
The prices for the new lenses and lens adaptors will be:
• RF 50mm f/1.2L USM lens - £2,349.99/ €2,729.9
• RF 24-105mm f/4L IS USM lens - £1,119.99/ €1,319.99
• Mount adapter EF-EOS R - £99.99/ €119.99
• Control mount ring adapter EF-EOS R - £199.99/ €239.99
Two further lenses will go on sale some time in December:
• RF 28-70mm f/2L USM lens - £3,049.99/ €3,549.99
• RF 35mm f/1.8 MACRO IS STM lens - £519.99/ €599.99
Canon EOS R: test images
Read more:
20 things you need to know about the Canon EOS R
The best mirrorless cameras
The best Canon camera
The best Canon lenses