An radical new way of viewing the stars has won an Innovation Award at CES 2021 - the huge tech show that is for the first time being held as a virtual online event. The Vaonis Vespera aims to make astronomy more accessible to people by providing you smart device that works with your smartphone or tablet to guide you to interesting parts of the night sky – and to record images of them.
The Vaonis Vespera is a follow up to the Vaonis Stellina smart telescope that we reviewed back in 2018. The key attraction of the Vespera is that it will be much cheaper, and therefore accessible to more people. Having been launched successfully on Kickstarter, the Vespera will sell for $1,499 when it goes on sale in Spring 2022; the Stellina retails for $3,999.
• See Best telescopes in 2021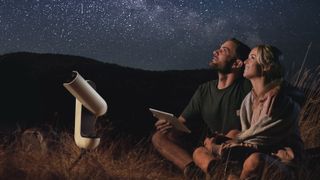 There are some big changes that have allowed the drastic price cut. The Vespera is smaller and lighter - weighing in at 5kg, which is half the weight of the Stellina. But what you sacrifice a smaller focal length and aperture - which are 200mm and 50mm respecitvely (compared to 400mm and 80mm with the existing model).
Most crucially, the new baby of the range will have a smaller Sony sensor which offers a resolution of just 2 megapixels - a 66% reduction on that achievable with the original. A Stellina vs Vespera comparison is available on the Vaonis website.
The attraction of the device, however, remains that you can pick from a selection of celestial destinations from the app – and then the smart telescope will move to that position in the sky, and then show you images on your phone or tablet. That creates an amazing way of introducing astronomy and deep space observation to people.
Read more
Vaonis Stellina smart telescope review
The best telescopes in 2021
The best camera for astrophotography
The best CCD cameras for astrophotography
The best lenses for astrophotography
The best light pollution filters for astrophotography