A brand new mystery camera phone from Nokia has been leaked online, boasting a triple-camera array with 48MP primary sensor. Aside from a handful of spec, not much else is known about the new model – though it may be part of the company's Nokia 8 line, which is about due for an update.
The images of the phone were shared by sites like India Today after first appearing on Chinese search engine Baidu. The outlet speculates that, given its three-camera profile, it could be an upgrade to the Nokia 8.1.
• Read more: Best camera phones
"How do we know this could be a phone part of Nokia 8 series? We know because the Nokia 9, which is a flagship phone, has five cameras. So a phone with 3 rear cameras is likely to be placed one notch below it in the product line-up."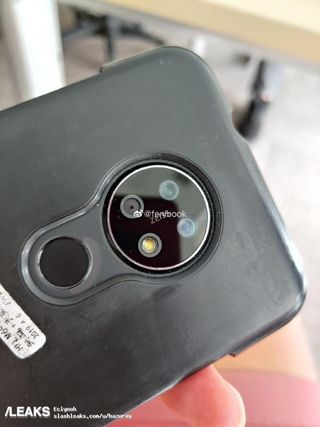 The images were also shared by noted leaker /LEAKS, who confirmed that the Android 9 camera will feature a 2340 x 1080 display, a Snapdragon 660 processor, and will be powered by a 3500mAh battery.
In addition to the 4:3 48MP f/1.8 primary camera, the rear array features a 4:3 12MP and 16:9 9MP camera, while the front selfie module features a 7MP sensor housed in a waterdrop notch.
The handset has a fingerprint sensor below the camera array, which also features an LED flash module. The leaked pictures also show a USB-C port at the bottom, which tells us that the handset is a premium model.
• Read more Best Nokia phones
#Nokia - Unknown Rear Triple Camera Nokia Phone Live Photos & some specifications https://t.co/wiBcCKdUYb pic.twitter.com/H48n5G1WWwJuly 5, 2019
As pointed out by India Today, from the glimpse we get at the operating system, the camera phone appears to be using Android One software without any custom user interface (like other Nokia handsets made by HMD Global).
With the rumor mill being as leaky as it is, we should have more on this new Nokia device – including a name – before too long.
Read more:
The best camera phone in 2019: ultimate smartphone cameras compared
Nokia 2.2 delivers AI-powered low-light imaging for just $100 / £79
Hands on: Nokia 9 PureView review