Nokia has pulled out all the stops when it comes to the Nokia 9 PureView. This is a handset that screams camera phone and it has been revealed at MWC 2019.
That's because it's got five (count 'em) lenses on the back. This is a world's first five camera array and it's an interesting look.
Nokia is going down the digital route with its camera functionality. You won't find an optical zoom on board here. Instead the lenses combine to make a picture that has a huge amount of detail. Nokia (well, HMD who now owns the brand) is claiming.
• Read more Best Nokia phones
Nokia 9 PureView: design and features
The Nokia 9 PureView has five cameras. They include two colour sensors (RGB) and three monochrome ones.
Given the P20 Pro was one of the few phone cameras to use a monochrome lens, to great effect, this is a great shout by Nokia and certainly puts it into best camera phone territory for this alone.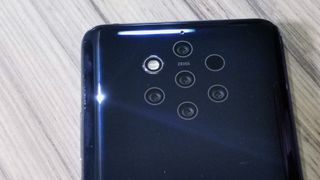 Each of the lenses is 12MP and they shoot, if you need them too, at the same time. This means there's 12000 layers of imaging prowess which Nokia is calling an "unparalleled full view depth map". The layers range from 7cm up to 40m.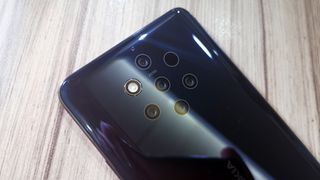 Obviously, thanks to the three monochrome lenses, black-and-white shots taken on the device are decent. But there's quite a lot of pro settings for colour shooting, too.
There's something called Pro Camera UI where you can set the exposure value to 10 seconds. There's 12.5 stops of dynamic range available and it also creates a raw file when a picture is taken and Nokia has partnered with Adobe to offer up its own Lightroom preset.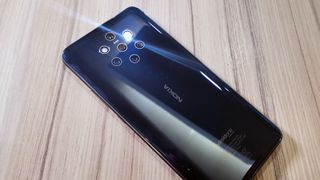 Other specs on the phone include gorilla glass back and front - there's no camera bump so the cameras are flush with the back of the device.
There's a ToF (time of flight) sensor on board, too. This means that there should be decent depth perception on the device.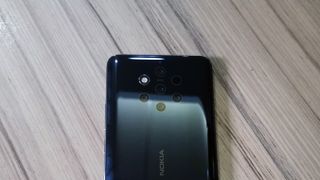 Given the size of the images, Nokia has made sure that the processing for HDR and the link is done after the image is shot, so there's a seamless process. Light ASIC controls the capture, then hands over the data to a Qualcomm A45 processor.
This means when viewing back the images, there may be a little bit of a wait but it should only be a few seconds.
Given the sheer amount of camera on board, Nokia has had to develop a new cooling system to make sure everything runs smoothly and doesn't overheat.
When it comes to the rest of the phone, it has a 5.99-inch, QHD+ pOLED display, Snapdragon 845 processor, 6GB of RAM, 128GB of storage and 3,320mAh battery. It runs on Android 9.0 Pie.
Nokia 9 PureView: early verdict
We only had a short time with the Nokia 9 PureView but liked what we saw. This is a handset that is full of imaging innovation and one that has the ability to create images with rich detail.
It will be good to test the Nokia 9 further, though, as this is a phone that does away with optical zooming and goes all in on digital.
The Nokia 9 PureView will cost $699 (around £540) and will be on sale in the coming weeks.