If you're anything like us, you don't feel conspicuous enough when you go out waving your camera gear around. Indeed, you've probably had the very same thoughts that we have.
"Hmm, I'm not sure that thieves think I'm a big enough target… If only there was some way to draw more attention to the thousands of dollars worth of camera equipment I'm carrying around."
Well, TTartisan has come to the rescue with a 24K gold camera lens – and, yes, obviously it's made for Leica bodies. We imagine that it will look particularly tasteful with the snakeskin Leica M Monochrom Drifter Lenny Kravitz camera. Or perhaps the gold-plated Leica M6 Sultan of Brunei that sold at auction earlier this year.
The TTartisan 35mm f/1.4 24K Gold Skin is a gold-plated version of its existing 35mm f/1.4 lens (which is over 60% cheaper at $450). Like its peasant brother, it measures 73 x 49mm and weighs 450.4g. It features the same fully manual optical design with 8 elements in 7 groups, a 10-blade aperture, and it stops down to f/16 and can close focus to 0.7m.
Unlike its peasant brother, it carries a $1,149 (£878 / AU$1,598) price tag – which, given the camera brand that this is being release for, isn't as outrageous as it probably should be.
It's nonetheless a very peculiar release from Chinese manufacturer TTartisan, which traditionally specializes in budget third-party optics. Whether this is a one-off release specifically to tempt luxury loving Leica users, or whether it signifies a new direction (or, at least, a new line) for the company, remains to be seen.
You can order the TTartisan 35mm f/1.4 24K Gold Skin now from Amazon US for $1,149, or from Leica Rumors for $1,200 (£917 / AU$1,668) including customized engraving on the lens cap. It will be limited to just 200 pieces worldwide.
Now, if only someone would release a gold-plated tripod and gold-plated light meter to bling the rest of our kit bag…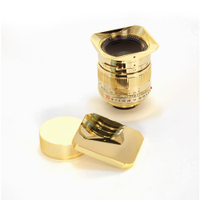 Read more:
Leica M10 Monochrom review
The best Leica cameras: from classic rangefinders to modern mirrorless
THIS is why Leica is so expensive