The new Sony FX6 full frame cinema camera brings together all the high-tech spec and large sensor of the new A7S III mirrorless camera and puts it inside a real cinema camera chassis, all for under $6,000/£6,000, and that's amazing.
This is a camera that offers the real video camera handling and connections that are a logical step up for mirrorless camera users, at a relatively affordable price. And for cinema camera die-hards, it finally offers all the advanced hybrid AF and fast frame rates with a full-frame sensor that they have aspired to for years.
Until now, if you wanted a full-frame video camera with advanced AF, the only 'affordable' choices have either been a 4K Sony FX9 at around $11,000/£11,000 or a 5.9K Canon C500 Mark II at $16,000/£17,000. Until now, these were the 'entry level' prices, and they go up significantly from there, like $33,000/£31,250 for a Canon C700FF.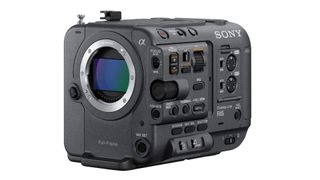 Let's be clear about this. Mirrorless cameras like the Sony A7S III and Panasonic Lumix S1H are great at shooting video, there's no doubting that, but they do not have the physical form factor, the modular adaptability, the built-in ND filters, the connectivity and a dozen other things that full-on cinema cameras have, and which professional video makers want.
There are workarounds, kludges, fixes and rigs that make mirrorless cameras work well enough as cinema cameras, but if you do this for a living you may eventually decide you need the real thing.
But until now, 'proper' cinema cameras with full frame sensors have been prohibitively expensive. The majority of cinema cameras have a Super35mm sensor – a similar crop to APS-C – which isn't the best option for wafer-thin depth of field, or controlling noise at high ISO. And very few of these camera have advanced phase detection AF, instead using the old-school contrast-detect system.
For the advantages of a full-frame sensor and the latest, super-advanced hybrid AF systems, then it has to be a mirrorless camera like a Sony A7S III or Canon EOS R5. But these aren't ideal for video, so are often built up with things like shoulder rigs, external monitors and audio connectors to allow proper XLR mics.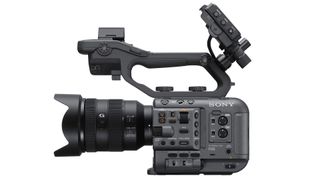 Is the Sony FX6 the best of both worlds?
The Sony FX6 offers the best of all worlds, as it has the 4K 10.2-megapixel full-frame back-illuminated CMOS Exmor R sensor and fast Bionz XR processor first used in the Alpha 7S III. This means it can match the A7S III's amazing video spec which allows 4K recording at 120fps and HD in 240fps, while offering 10-bit 4:2:2 color depth for stunning colour. But the FX6 also has the S-Cinetone colour settings of the very high-end Sony cinema cameras.
It also has a dual base ISO sensor, which changes its sensitivity according to the ISO you have set. This means its high-ISO performance is even better than the A7S III with ISO expandable to 409,600 for shooting in near darkness. And it also has the fast hybrid autofocus, as used in the FX9 and A7S III.
• See full Sony FX6 review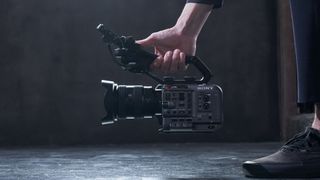 Of course, it has all the usual cinema camera handling and connection benefits such as support for 12G-SDI output and 4K at up to 60p 16-bit SDI video raw output to an external monitor/ recorder for even better quality. And two XLR audio inputs, built in electronic ND filters, a 3.5-inch LCD touchscreen and a quick access control menu for commonly accessed features.
For mirrorless camera users just getting started in video, a lot of this will probably sound like double-dutch, but for pro videographers this video techno-jargon is second nature. They will have been waiting for the latest mirrorless camera tech to make it into pro cinema cameras, and now it has.
The Sony FX6 is a camera that offers the best of the very latest Sony mirrorless series technologies with the handling advantages and connectivity of a real cinema camera, and at a price that's attainable for a much wider audience. Pre-orders are building up already, and it's easy to see why.
Read more:
• Best cinema cameras
• Best 4K cameras for filmmaking
• Best cameras for vlogging
• Best Sony lenses