Nikon continues to build its full frame mirrorless Nikon Z system, with its fifth native lens for the Z mount. The Nikkor Z 85mm f/1.8 S is a comparatively light and affordable prime portrait lens that Nikon says can nevertheless 'outshine' previous f/1.4 lenses.
We knew this was on the Nikon Z lens roadmap, but now we have a delivery date. You can already use Nikon's regular DSLR lenses with the Nikon Z 6 and Nikon Z 7 via the Nikon FTZ Mount Adaptor, but the native Nikkor Z lenses are smaller, lighter and optimised for Nikon's mirrorless cameras.
This will be useful boost for the Nikon Z range. The Z 6 and Z 7 are great cameras that already feature in our list of the best mirrorless cameras, not to mention the best cameras for professionals, but like any expert system they also need the backing of an extensive lens range – so the addition of the Nikkor Z 85mm f/1.8 S will bring that a step closer.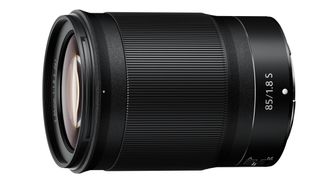 Nikkor Z 85mm f/1.8 S specifications
85mm is considered the classic focal length for portraits because it allows you stand far enough back to avoid any distortion of your subject's features, but not so far away that shooting indoors becomes difficult.
The f/1.8 maximum aperture allows very shallow depth of field with the camera focused tightly on the subject's face while the background is blurred. F/1.8 is not as 'fast' as the many f/14 lenses already out there (and some f/1.2 lenses like the amazing Canon RF 85mm F1.2L USM), so in theory it won't produce quite the same degree of background blur as more expensive rival lenses, but the new lens does have a size and weight advantage that could make longer portrait shoots and social photography a lot less tiring.
The optical construction includes 12 elements in 8 groups, including two ED (extra low dispersion) elements. The Nikkor Z 85mm f/1.8 S uses an internal focus system with a minimum focus distance of 0.8m, and works perfectly with the latest eye-detection AF updates for Nikon Z cameras.
The Nikkor Z 85mm f/1.8 S uses Nikon's Nano Crystal Coatings to reduce flare when shooting into the light, and 9 rounded aperture blades for smoothly rendered bokeh. Like other Nikon Z lenses it has a customisable control ring that can be used for manual focus but also silent aperture (iris) control while filming or exposure compensation. The new lens is also sealed against dust and moisture.
Nikkor Z 85mm f/1.8 S price and availability
The Nikkor Z 85mm f/1.8 S is available for pre-order now at $797/£799, and expected to start shipping on September 5 2019.
Read more:
• These are the best mirrorless cameras you can buy today
• How to choose the best camera for professionals
• The Nikon Z lens roadmap: what's coming for Nikon's new system and when