Sigma has officially announced the Sigma 100-400mm f/5-6.3 DG DN OS for L-mount and Sony E-mount, and will provide an exciting new superzoom for both systems when it launches next month.
The new Sigma 100-400mm f/5-6.3 DG DN OS features a completely new design for mirrorless cameras, and isn't just a re-mounting of the existing Contemporary version for Canon and Nikon DSLRs (which ranks right at the top of our list of best 100-400mm lenses).
The new mirrorless versions are slightly longer and lighter than its DSLR counterparts, measuring 86 × 197. 2mm and weighing in at 1,135g on the L-mount and 1,140g for E-mount. It also possesses optical image stabilization and a 67mm filter thread.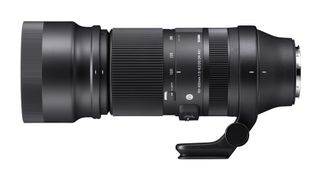 Boasting 22 elements (including a fluorite-like FLD low dispersion element and four SLD special low dispersion elements) in 16 groups, it features a minimum shooting distance of 112cm at the wide end and 160cm at the telephoto. At 400mm, it delivers a maximum shooting magnification of 1:4.1. Excitingly, it uses just one lens element to focus the lens - which suggest great autofocus performance.
A 'dual action zoom' enables you to push in or pull out either by turning the zoom ring or pushing / pulling the lens hood, adding an extra dimension to focal length adjustments.
A customizable AFL button can be assigned to a range of different functions, and L-mount users can also connect the lens to the newly announced Sigma USB Dock UD-11, which can change the amount of throw when using manual focus – a brilliant bit of engineering that we can't wait to try.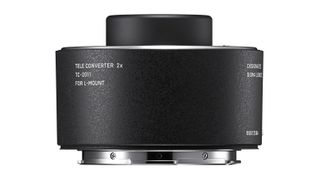 In addition, the L-mount version will be compatible with a pair of new L-mount teleconverters: the 1.4x Sigma Tele Converter TC-1411 and 2x Sigma Tele Converter TC-2011. When mounted on the Sigma fp this setup does look a little mismatched, but it's a valuable addition to the L-mount lens roadmap for the fp, Panasonic S1 series and Leica L-mount cameras.
Likewise, it's an exciting option for Sony owners as it's far more affordable than their excellent-yet-expensive first-party option, the Sony FE 100-400mm f/4.5-5.6 G Master OSS (which costs well over two grand).
The Sigma 100-400mm f/5-6.3 DG DN OS will be available from 10 July for $949 / £899.99. The TS-111 tripod collar (which is also compatible with the Sigma 105mm F1.4 Art lens) costs an additional $107/£116.
The Sigma Tele Converter TC-1411 and TC-2011 will release alongside it, for $399 / £369.99 and $429 / £399.99 respectively. The Sigma USB Dock UD-11 is scheduled for release in July for $59 / £39.99.
Pre-order Sigma 100-400mm f/5-6.3 DG DN OS at B&H
Pre-order Sigma 100-400mm f/5-6.3 DG DN OS at Wex Photo
Read more:
The best 100-400mm lenses: which is the best zoom for you?
Best L-mount lenses for Panasonic, Leica and Sigma mirrorless cameras
Best telephoto lens: top zooms for your camera
The best lenses for travel photography: all-in-one superzooms