If you're looking to upgrade from a smaller sensor size, purchase a back-up camera or simply just invest in a sturdy and reliable DSLR, then this is the deal you've been waiting for. The Nikon D750 is available now for only £1449 - and it doesn't come alone. Included in this price is a 24-120mm f/4G ED VR lens, which is a versatile piece of glass that's perfect for any kitbag.
This is a fantastic instant saving of £450 on the camera and lens - enough to throw in another piece of glass, or simply just pocket the difference.
• Read more: Cheapest full frame cameras
Housing a 3.2-inch tilting screen, 6.5fps, 51-point AF, Full HD video recording and a 24.3MP resolution, the Nikon D750 is the whole package when it comes to affordable full frame cameras. Plus, you'll be able to enjoy a healthy battery life of 1,230 shots.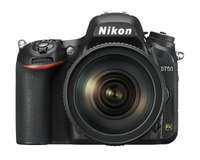 Nikon D750 + 24-120mm f/4G Lens: £1449 (was £1899)
Great for video, action, weddings and landscape, the Nikon D750 is a solid performer that can do it all. This spectacular deal lets you pick up a full frame DSLR and 24-120mm f/4 lens for under £1500 - bargain! (UK deal - offer ends 15 August 2019)
The magnesium alloy and carbon fibre build means that you won't have to worry about the D750 falling apart at the slightest knock. This sturdy and reliable camera also comes with dust and weather proofing to help protect against less favorable conditions.
Weighing in at 840g, the Nikon D750 is durable and pleasantly weighty without risking becoming too cumbersome by the end of a long shoot. Meanwhile, the 24-120mm f/4G ED VR lens (worth £1079 on its own!) is a compact and versatile 5x zoom lens with a constant f/4 aperture. With Vibration Reduction technology built into the lens and a Nano Crystal coat to reduce flare, you're certainly getting a lot of bang for your buck with this great deal.
No matter whether you're an experienced shooter or a keen beginner, the Nikon D750 and 24-120mm f/4G ED VR lens are fantastic pieces of kit to invest in.
Read more
Best Nikon lenses in 2019: from telephotos to ultra-wide lenses and more
Best Nikon camera in 2019: Nikon DSLRs, mirrorless and compact cameras
Capture amazing landscape photography by using your camera's histogram