In happy news for full frame Canon fans, the Canon EF 70-200mm f/4L IS USM lens has been reduced by $300 to just $899! Almost half the weight of the 70-200mm f/2.8, this light and compact telephoto is the perfect companion for any sports or wildlife shoot.
With the image stabilization achieving three shutter speed steps of camera shake correction and enhanced weather sealing, this lens is a fantastic companion for any photographer. The 70-200mm f/4L is sealed from dust and moisture and has two IS modes, one for stationary subject and another for intentional panning - great for motorsports photographers.
Read more: Best Canon telephoto lenses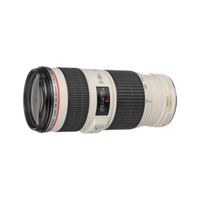 Canon EF 70-200mm f/4L IS: $899 from $1199
Save $300 on the Canon EF 70-200mm F/4L IS USM with this incredible deal. Capture sports, wildlife, landscapes, portraits and more with this versatile and creative lens that weighs almost half as much as it's f/2.8 counterpart.
The EF 70-200mm f/4L lens incorporates a circular diaphragm to create natural looking background blur. It also suppresses flare and ghosting with advanced coatings and the placement of its 20 lens elements in 15 groups.
A ring-type Ultrasonic Motor (USM) provides the lens with fast and silent autofocus, while one Fluorite element and two UD (ultra low dispersion) elements suppress chromatic abberation for minimal distortion.
To take advantage of this amazing deal, click on the link above and save $300 on this handy lens. Or, if you fancy a wider view for your APS-C DSLR, why not check out this deal for $100 off the Canon EF-S 10-18mm f/4.5-5.6 lens.
Read more
Best Canon EOS 5D Mark III deals in September 2019
Best 70-200mm telephoto zoom lenses for 2019
Best budget telephoto-zoom lenses in 2019