While there are plenty of Black Friday camera deals hitting the web, there are plenty of deals on kit such as lighting accessories too. Case in point, the Canon Speedlite 430EX III-RT has been discounted by a cool $100!
Just one of the many Walmart Black Friday deals currently running, the versatile Canon Speedlite 430EX III-RT is down to just $199. If you want to unlock the creativity in your photography, this powerful strobe can unleash the potential of on- and off-camera flash…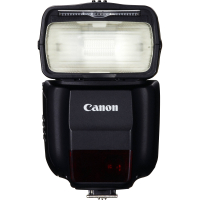 Canon Speedlite 430EX III-RT: $199 (was $299)
Canon's mid-range strobe has the 2.4GHz wireless system of the flagship flashgun, with a 141' guide number (ISO100, 105mm) and a 24-105mm zoom. Recharging is improved to 0.1-3.5 secs, with 180 full-power flashes from 4 AA batteries.
US deal
Boasting a 2.4GHz wireless triggering system, a guide number of 141' (at ISO100 and 105mm), a 24-105mm zoom range, and the ability to tilt 90° upwards, 150° right and 180° left, the Speedlite 430EX III-RT is a highly adaptable flashgun.
A high speed flash, capable of both front (first) and rear (second) curtain sync, it can be mounted to your hotshoe or used off-camera to achieve fantastic results. And it's so compact that you never have to let lack of space compromise your creativity!
Read more:
The best Black Friday camera deals in 2019: the best buys we have seen so far
Walmart Black Friday camera deals – we round up the best early deals!
The best flashgun in 2019: the best strobes for Canon, Nikon and more