If you've been looking for a new lens that's going to take you out of your comfort zone and help you try something new, there's nothing better than this Lensbaby 5.8mm f/3.5 Circular Fisheye Lens. This super wide lens produces a spectacular full-circle image effect, capturing a 185º angle of view. While a circular fisheye lens is perfect for sports and action photography, it's also a great piece of glass to experiment with while in lockdown at home too.
With a close focusing range starting at 0.25 inches, why not try experimenting with close-up photos of garden flowers. Alternatively, try wacky portraits of your family members pulling funny facial expressions. While a circular fisheye might initially seem like a niche lens, there are actually plenty of fun home photography projects that you can experiment with.
• Read more: Everything photographers need to work from home
This Lensbaby 5.8mm f/3.5 Circular Fisheye Lens for Canon EF from Lensbaby is a manual focus lens with a super-wide 5.8mm focal length. While optimized for APS-C format cameras, it's also compatible with full frame cameras as well (although it will reproduce less of your chosen scene). This circular fisheye lens has an aperture range of f/3.5 to f/22 – and it's now discounted for a fantastic price.
If you're interested, don't delay! This deal will run out in one day and 13 hours at the time of posting…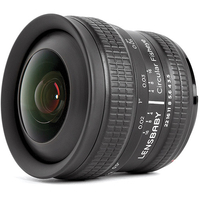 Read more
Best fisheye lenses in 2020
Fisheye lens camera tips: get great shots with a fisheye lens
Best pancake lenses for Canon, Nikon and more