With many countries currently living through the less-than-delightful experience of lockdown, many photographers are trying to look on the bright side and use their newfound time to practice their favorite hobby. While genres such as landscape or portrait photography are out of commission for the moment, this is a fantastic opportunity to hone your still life home photography skills – and what better way to do that than by investing in a new bit of kit, such as a softbox?
Luckily, the Impact Luxbanx Duo Small Strip Softbox is currently experiencing an incredible 68% discount at B&H. This softbox is a 12 x 36" light shaping tool for strobe, LED and fluorescent lights. It's also useable with quartz lights up to 750W, due to its heat-resistant, textured silver interior.
• Read more: Everything photographers need to work from home
You can also add an extra layer of control via an optional fabric grid that mounts onto the recessed lip of the softbox with touch-fasteners. This grid narrows and concentrates the light's beam forward, controlling spill light and adding additional directional control.
A softbox is a great piece of kit to own, especially when still life photography is now your biggest creative outlet. Check out the fantastic deal below…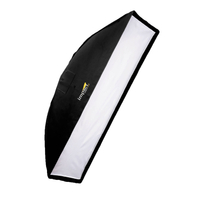 Read more
Best softbox lighting kits
Best Canon flash: which Speedlite will be best for you?
Best flash diffusers, softboxes and modifiers for your speedlight
Best flash triggers: wireless control for off-camera flashguns