Ahead of its official announcement, the specs for the Samsung Galaxy Note 10+ camera phone have leaked online – and they reveal that the triple-camera array will possess a primary camera with a maximum aperture of f/1.5.
The Samsung Galaxy Note 10+ is set to be revealed by the mobile giant at an event on 07 August, but a spec sheet has found its way online that spills the beans about the hotly anticipated handset's new features.
• Read more: Best camera phones
The Note 10+ packs a triple-camera array that, according to WinFuture (by way of GSM Arena), features a 12MP primary camera that possesses a 3-step aperture: f/1.5, f/1.8 and f/2.4. This physical control arguably facilitates more precise exposure manipulation than purely software-driven controls.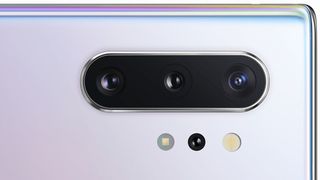 The other two forward cameras consist of a 12MP telephoto with an f/2.1 aperture, with a 16MP ultra-wide angle that has an f/2.2 aperture. The front-facing selfie camera is a 10 megapixel resides in a punch-hole on the front screen and features 10MP sensor with an f/2.2 aperture, dual-pixel autofocus and HDR10+.
Further separating the Samsung Galaxy Note 10+ from the vanilla version is the fact that the camera phone features a time of flight sensor, which gathers additional depth data for functions such as portrait mode and depth of field effects.
The phone can record 4K video up to 60fps (on the front camera, with the selfie cam shooting at 30fps), and packs an optical image stabilizer as well as HDR10+ support.
We also know that the handset will will weigh in at 198g and measure 162.3mm x 77.1mm x 7.9mm – so despite having a 6.8-inch display that's larger than that of the Note 9, the actual form factor of the phone is about the same size.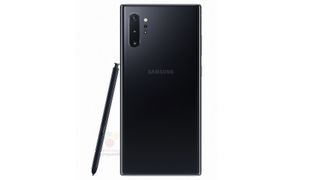 The Note 10+ will be powered by a 4,300mAh battery that supports 45W fast charging, with improved 20W wireless charging, providing the gas for the Exynos 9825 / Snapdragon 855+ (region dependent) chip.
The phone will boast 12GB of RAM and 256GB of storage (though 512GB and even 1TB models have been rumored), with microSD card support – though sadly the reports about the lack of 3.5mm headphone jack were true.
Both the standard Samsung Galaxy Note 10 and 10+ will apparently be available for pre-order on 07 August, the same day as their official announcement, ready for shipping and retail release on 23 August.
Prices will start at €999 (£916 / $1,113) for the standard version and €1,150 (£1,055 / $1,281) for the plus.
Read more:
The best camera phones in 2019
Samsung Galaxy S10 5G review
Samsung Galaxy S10+ review