The Samsung Galaxy S10 5G is the top of the line Galaxy S10 model. Not only does it deliver faster mobile data speeds than its 4G counterparts, but it also features a Time of Flight (ToF) camera on the back and front, making for a grand total of six cameras across the device.
This is by comparison to four cameras on the Galaxy S10, and five on the Galaxy S10 Plus. It isn't the first time we've seen a ToF camera; the Huawei P30 Pro's main camera is coupled with one to help with depth sensing. ToF cameras work by projecting a beam and measuring the time it takes for it to be reflected from the surface and back onto the sensor. In doing so, it's able to make a more accurate depth map than phase detection autofocus.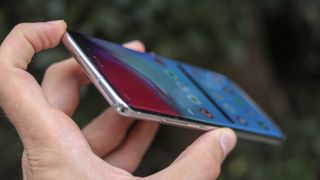 The Galaxy S10 5G also features a bigger screen than the competition – 6.7 inches – which makes it larger than both the OnePlus 7 Pro, and the Oppo Reno 10X Zoom. Despite this, it's thinner and lighter than both, likely owing to the fact that it doesn't feature a pop-up camera.
Instead, Samsung's screen has a cut-out in the top right, like the Honor 20, where the front camera and its companion ToF camera are housed. This delivers a virtually identical look to that of the Samsung Galaxy S10 Plus, just with a bit more size, and speed, of course.
Specs and features
Available now, the Samsung Galaxy S10 5G can be bought off-contract for $1,299/£1,099 – that's a lot of money. If you want to go with a network, in the UK it's being ranged by Vodafone, and that's the network we tested its 5G capabilities on. Alternatively, you can pick it up on EE. If you're in the US, it can be had on AT&T, T-Mobile or Verizon.
Moving onto the specs, and this phone is a true master of all trades; the S10 5G features a huge, 6.7-inch Super AMOLED display with QHD resolution, and it's stunning. With over 500 pixels per inch, it displays a crisp image, and given the fact Samsung's screen tech is the gold standard from a quality point of view, this could be the best smartphone screen around right now if you want size coupled with quality.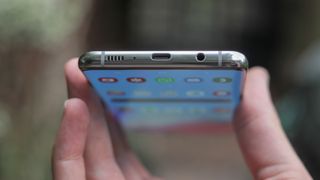 The phone's body is made of aluminium combined with Gorilla Glass 6. It's also water and dust resistant, and there's a headphone jack on its bottom side, as well as a USB-C port. Around the back is a slight camera bump, where the quad camera is housed, and if you rest the S10 5G on a Qi charging pad, it supports wireless charging. With reverse wireless charging, NFC and of course 5G under the hood, as well as 8GB RAM, it's one of the most capable devices around – which is exactly what you'd expect when you're paying over $1,000/£1,000 for it!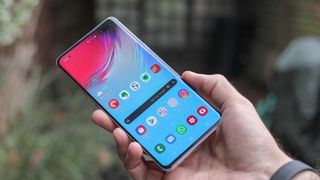 The phone also runs Android, with Samsung's One UI over the top. This means fantastic app support awaits when you fire it up, and Samsung's interface isn't too overbearing either.
How much the next couple of points reflect your local Galaxy S10 5G variant will largely depend on which region you're reading this review in. If you're in the US, you will be buying a Snapdragon 855 powered S10 5G. In the rest of the world, the Exynos 8920 powered version is on sale. We reviewed the Exynos model, which, if it's anything like the S10 and S10 Plus, delivers poorer heat management and worse battery life.
The above disclaimer explains many of our findings. The phone's 4500mAh battery is ample when it comes to size, but if you plan on using the camera a lot, it might not quite make it through a full day, which is a bit of a disappointment. It does support 25W fast charging, which is a plus, as well as fast wireless charging with compatible chargers.
Additionally, the S10 5G gets hotter than your average smartphone, and while it was never unusable, it was definitely uncomfortable at times. The heatwave we were experiencing while reviewing it may have had something to do with the temperatures, but other devices we were using simultaneously managed to keep their cool.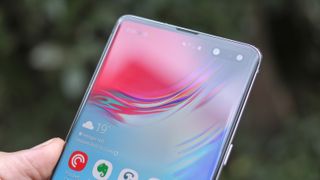 As for the 5G speeds, downloading content and uploading photos and videos to Lightroom or Google Photos was a joy when 5G was available. On our network, however, this was only across 14 spots in London. When we found 5G signal, speeds capped out at about 200Mbps, averaging around half that – significantly slower than what we'd hope for, but it is early days for the service. Still, this did mean we could download an HD hour-long episode on Netflix in a few seconds.
In turn, if you're thinking about a 5G phone, it's a great call for futureproofing your mobile tech over the next couple of years, but don't expect it to get 1Gbps download speeds wherever you are just yet.
Camera specs
Camera specs: The Samsung Galaxy S10 5G's rear quad camera is comprised of a 12MP primary camera (f/1.5/2.4 variable aperture, 26mm) with a 1/2.55-inch sensor, and 1.4µm pixels, complete with Dual Pixel phase detection autofocus (PDAF) and optical image stabilisation (OIS). There's also a telephoto 12 MP camera (f/2.4, 52mm) with a 1/3.6-inch sensor, 1.0µm pixels and OIS, which delivers a 2x optical zoom. The third camera is an ultrawide 16 MP (f/2.2, 12mm) module, with no autofocus or OIS, and finally, there's that ToF 3D.
As for the selfie camera, it's the same 10MP sensor as found on the Galaxy S10, with a 26mm wide-angle and unlike most front cameras, it sports autofocus. Alongside it is another ToF camera, so your selfies and selfie videos can deliver more accurate background blur.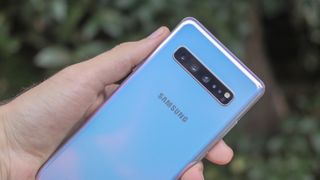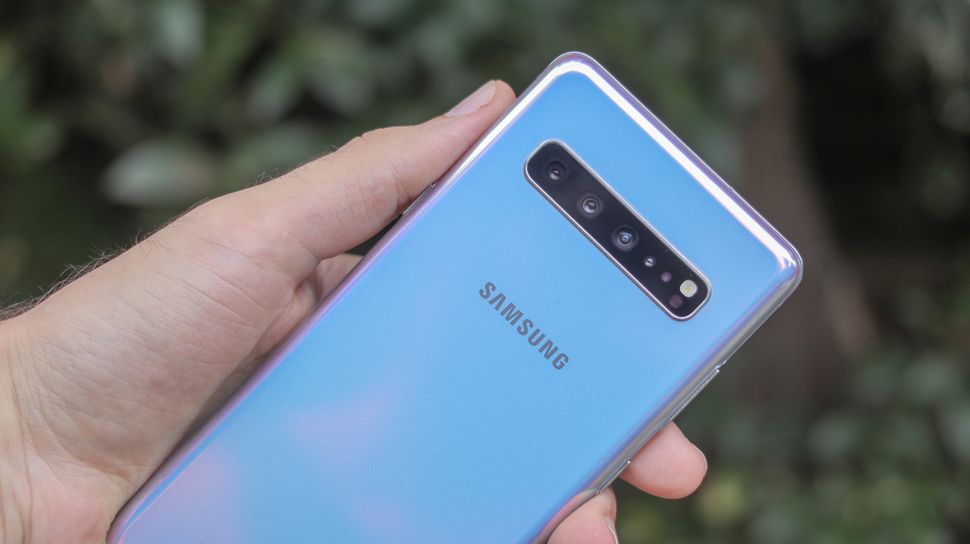 Shooting modes: The S10 5G delivers shooting modes aplenty: Automatic, Video, Live Focus, Live Focus Video, Pro, Food, Night, Instagram, Slow Motion, Super Slow-mo, and Hyperlapse. Across most of these, you can choose whether to shoot with the ultrawide, wide or telephoto cameras.
Photos are captured at full 12MP resolution by default, and videos can be recorded at up to 60FPS in 4K resolution. The front camera can also record 4K too, which is impressive. As for the ultrawide camera, it delivers heavy barrel distortion by default to get the widest angle possible, though this can be corrected in the settings.
Camera performance
The Galaxy S10 5G is an excellent camera phone, and that's no surprise given how good the Galaxy S10 is.
The default 'Photo' mode delivers a point-and-shoot experience to rival the best around. There's a smart scene optimiser so it can tell you if it sees a cat, a dog or plants, but even if you forget it's there and just snap away, you're likely to get a decent result. This also has a lot to do with Samsung's Auto HDR feature, which delivers strong detail across a scene, without any blown-out areas, even in challenging conditions.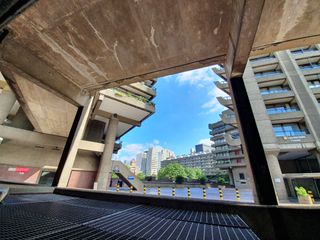 Photos also deliver plenty of clarity, too. While the phone's pixel-count doesn't rival that of the Honor 20 Pro, for example, it's still able to produce images that can easily be printed off and blown up, provided the lighting is right. Saturation is a bit on the boosted side, which is particularly noticeable when you export the shots taken on it and is especially prevalent in scenes with a lot of green, but on the device itself, images look great.
When the lights drop, the S10 5G does struggle a bit, despite the wide aperture. With phones like the Huawei P30 Pro and Pixel 3 producing long-exposure night modes that can literally see in the dark, the Galaxy S10 5G's night mode lags behind. While it's significantly better than the iPhone Xs and Xs Max, therefore, it's still not a low-light champion.
Meanwhile, the Pro mode unlocks variable ISO sensitivity, lens aperture (which you can set at either f/1.5 or 2.4), white balance, manual focus, etc. Grabbing a low ISO shot with a long exposure time is one way of overcoming any low-light limitations, but you'll need a steady surface or a tripod to really get P30 Pro quality low-light shots on the S10-series. The maximum ISO in Pro mode is 800, and the maximum shutter speed is 10 seconds.
As for the ToF sensor, this turbo-charges the Live Focus mode, which senses the depth of a scene and blurs out the background. For clearly defined foregrounds and backgrounds, it works to great effect. It was even able to differentiate the spokes of a bicycle wheel, which was impressive. That said, it still can't replicate the real deal, especially when the scene gets complicated. A tree, for example, with leaves creating an organic mesh of layers, was more than the ToF camera could handle.
As for the lens array, Samsung's three zoom ranges across its S10 line work to great effect, delivering plenty of versatility – and, while it doesn't feature the 5x optical zoom that Oppo's Reno 10X Zoom does, we'd pick the S10 5G for its consistency across photo and video capture.
On the subject of video, it looks sensational across the front and rear cameras. Footage captured on it looks like it was shot on a gimbal, and while imperfect, the Live Focus Video mode is a sneak peek into what will inevitably be the future of smartphone videography, blurring out the background pretty accurately. Selfies are also a great balance of true-to-life and flattering, and you can scale up or down the beauty mode, too. All things considered, quite apart from the best vlogging cameras, the Galaxy S10 5G could be the best vlogging or blogging phone out right now.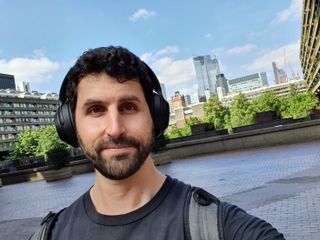 Verdict
The Galaxy S10 5G is an excellent smartphone with a top-tier camera, wherever you buy it. The imaging benefits over the standard S10 and S10 Plus are only really noticeable in Live Focus mode photos and videos, which artificially blur out the background. That said, its huge screen is a masterpiece, and could well be the best-looking display out right now.
It's a shame the processor difference across regions could impact battery life and heat management, so US buyers are likely going to be getting a better device than their UK counterparts. As for the phone's 5G capability, it futureproofs the phone nicely but isn't going to rock your world just yet as 5G coverage is pretty sparse right now. Give it six months to a year though, and we're guessing we'll be singing a different tune.
Read more:
• These are the best camera phones you can get right now
• So what is a Time of Flight (ToF) camera?
• The 64-megapixel camera phone is coming!